Details

Created on 07 August 2012
Written by Archana
( 12 Votes )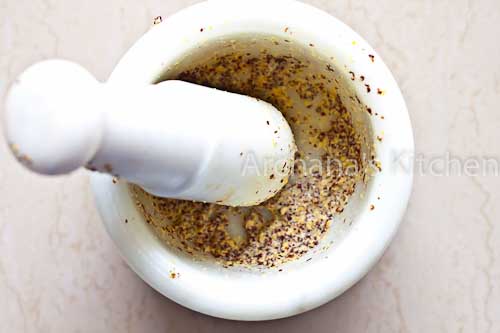 Ever since I have left the US and France, I have found it hard to get Dijon Mustard at stores in India, this is when it struck to me to make it at home. All I had to do was phone a friend in France and ask her for a recipe to make it. It was as simple as that.
The dijon mustard once made, can be used instantly, but it does taste much better when it marinates for about two weeks. The longer you marinate the better zing and zang it gets.
Culinary Uses of Dijon Mustard
Originally from Dijon, France, Dijon mustard is a condiment made from mustard seeds, white wine and seasonings. Dijon mustard is the secret ingredient in making vinaigrettes as it acts as an emulsifier (helps keep the oil and vinegar from separating)
Dijon Mustard can be used as a dressing for salads, sauce for sandwiches, flavoring pastas, raita's, vegetables like potatoes and more. The list is large and has a wide room for experimentation. Do let me know if you have had any interesting recipes on the use of Dijon Mustard
Ingredients
1/2 cup mustard seeds
1 cup dry white wine
1/4 cup chopped onion
1 teaspoon minced garlic
1 tablespoon honey
1/2 tablespoon olive oil
1 teaspoon salt
Method
Heat a saucepan to medium heat; combine the wine, onion and garlic and allow it to come to boil. Once it comes to boil, turn the heat to low and simmer for 5 minutes. Cool the mixture and strain the liquid and discard the onion and garlic.
Using a pestle and motor, pound the mustard seeds adding the wine liquid a little at a time until smooth.

Stir in the honey, oil and salt. Place the mixture back into the sauce pan and heat on low heat until the mustard sauce is thickened, stirring constantly.

Allow the mixture to cool and store in a glass jar and refrigerate for at least two weeks to get the close to perfect marination.