Details

Created on 19 March 2008
Written by Archana Doshi
( 53 Votes )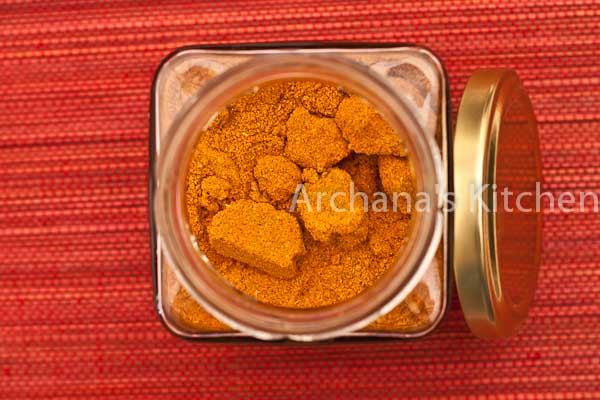 Sambar Powder is the most basic and important ingredient in making "Sambar". This spiced powder is made with a blend of roasted coriander seeds, tuvar dal, channa dal, fenugreek seeds, mustard seeds and few more which adds to this unique taste and exemplifies the taste sambar. Each region, each family, each household has it's own variation of this spice blend. This is a very authentic Tamil Brahmin version of sambar powder that mother has perfected over the years of cooking.
Ingredients
3 1/2 cups coriander seeds
1 cup tuvar dal
1/2 cup channa dal
1/4 cup fenugreek seeds
1/4 cup white urad dal
1/2 cup mustard seeds
3/4 cup red chilli powder
1/4 cup turmeric powder
1/4 cup whole black pepper
1 tablespoon cumin seeds

Method
Roast the tuvar dal, urad and channa dal all seperately in a pan over medium heat until they turn light brown in color and release a roasted aroma. Set aside.
Roast fenugreek seeds, coariander seeds, mustard seeds, black pepper corns and cumin seeds until they changed color and release a roasted aroma. Set aside to cool.
Now blend all the roasted ingredients into a fine powder. Combine the red chilli powder and turmeric powder well into the ground mixture. The samdar podi is now ready. Store in an air tight container and refrigerate/freeze for longer freshness and shelf life.