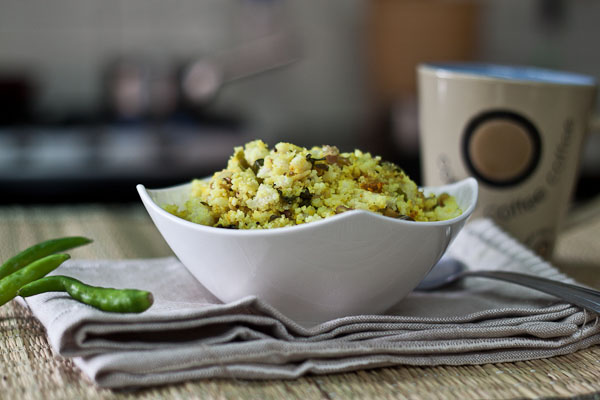 CLICK TO SEE THE VIDEO RECIPE OF HOW TO MAKE IDLI UPMA FROM LEFT OVER IDLI'S
Ingredients
8 to 10 a day old idli's, crumbled
1 large onion finely chopped or 10 pearl onions, finely chopped
2 to 3 green chillies, finely chopped
1 inch piece of ginger, grated
1/2 teaspoon of turmeric powder
1/2 teaspoon mustard seeds
1 teaspoon halved urad dal
5 to 6 curry leaves, finely chopped
1 tablespoon sesame oil
a small bunch of coriander leaves, finely chopped
salt to taste
Method
Heat a teaspoon of oil in a heavy bottomed pan; add in the mustard seeds and allow it to crackle for a few seconds.Then add in the half urad dal and allow it to roast and turn a light brown in color.
Once the dal is roasted we will add in the chopped onions, then the grated ginger green chillies and curry leaves. Saute on medium heat until the onions are lightly tender.
Once tender we will add in the turmeric powder and the crumbled idli's and some salt to taste. Sprinkle a little water so the idli's dont get too dry, you want them to be moist and flavorful when the upma is done. Stir all the ingredients well. Turn the heat to low, cover the pan and allow the idli upma to simmer for about 3 to 4 minutes.
After 3 to 4 minutes, add in the chopped coriander leaves and stir.
Serve the delicious idli upma immediately to get the best flavors. Having it along with a hot cup of coffee makes the breakfast complete.
I hope you enjoyed watching the video recipe of Idli Upma. Now if you have left over idli's in your kitchen you know what to do? Do give feedback in the comments below.