Details

Created on 05 March 2008
Written by Archana Doshi
Hits: 97169
( 288 Votes )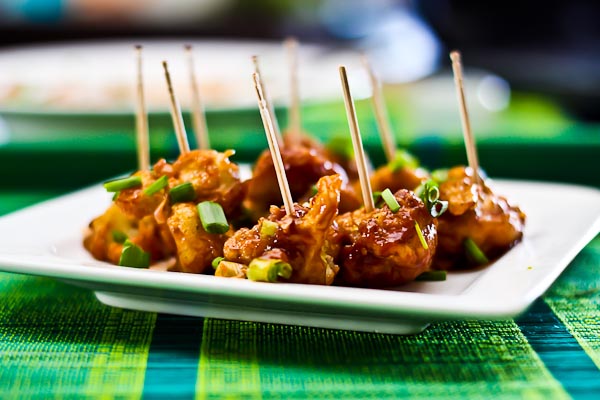 Gobi Manchurian is a very popular Indian Chinese (also known as Indo-Chinese) dish. Indian Chinese cuisine is the adaptation of Chinese seasoning and cooking techniques to suite Indian tastes. It is said to have been developed by the tiny Chinese community that lived in Kolkata for over a century. Immensely popular with Indians, it is widespread in major Indian metropolitan cities such as Mumbai, New Delhi and most importantly Kolkata (formerly Calcutta).
CLICK BELOW TO SEE THE VIDEO RECIPE OF HOW TO MAKE GOBI MANCHURIAN
Ingredients for Gobi Manchurian
15 cauliflower florets of lemon size
3 tablespoons corn flour
5 tablespoons all purpose flour
¼ cup water
1 teaspoon black pepper powder
Salt to taste
oil for deep frying
Ingredients for Manchurian Sauce
½ cup chopped spring onions
1 tablespoon finely chopped garlic
2 teaspoons finely chopped green chillies
2 teaspoons finely chopped ginger
1 tablespoon corn flour
1 cup water or vegetable stock
1 tablespoon soy sauce
1 tablespoon tomato ketchup
1 teaspoon red chilli sauce (asian style)
1 tablespoon vegetable/sunflower oil
Salt to taste
Method for Manchurian
Heat oil in a wok or a deep fryer
In the meanwhile, dissolve the corn flour and all purpose flour along with pepper and salt in water.
Add the cauliflower florets and mix until the florets get coated with the flour mixture.
Add about 5 florets (or the amount your deep fryer /wok can hold) at a time into the hot oil and fry until golden brown.
Remove from oil and drain in paper towels. Keep aside.
Method for Sauce
Mix the corn flour with ¼ cup of water. Add soya sauce, ketchup, chilli sauce and salt.
Heat oil in a wok or frying pan on high heat; add garlic, ginger, green chillies, spring onions and stir fry for a few seconds.
Add the corn flour mixture to the above and cook for a few minutes until thick and the corn flour is cooked.
Turn off heat. Toss the Fried Cauliflower with the Manchurian Sauce and serve.
Garnish with spring onion leaves and extra green chillies if you like it spicy.