Details

Created on 10 September 2009
Written by Archana Doshi
Hits: 29789
( 89 Votes )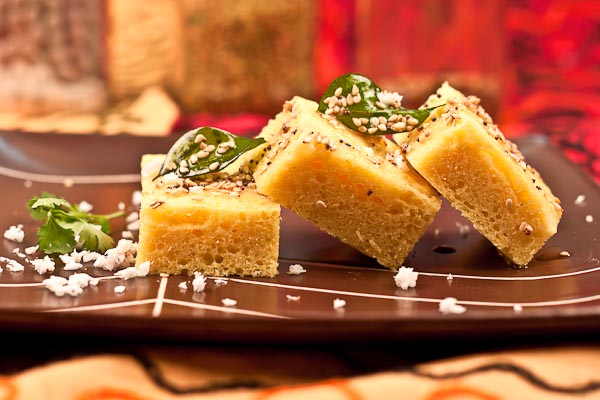 Khaman Dhokla is a very popular farsan savored by Indians around the world. It is traditionally made from bengal gram lentil but a quick and more common version uses gram flour that is equally delicious and authentic. You can serve it as it is with the seasoning or make it into a layered dhokla with Dhania Phudina Ni Chutney and Tameta Ni Chutney.
Special Equipments: dhokla stand with plates and steamer
Makes: 10-15 square pieces
Ingredients for dhokla
1½ cups gram flour
¼ cup fine semolina
½ teaspoon green chilli paste
½ teaspoon ginger paste
1½ tablespoons sugar
2 teaspoons lemon juice
2 tablespoons oil
2 teaspoons enos fruit salt
salt to taste
Ingredients for seasoning
½ teaspoon mustard seeds
1 teaspoon sesame seeds
1 green chilli, slit
1 teaspoon sugar
1 teaspoon lemon juice
4 - 5 curry leaves
1 tablespoon of freshly grated coconut
1 tablespoon of freshly chopped coriander leaves
1 tablespoon of oil
4 tablespoons of water
Method
In a large bowl combine all the ingredients for the dhokla adding little water at a time until it becomes a thick batter with no lumps. The consistency of the batter should be such that when you use a ladle to pour it should fall in dollops.
Prepare the steamer by preheating it with 3 cups water at its bottom. Grease the dhokla plates with oil. Pour the dokhla batter into each plate, filling only up to half its level. Steam for about 12 to 15 minutes on high heat with the lid covered, until the dhoklas are cooked, that when a tester like a clean knife when inserted into the centre comes out clean. Turn off the heat and allow it to rest for 5 minutes in the steamer.
Take out the dholka plates from the steamer and allow it to cool completely before you can cut them into square or diamond pieces. Arrange them on a serving platter.
Heat oil in a small pan on medium heat; add mustard seeds, sesame seeds, slit green chilli and curry leaves and allow them to crackle. Turn off the heat. Stir in the four tablespoons of water, sugar, lemon juice and salt to the above seasoning. Using a small quarter spoon, evenly sprinkle the seasoning mixture over the cut dhokla pieces. Garnish with coriander leaves and coconut and serve.
To make Sandwich Dhoklas
Arrange a set of dhoklas on a serving platter. Spread the Dhania Phudina Ni Chutney on the top side of these dhoklas and place another dhokla on top. Finally season these sandwich dhoklas with the seasoning mixture. Garnish with coriander leaves and fresh grated coconut and serve.