Details

Created on 04 December 2008
Written by Archana Doshi
( 31 Votes )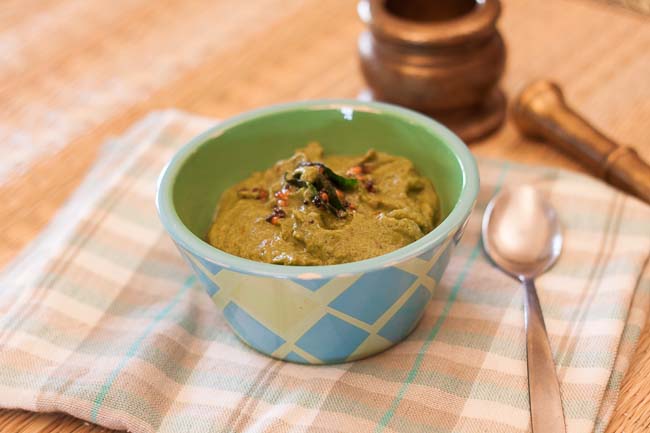 Zucchini Chutney or Thogayal is a delicacy in almost every South Indian household. The thogayal recipe is made with roasted ingredients urad dal, red chilies, and curry leaves when ground along with tamarind into a paste along with the zucchini gives a fresh aroma which makes it simply delicious. Thogayals are typically mixed with rice and eaten. It can be eaten with Dosa's, Idli's or any other way you choose to eat it.
Lets dive right in to see how to make the Zucchini Thogayal Recipe
Ingredients to make the Zucchini Thogayal | Chutney Recipe
2 large green zucchini's , cut into small cubes
2 teaspoons urad dal
5 fenugreek seeds
3 dry red chillies
10 curry leaves

small lemon size ball of fresh tamarind
Ingredients for Seasoning
1/4 teaspoon mustard seeds
2 dry red chillies
3-4 curry leaves
1 teaspoon oil for tempering
Salt to taste
Method
Heat a teaspoon oil in a heavy bottomed pan; add the cut zucchini along with a little salt and saute until soft and tender. Turn off heat and allow it to cool.
In another small pan; roast the fenugreek seeds, dry red chillies and urad dal until it releases a roasted aroma and slightly browned.
Now grind the roasted ingredients, the cooked zucchini,the tamarind and curry leaves together until it forms a smooth paste. Check the salt and adjust to suit your taste.
Heat a little oil in a pan; add mustard seeds, dry red chillies and curry leaves. Allow it to crackle and the red chillies to roast. Add it to the zucchini thogayal.
Serve the Zucchini Thogayal along with a hot bowl of rice and ghee.