Details

Created on 21 November 2007
Written by Archana Doshi
( 45 Votes )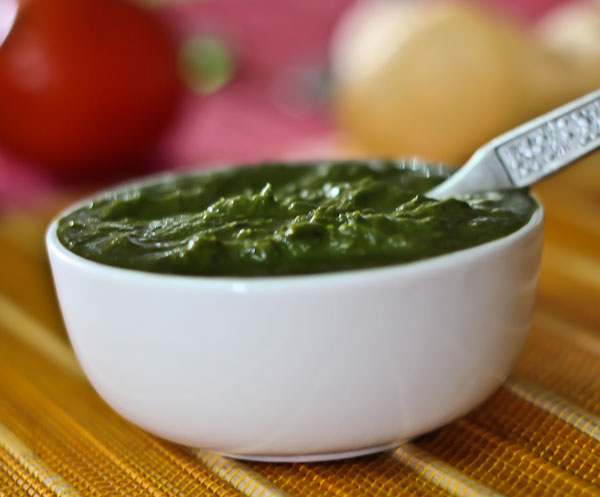 Dhaniya Pudina Chutney also known as the Green/Hari Chutney. This chutney is made from fresh coriander and mint leaves along with green chillies, ginger and lemon and a dash of sugar that gives this chutney a unique flavor. This Dhaniya Pudina Chutney recipe is a favorite Indian accompaniment for Samosas, Dhoklas, Vada Pavs, Bhel that go incomplete without this chutney. The Dhaniya Pudina Chutney is also used in a variety of chaat dishes and as sandwich spread.
CLICK TO SEE THE VIDEO RECIPE OF HOW TO MAKE GREEN CHUTNEY | CORIANDER MINT CHUTNEY
Makes: 1½ cups approximately
Ingredients to make the Green Chutney | Coriander Chutney
1 cup of chopped coriander leaves
1 cup chopped mint leaves
½ cup curry leaves
1/4 cup peanuts or almonds
1 tablespoon chopped ginger
2 green chillies
1 teaspoons sugar
2 tablespoons freshly squeezed lemon juice
salt to taste
Method
Combine all the ingredients and grind to a smooth paste in a blender, adding very little water.

The addition of lemon juice enhances the flavours of mint and coriander and prevents discolouration of the greens.

Transfer the Dhania Pudina Chutney to a bowl and use it as a spread along with bread to make a sandwich or along with a Parathas and or tea time snacks like Samosas, Dhoklas, Vada Pavs and Bhel

Refrigerate the Green Chutney to store for a couple of days.