Details

Created on 18 February 2008
Written by Archana Doshi
( 137 Votes )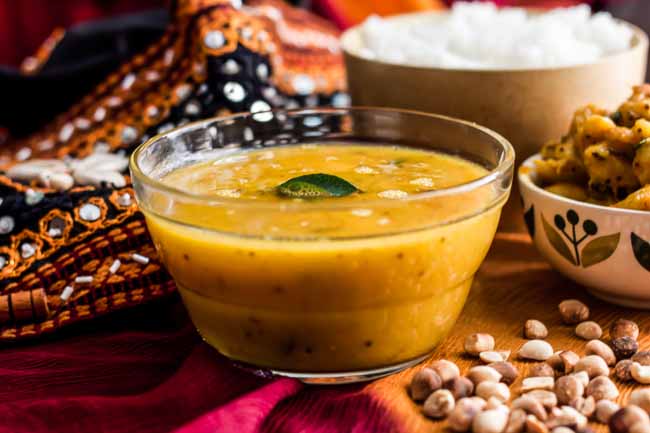 Gujarati Dal is a sweet, tangy and spicy staple dish of every Gujarati home that is made from pigeon pea lentils also known as toor dal. One of the ways we savor the Gujarati Dal at home is to have it over a hot bowl of rice topped with ghee and a green vegetable. Another top favorite at home is to serve it along with Stuffed Bhindi or Fansi Dhokli Nu Shaak.
Makes: 3-4 servings
Ingredients
1/2 cup yellow split pigeon peas
1/2 teaspoon mustard seeds
1/2 teaspoon cumin seeds
3-4 curry leaves, finely chopped
1 teaspoon finely grated ginger
1 tomato, halved and grated
2 kokums or 2 tablespoons lemon juice
1 inch long cinnamon
1/4 teaspoon asafoetida powder
1/2 teaspoon turmeric powder
1/2 teaspoon red chilli powder
1 tablespoon skinned peanuts
2 tablespoons jaggery
1 tablespoon oil
a small bunch of chopped coriander leaves
salt to taste
Method
Cook the pigeon peas in 2 cups of water until soft and tender. See Video Recipe of How to Cook Lentils
While the lentil is still hot whisk until it blends to a smooth liquid with no lumps.
Heat oil in a pan on medium heat; add mustard seeds, cumin seeds, curry leaves, ginger, cinnamon stick and allow it to crackle. Stir in the tomatoes, turmeric powder, asafoetida, red chilli powder and sauté until the tomatoes are soft and tender. Now add the whisked lentil, salt, jaggery, kokum, peanuts and approximately one cup of water. Once the mixture comes to a roaring boil, turn the heat to low and simmer for 10 to12 minutes. Turn off the heat and stir in the chopped coriander leaves and serve hot.
Serve the Gujarati Dal hot along with Stuffed Bhindi and Roti's
Note: The Gujarati Dal after preparation should be of pouring consistency. The amount of water you add depends on the amount of water that was left back when you cooked the lentil.