Details

Created on 01 December 2007
Written by Archana Doshi
( 43 Votes )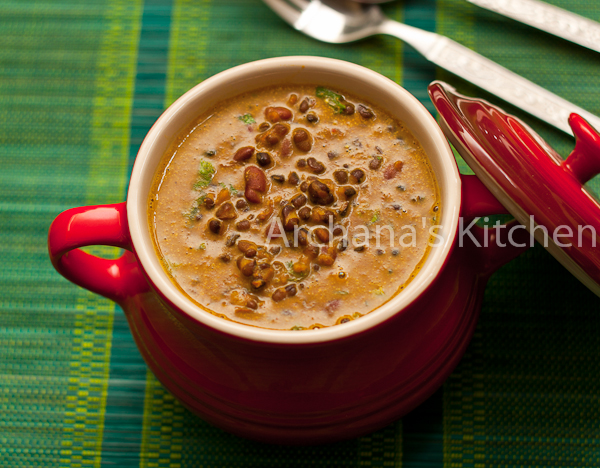 Dal Makhani is a deliciously flavoured lentil curry that is world renowned as the Punjabi 'dhabba' dal. Made with black urad dal and rajma, flavoured with subtle Indian spices and simmered with cream and butter for as long as 30 to 45 minutes. This simmering process makes this dal makhani rich and delicious.
Serve Dal Makhani with a favorite Indian breads or Paneer pulav
Learn how to make Dal Makhani by using the recipe below
Ingredients
3/4 cup whole black urad dal,
1/4 cup red kidney beans | rajma
1 large tomato, pureed
an inch peice of ginger, chopped finely
2 green chillies, chopped finely
1 teaspoon turmeric powder
1/2 teaspoon cumin powder
1 teaspoon of garam masala powder
1 teaspoon cardamom powder
1 teaspoon oil
1/4 cup cream
a small bunch of coriander leaves, finely chopped
1 teaspoon kasuri methi / dried fenugreek leaves
Salt to taste
Method
Soak the black urad dal and rajma together in 4 cups of water for about 8 hours. Cook along with the soaked water and salt until very soft and mushy. See Video Recipe of How to Cook Legumes in Pressure Cooker.
Heat oil in a heavy bottomed pan; add in the ginger and sauté it for a few seconds. Stir in the tomatoes, green chillies, turmeric powder, garam masala, cardamon powder and cumin powder and sauté everything together until the tomatoes begin to bubble, approximately for about a minute.
Now stir in the cooked lentils into the pan with the tomatoes, adjust the consistency of the dal by adding a little water if too thick. Cover the pan and simmer the dal along with the spices for atleast 15 to 20 minutes. At this stage check the salt levels and adjust according to taste.
Simmering this dal mixture for a longer time, will ensure that the spices get absorbed into the lentils thoroughly, therefore enhancing the flavors of the lentils. Traditional Punjabis have infact known to simmer their dals for more than an hour or two, to get the intense richness of the dal. But make sure that it is stirred occasionally, therefore avoiding any sticking of the dal to the bottom of the pan.
Finally, during the last 10 minutes of the simmer, stir in the fresh cream and dried fenugreek leaves and the coriander leaves. Stir well and simmer for another 5 minutes. Turn off the heat and transfer the dal makhani to a serving bowl.
Serve the Dal Makhani along Paneer Makhani and Phulka's with a few sliced onions, slit green chillies, a tomato cucumber salad, and cut lemon wedges for a very Punjabi Dhabba feel.