Details

Created on 02 September 2009
Written by Archana Doshi
( 18 Votes )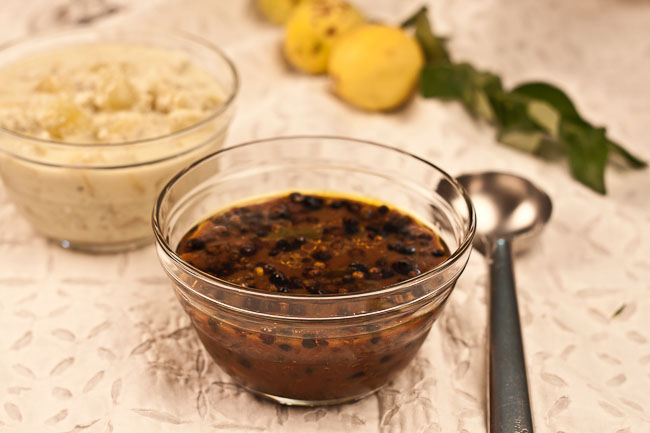 Manathakkali Kai Vathal Kozhambu is a very traditional South Indian dish, made from freshly squeezed tamarind and flavored with some traditional delicacies like vathal, small onions, appalam.The ingredients could be new to many of the non South Indians and if you are adventurous enough to try an authentic south indian brahmin home cooked recipe, go ahead and give this tasty tangy spicy dish a try. Its a palate teaser that goes well, with rice, dosa's, idli's and even sometimes a slice of bread.

Makes: 4 servings
Ingredients
2 tablespoons Manathakkali Kai Vathal
1/2 cup of small baby onions skinned
1 tablespoon of sambar powder
1 teaspoon jaggery
1 recipe of tamarind water
1/2 teaspoon mustard seeds
1/4 teaspoon fenugreek seeds
1 tablespoon of sesame oil
3-4 curry leaves
Salt to taste
Method
Heat oil in a sauce pan; add mustard, fenugreek, curry leaves and allow them to crackle. Add the onions and saute until the onions are lightly tender and browned. Add in the Manathakkali Kai v\Vathal and roast until darkened and crisp.
Once the vathal is roasted add the tamarind water, 1/2 cup of water, sambar powder and salt. Bring the mixture to a boiling point. Then simmer the mixture for about 15 minutes. The kozhumbu is of pouring consistency, as a slight pulpiness to it, yet not watery. Adjust the thickness by adding a little water if required.
Serve the Manathakkali Kai Vathal Kuzhambu hot with plain rice and a vegetable. The Manathakkali Kai Vathal Kuzhambu can also be savored with dosa's, chilla's, idli's and chillas.