Details

Created on 27 November 2007
Written by Archana Doshi
( 41 Votes )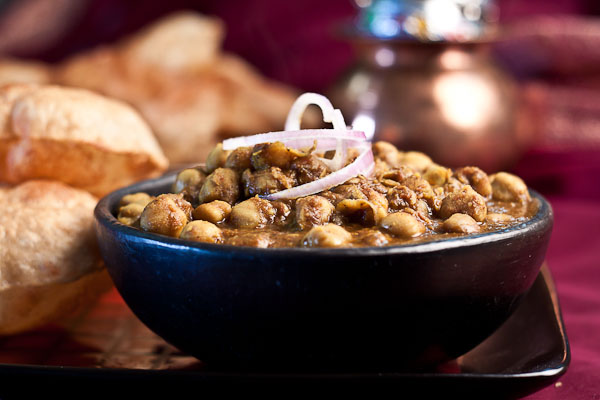 Chola | Chana Masala recipe is a famous North Indian Punjabi dish savored around the world with with batura's or puris. The chola or chickpeas is simmered in spiced ginger and tomato gravy. The combination of black salt, garam masala and dry mango powder enhace the taste of this delectable dish. It can make a complete meal on its own with some tomato, cucumber and onion sliced salad. It is also savored well with certain chaat dishes like chole tikki chaat, chole samose ki chaat and the like.
So now lets dive in and learn how to make this delicious Chola Masala Recipe
CLICK TO SEE THE VIDEO RECIPE OF HOW TO MAKE CHOLA | CHANA MASALA
INGREDIENTS TO MAKE CHOLA MASALA
1 cup chick pea/chola/kabuli channa soaked over night
1 teaspoon of cumin seeds
1 inch piece of ginger, grated
1 large tomatoe, freshly pureed (optional)
1 big bay leaf
1 teaspoon turmeric powder
1 tablespoon dry mango powder
1 tablespoon garam masala powder
1 teaspoon coriander powder
1 teaspoon anardhana powder (pomegranate powder)
1/2 teaspoon of red chilli powder
1 teaspoon of kala namak (black salt)
salt to taste
1 tablespoon oil
INGREDIENTS TO SERVE AND GARNISH
2 finely chopped green chillies
a small bunch of chopped coriander leaves
Method
I have precooked the Chola using the pressure cooker method. See How to Cook Legumes like Chola In A Pressure Cooker.


Heat oil in a large heavy bottomed pan. Add in a teaspoon of cumin seeds and allow it to crackle then add a couple of bay leaves. Stir for a few seconds. Then add in an inch piece of grated ginger and stir for a few more seconds.


Next add in the freshly pureed tomato and stir it into the ginger mixture. Next add in a teaspoon of turmeric powder, a teaspoon of garam masala powder, a teaspoon of coriander powder, a teaspoon of black pepper powder, a pinch of red chilli powder, a teaspoon and a half of dry mango powder, a large teaspoon of anardhana powder and a teaspoon of black salt. Stir all the spices together into the tomato mixture until it turn dark brown and is well combined.


Once browned, add in the cooked chickpeas into the masala and stir all the masala well into the chickpeas so that it coats it well. Finally add some salt to taste and stir. Cover the pan, turn the heat to low and simmer for 20 to 30 minutes until the chola gets well coated with the masala and looks brown as well.


After about 20 minutes for simmering, notice how the chola masala is bubbling. At this stage add in the chopped coriander leaves and stir well to bring out the aromas of the coriander into the masala.


Transfer the Chola Masala into a bowl and serve it along with Puri's, Bhatura's, Phulka's or even along with plain steamed rice.


Tasty Tip:When serving it with puris/batura's, serve with sliced onions, tomatoes and cucumber salad. End your meal with Chaas (buttermilk), this will cool down the acidic nature of chola.