Details

Created on 21 November 2007
Written by Archana Doshi
( 40 Votes )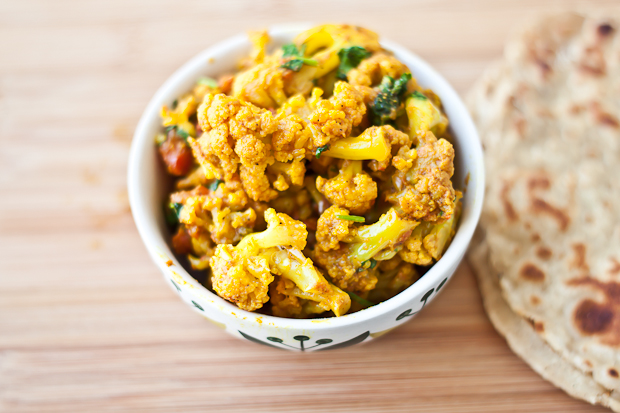 Aloo Gobi Ki Sabzi Recipe is a simple and quick recipe that can be made in one pot and the least amount of cooking time. The delicious flavors of the cauliflower when combined with garam masala powder and the sourness from the tomatoes brings out the richness, textures and flavors. Each region makes such interesting versions, though it takes no effort to make these two taste good. Serve it along with some hot Kadhi and some phulka's and enjoy a delicious meal.
Now lets learn how to make this delicious aloo gobi recipe
Makes: 4 to 5 servings
Ingredients
2 large potatoes/aloo peeled and cubed
1 cauliflower/gobi, washed and cut into florets
1 teaspoon grated ginger
1/4 cup freshly pureed tomatoes
1 teaspoon cumin seeds
1 teaspoon turmeric powder
1 teaspoon garam masala powder
2 cardamom pods
¼ teaspoon chilli powder
a small buunch chopped coriander leaves
1 teaspoon oil
Salt to taste
Method
Heat oil in a heavy bottomed pan; add cumin seeds, ginger, cardamom pods. Allow the cumin seeds to crackle.
Add tomatoes, potatoes, gobi, salt , chilli powder, turmeric powder, garam masala and 1/4 cup of water. Stir to combine all the ingredients well, turn the heat to low, cover the pan and simmer for 15 - 20 minutes until the vegetables are cooked and tender, gently stirring occationaly. Once cooked turn off the heat, stir in the chopped coriander leaves.
Transfer the dish to a serving bowl. Serve these delicious aloo gobi ki sabzi along with phulka's or any other indian bread of your choice.
Note: you can make the aloo gobi sabzi in a curry/ gravy form, by adding more of the tomato puree, a little cream or milk and water for an alternative taste. Addition of milk or cream gives a curry like flavor. Alternatively, try adding fresh yogurt as well, adjust proportins to suit your taste.