Details

Created on 03 September 2009
Written by Archana Doshi
( 66 Votes )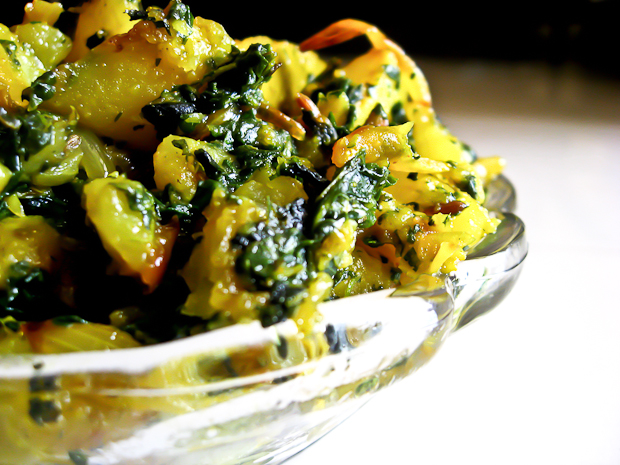 Aloo Palak Sabzi Recipe is a simple and easy dish made from boiled potatoes and sautéed spinach, delicately spiced cinnamon. Potatoes high in starch and carbohydrates and spinach rich in iron and minerals, cooked with low fat ingredients makes is a perfect lunch box meal for kids and adults. Serve it parathas or a bread roll and end it with a cold cup of butter milk.
Lets dive right in to see how to make Aloo Palak Sabzi
Makes: 4 servings
Ingredients
3 large potatoes, boiled and cut into large cubes
500 grams of spinach, washed and chopped
1 large onion, thinly sliced
an inch piece of grated ginger
2 large tomatoes, halved and grated
1 teaspoon of turmeric powder
1 teaspoon red chilli powder
1/4 teaspoon of ground cinnamon
1/4 teaspoon of garam masala powder
1/2 teaspoon of cumin seeds
Oil for cooking
Salt to taste
Method
Heat 1 teaspoon of oil in a pan; add the chopped spinach, a little salt and simmer covered until soft and tender. Once cooked, increase the heat to high and saute the spinach until all the water from the spinach is vapourized. Turn off the heat, transfer the spinach to another dish and keep aside.


Wipe the same pan clean with the paper towel. Heat a tablespoon of oil; add in the cumin seeds, ginger, onions and sauté until the onions are lightly browned. Add in the potatoes, grated tomatoes, turmeric, red chilli powder, cinnamon powder, garam masala powder and salt. Stir until all the ingredients are well combined.


Sauté this mixture for a couple of minutes until you get flavors arising from the dish and the potatoes get well coated with the spices. At this stage stir in the sautéed spinach.


Cover the pan and simmer for another couple of minutes. Turn off the heat, transfer the aloo palak sabzi to a serving dish.


Serve these Aloo Palak Sabzi with Tava Parathas and Kadhi.