Details

Created on 29 January 2013
Written by Archana
( 5 Votes )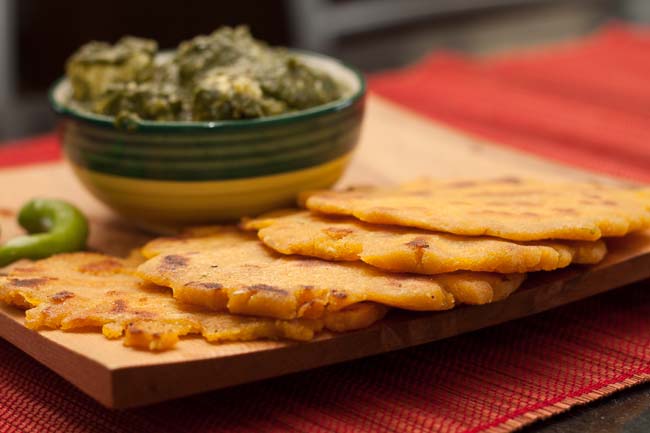 Makki ki Roti recipe is a classic Punjabi corn meal flat bread that is spiced with green chillies and ginger. It is most often served along with Sarson Ka Saag that is a north indian preparation of mustard leaves. The Makki Ki Roti and Sarson Ka Saag combination is very commonly made during the winters when there is a abundant growth of the mustard leaves.
CLICK TO SEE THE VIDEO RECIPE OF HOW TO MAKE MAKKI KI ROTI
Ingredients to make Makki Ki Roti
1 1/2 cups of cornmeal (makki ka atta)
1/4 cup Whole wheat flour
1 green chilli chopped
1 teaspoon grated ginger
salt to taste
ghee or butter for cooking
Method
Combine all the ingredients except the ghee/butter in a mixing bowl. Add a little water at a time and make a soft dough. Drizzle a little oil over the kneaded dough and knead for a few more minutes until the dough is smooth.
Divide the dough into 10 portions of lemon ball size and keep aside, covered with a wet muslin cloth.
Preheat an iron skillet; place a wet muslin cloth on the working surface; wet the palms of your hands and place a dough portion on the wet cloth and pat it with your fingers to make a flat circle. You can also use a rolling pin to roll it out to approximately 3 inches in diameter.
Invert the muslin cloth over the preheated skillet and place the rolled out corn bread on skillet. Cook the roti on medium heat, flipping over to cook on both sides. Cook until you see brown spots appear.
Once you notice lighter brown spots, smear a teaspoon of ghee and cook for a few more minutes until lightly crisp.
Serve the Makki Ki Roti along with Sarson Ka Saag to make a complete delicious winter meal.