Details

Created on 30 November 2007
Written by Archana Doshi
( 47 Votes )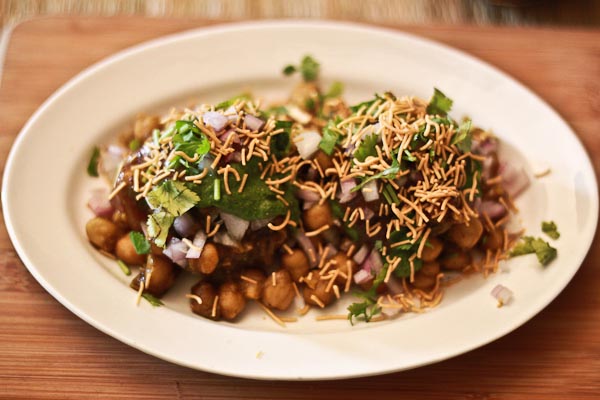 The Chole Aloo Tikki Chaat is a simple recipe of the popular street food of india. I have baked the Aloo Tikkis and infact added some sweet potatoes in them to make it nutritious. The spiced potato patties are flattened and flavored with mint chutney to give the added flavor. The aromatic tast eminating from the chola, the chutneys and the pungent onion, along with that crispy sev on the top makes it an all time favorite indian street chaat. Serve this delicious Chole Aloo Tikki Chaat for the Diwali party or any other party with friends and family.
CLICK TO SEE THE VIDEO RECIPE OF HOW TO MAKE CHOLE ALOO TIKKI CHAAT
INGREDIENTS TO MAKE CHOLA TIKKI CHAAT
1 recipe of aloo tikkis - see below
1 recipe of chola masala
1 recipe of green chutney
1 recipe of date tamarind chutney
2 or 3 large onions, finely chopped
green chillies, finely chopped
coriander leaves finely chopped
sev for garnishing and crunch
INGREDIENTS TO MAKE THE BAKED POTATO TIKKIS
1 cup of steamed green peas
3 large potatoes, boiled and peeled
2 large sweet potatoes, boiled and peeled
1 teaspoon of grated ginger
2 finely chopped green chillies
1 finely chopped onion
2 tablespoons of green chutney
1 tablespoon of corn flour
3/4 cup of Bread crumbs
oil for greasing
salt to taste
Method
In a food processor, add in both the boiled regular potatoes and sweet potatoes, th steamed green peas, a teaspoon of grated ginger, two roughly chopped green chillies, a large finely chopped onion, two tablespoons of mint chutney, some salt to taste and finally a tablespoon of corn flour binding.


Cover the food processor and blend until the potatoes are coarsely mashed and all the ingredients come together. Open the processor and give the mixture a stir halfway through so the ingredients come together and blend again


Transfer the potato dough into a bowl so we can begin to shape them into kebabs or tikkis


Grease your fingers with a little oil and shape the potato dough into bite size tikkis or large lemon size balls, dust them in bread crumbs and place them on the baking tray. Proceed the similar way with the remaining dough


You can also shape the dough in the form of a cylinder like the kebabs, dust them in bread crumbs and insert them into a skewer and grill them. I will now place the tikkis in an oven preheated to 200 C and bake for 15 minutes until lightly browned.


After about 15 minutes, I will now remove the tikkis from the oven. Notice the light browning from the top. The tikkis will not brown too much as they have no oil in them


If you want it to be crisper then you can drizzle some oil on top before they go into the oven.


Now that we have all the ingredients ready, we will assemble the chole tikki chat. Place the tikkis in a platter. Add some hot chola masala on top of the hot tikkis. Sprinkle some green chillies, some finely chopped onions, add a spoon of green mint chutney over each of the tikkis, then some date tamarind chutney over it.


To Serve the Chole Aloo Tikki Chaat sprinkle some more onions, some chopped coriander leaves and finally some sev and serve.