Details

Created on 30 November 2007
Written by Archana Doshi
Hits: 16637
( 25 Votes )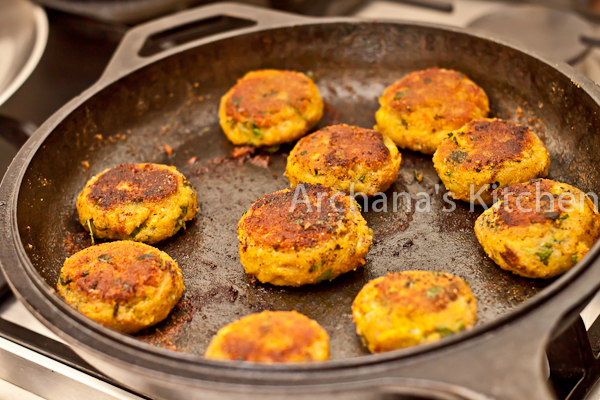 Aloo Tikkis or Potato Cutlets are delicious snacks made from mashed potatoes, spiced with green chillies, turmeric and onions. This version is called differently in different parts of india, cutlets in the south, tikkies in the north, patties in gujarat. This can be made healthier with additons of grated carrots, cheese, panner. Tastier with green spring onions, corn, peas or any thing you can think of. Sandwitch it between a burger bread/ normal slice bead and pack it off as a snack/lunch box.
Makes: 8 tiikki's
Ingredients
2 cups potatoes boiled and mashed coarsely.
1/2 cup onion, finely chopped
1/2 teaspoon finely grated ginger
2 teaspoons finely chopped green chillies
1 teaspoon garam masala powder
1/2 teaspoon turmeric powder
1/4 cup freshly chopped mint leaves or coriander leaves
qil for shallow frying
bread crumbs
salt to taste

Method
Heat 1 tablespoon of oil in a pan; sauté onions and ginger until tender
Add all the other ingredients for the tikki and sauté for a few more minutes, turn heat off and allow the mixture to cool. Once its cool, add the chopped mint leaves or coriander leaved along with the mixture, mix well.
Make 8 round balls of the potato mixture and roll them in bread crumbs. Flatten then slightly with your palms.
Heat a heavy bottomed skillet (I like to use cast iron pans) on medium high. Place the potato patties on the skillet. Drizzle a teaspoon oil over each portion and shallow toast them until dark golden brown. Continue the same procedure with the remaining potato portions.
Serve hot with green chutney or chola tikki chaat.