Details

Created on 24 November 2008
Written by Archana Doshi
( 30 Votes )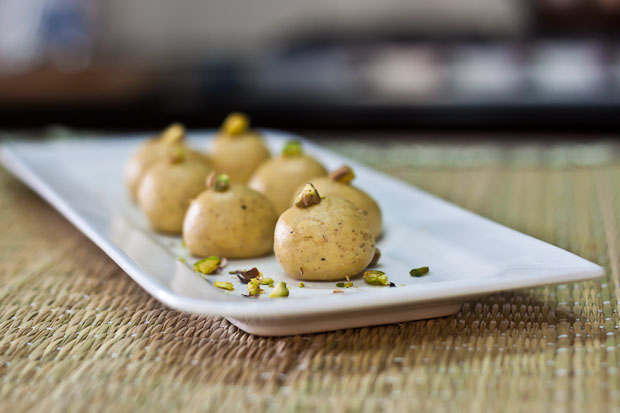 Channa Dal Ladoo also known as the Besan Ladoo is an all time favorite festive sweet. These ladoos can be made either from Freshly Roasted Channa Dal or from Besan (Gram Flour). The aroma when mixed with ghee gives a special flavor and richness to this ladoo. This recipe uses channa dal, but besan (gram flour) can also be used. Follow the same procedure when making this ladoo with besan.
CLICK HERE TO SEE THE VIDEO RECIPE OF HOW TO MAKE BESAN LADOO OR MAGAJ LADOO ALSO KNOWN AS MAALDOO
Ingredients
1 cup channa dal
3/4 cup powdered sugar
1 teaspoon cardamom powder
2 tablespoons ghee
1 tablespoon chopped pistachios for garnish
Method
In a heacy bottomed pan; roast the channa dal on low heat until it releases the roasted aroma and slightly changes its color. Allow it to cool.
In a food processor blend all the ingredients including the roasted channa dal, except the ghee, into a fine powder.
Transfer the ground dal into a large wide mouthed bowl. Add in the ghee and knead using your finger until the dough comes together to form a smooth dough. The heat in your hands help all the ingredients get together.
Once it comes into a smooth dough, roll them into lemon size balls and garnish them with pisatachios. These ladoo's can be stored in an air tight container for a few days and longer in the refridgerator.