Details

Created on 10 October 2011
Written by Archana Doshi
Hits: 18841
( 59 Votes )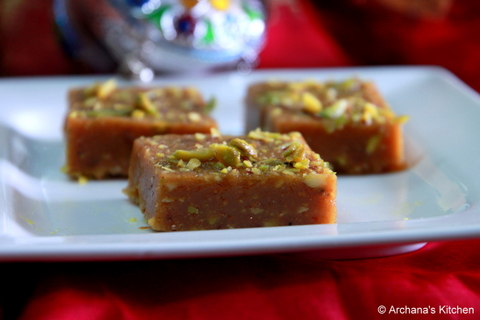 Mohanthal is a sweet fudge made from roasted gram flour and ghee made more often during Diwali. Diwali cannot start or end without this sinful mithai. This is another one of my mother in laws recipes which her family and her friends rave for. They would say "We follow your recipe to the T and even then we can't get it like you". Some say it's the hand and I say it's the love with which you made a dish.
Over the years she has got so many praises for this recipe that she never fails in getting it right. With all that love she has shared the recipe with me as well, and I have not failed. This was a certificate I got from her. I noticed that there was a variation in her recipe compared to many others who used khoya while she did not use khoya and I think this was what made the sweet really delicious.
Makes: 20 pieces approximately
Ingredients
4 cups gram flour
2 cups ghee
1/2 cup milk
2 tablespoons cardamom powder
½ cup finely sliced almonds and pistachios
Ingredients for the Sugar Syrup
2 cups sugar
1½ cups water
Method
Add 1 1/2 cups of the ghee to the gram flour in a large bowl and combine well with fingers to make a mixture that feels like coarse crumbs. Add the milk and mix well.Allow this mixture to rest for about an 15 to 20 minutes.
While the mixture is resting we will proceed to prepare the sugar syrup. In a sauce pan heat 2 cups of sugar and 1 ½ cups of water. Stir continuously until the sugar dissolves. With heat on medium high boil the syrup till you reach a single thread consistency, about 10 to 15 minutes minutes. Remove from heat and keep it warm.

Heat the remaining ghee in a large pan and add the above flour mixture, stirring continuously until golden brown and releases a roasted aroma. This takes about 15 minutes. Add the nuts and cardamom powder and stir until well combined.
Add the sugar syrup and keep stirring till the mixture turns thick and leaves the sides of the pan, it will also be a little dry. This process will also take about 10-12 minutes.Take care not to stir to for too long; if you do it will become too rubbery.
Transfer the mixture into a greased rectangular pan and level the surface. Allow the mixture to cool before you can cut into small pieces. Store the Mohanthaal in an air tight container. Serve them as it is or serve it warm by heat in the microwave for a few seconds.