Details

Created on 22 October 2012
Written by Archana
( 7 Votes )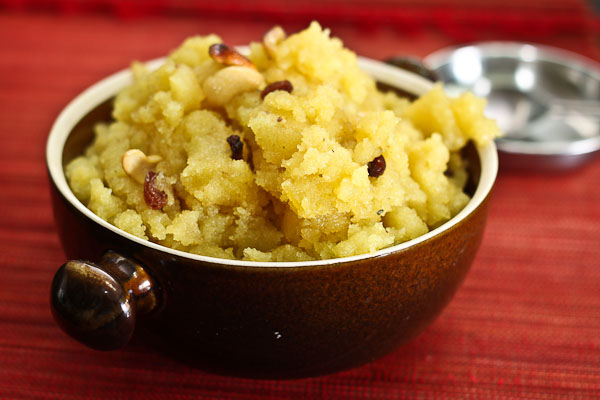 Rava Kesari Bhath is a pudding made from semolina, flavored with spices and nuts. In most parts of Southern India, Kesari is served as part of an offering to God during festivities. Apart from serving at as an offering, it is also equally relished along for Breakfast. It tastes delicious when served along with Vegetable Rava Upma. In karnataka it is the combination of serving it along with Vegetable Rava Upma is called Chow Chow Bhaat.
Makes: 6 - 8 servings
Ingredients to make the Rava Kesari Bhath Recipe
1 cup fine semolina
1/4 cup ghee + 1 tablespoon
3/4 cup sugar
1 cup milk
2 cups water
1 teaspoon cardamom powder
a few strands saffron
10 halved cashew nuts
2 tablespoons sultana raisins
Method
Boil the water, milk, sugar, saffron and cardamom in a sauce pan stirring until the sugar melts. Keep the liquid mixture aside.
In wide heavy bottomed pan heat ¼ cup of ghee on medium heat; add the semolina and roast until the semolina gives out a roasted aroma and also turns light golden color. Take care not to let it over brown. Gradually begin to stir in the hot liquid mixture you prepared earlier. Take care to keep the heat in medium as the mixture will splutter around as you pour the hot liquid to the semolina.
Keep stirring the mixture and the semolina will continue to thicken. Once it has thickened it will begin to leave the sides of the pan. Cover the pan and simmer for a couple of minutes stirring occasionally. You will notice the semolina is cooked and when you stir the whole mixture comes away from the sides of the pan. At this stage, turn off the heat, cover the pan with a lid and let it to rest for a few minutes.
In another small pan; heat the 1 tablespoon of ghee on medium heat; add the cashew nuts and raisins and roast them until the cashew nuts turn golden brown. Turn off heat and stir this to the semolina pudding.
Serve the Rava Kesari Bhath along with Vegetable Rava Upma for breakfast or even savor this as a sweet after a delicious meal.