Details

Created on 28 January 2013
Written by Rekha Vengalil
( 13 Votes )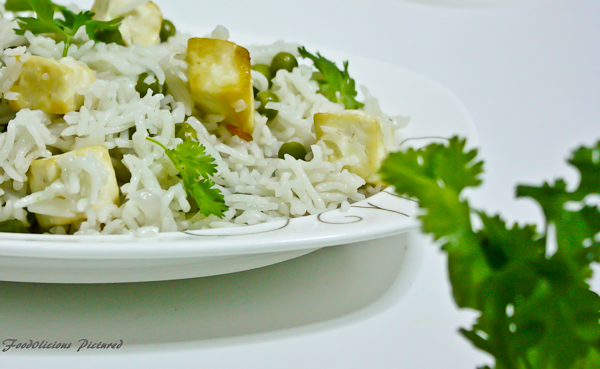 Paneer Pulao is a quick nutritious rice dish flavored with delicated spiced and paneer (indian cottage cheese). The addition of the whole spices into the dish makes it bringing out the flavors into the rice slowly. Serve this with your favorite lentil, like dal makhani or any other vegetarian gravy dishes.

Ingredients
1 cup Basmati rice
2 cups water
1/2 cup peas, steamed
2 cups fresh paneer cut into cubes (you could saute in butter to get a better flavor)
1 large onion thinly sliced
1 teaspoon finely chopped garlic
1 teaspoon finely grated ginger
1 green chilli, slit length wise
1/2 teaspoon fennel seeds
2 cloves cadamom
1/2 inch cinnamon stick
1 clove
1 bay leaf
1 tablespoon ghee
mint leaves for garnishing
Method
Wash the rice and soak for 15-20 minutes and drain.
Heat the ghee in a heavy bottomed sauce pan on medium heat; add the fennel seeds, cardamom, cinnamon, clove and bay leaf and saute until you get a roasted aroma. Add the onions, ginger, garlic and green chillies. Saute on low heat until the onion turns pink and the raw smell of ginger-garlic is gone. Please make sure not to burn them as this will change the color of the rice when you cook.
Once done add in the rice in and saute till the rice doesn't stick to each other ensuring the rice not turning brown. Add the two cups of water, turn the heat to low. Cover the pan and simmer until the rice is cooked and all the water is absorbed. Turn off the heat. Add in the steamed peas and fresh paneer cubes to the rice. Dont stir as yet, allow it to rest on the top covered until for about 10 minutes. The steam from the cooked rice will soften the paneer and bring the flavors of the rice into it. After 10 minutes stir in the paneer and peas into the rice along with the fresh chopped mint leaves and serve hot with a vegetable raita and tadka dal