Details

Created on 25 September 2009
Written by Archana Doshi
( 55 Votes )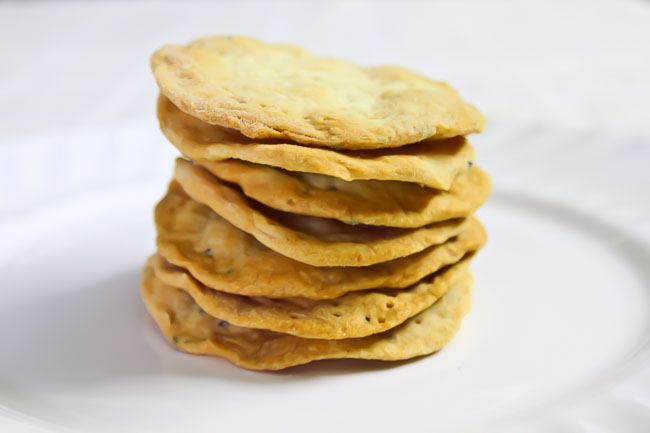 The Baked Mathri Recipe is classic North Indian snack that is had with some achar (a spicy Indian pickle) along with a hot cup of chai. These snacks turn out to be lifesavers when you don't have anything in the kitchen to spice up your palate. Traditionally the mathri's are deep fried in ghee (clarified butter).
Here in this recipe, I have baked them making it a healthier alternative to deep frying.
Savor them with a spicy mango Punjabi pickle, with your favorite cheese, with some salsa, top it with a mushroom white sauce for your parties, or just plain with a hot chai!

Ingredients
1 cup all purpose flour or whole wheat flour
1-1/2 teaspoon salt
1/4 cup of chilled butter, finely chopped
1/2 teaspoon coarsely crushed black pepper
1/2 teaspoon kalonji or cumin or ajwain seeds
1/8 teaspoon baking powder
2 tablespoons plain yogurt
2 tablespoons ice water (adjust less or more as required)
Method
Preheat the oven to 180 C.
Combine the flour, baking powder, salt, black pepper and kalonji. Work the butter into the flour with your fingers until the mixture resembles a coarse meal.
Add the yogurt and sprinkle ice water onto the crumbly dough and with your hands push the dough from the sides to the middle of the bowl to form a ball that holds together and becomes a firm dough, yet pliable dough.
Cover the dough with the damp cloth and set aside for 15 minutes. Divide the dough into small balls and roll out all the balls into small circles of 2 inch diameter and about ½ inch thickness.
Arrange the dough circles on a greased baking sheet and prick them evenly with a fork, to prevent them from puffing while in the oven.
Bake them for about 20 minutes or until golden brown and crisp. Remove them out of the oven and allow them to cool completely.
Savor these delicious mathri's with a spicy mango Punjabi pickle.
Popular Indian Street Food and Tea Time Snacks