Details

Created on 29 November 2012
Written by Reshma Anand
( 26 Votes )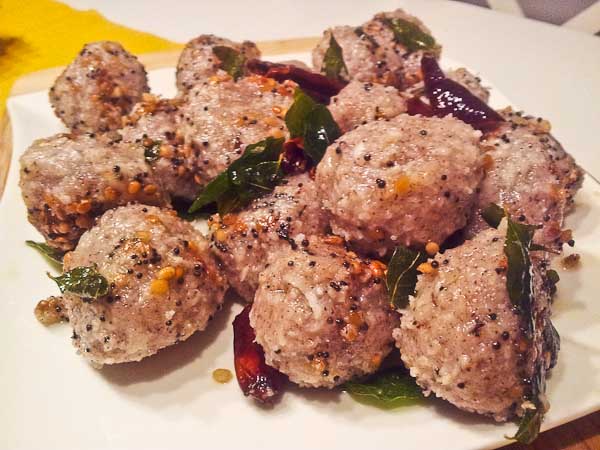 The recipe of a kerala style Kozhukattai is made from brown rice making it extra nutritious . There are many variations to this recipe but I love to make it the way I have written it. Whole grains like brown rice are generally higher in fiber containing certain other nutrients than their "white" counterparts making it healthy and wholesome.
Recipe By: Reshma Anand
Recipe Yields : 12 nos
Ingredients :
1 cup of Brown rice/Kerala red rice
1 cup grated coconut
1 teaspoon Salt
Ingredients For Seasoning
1 teaspoon mustard
2 tablespoon split urad dal
3-4 red chillies
3-4 of curry leaves
2 tablespoons of oil
Method
1.Soak the rice in water for about 6 hours or overnight
2. Grind the rice in a food processor with no water until smooth. Trasfter to a large bowl.
3. Stir in the grated coconut and salt to the ground rice until well combined.
4. Boil water in a heavy bottommed sauce pan, filling it three fourth way through the pan. The water should be enough to immerse the dumplings when dropped in.
5. Make balls (about 1 inch in diameter) of the coconut-rice mixture and drop it into the water once the water begins to boil. You will notice the dumpling once cooked will begin floating on to the top. Once it begins floating allow it to boil for another 3 to 4 minutes until a skewer inserted comes clean.
6. Strain the dumplings from the boiling water and keep aside.
6. Heat oil in another large broad pan on medium heat; add mustard seeds and split urad dal. Add red chilles and curry leaves and stir until the red chillies are well roasted.
7. Place the cooked dumplings into the above seasoning and saute for a about 3 to 4 minutes. Remove from heat and serve hot.
Note: Drop the coconut-rice balls only when the water starts boiling. If you drop it before the boiling point, then it will disintegrate.
You can drink the water in which the dumplings were cooked. It will be a thick mixture and high on energy.
Popular Indian Street Food and Tea Time Snacks