Details

Created on 29 January 2010
Written by Archana Doshi
( 17 Votes )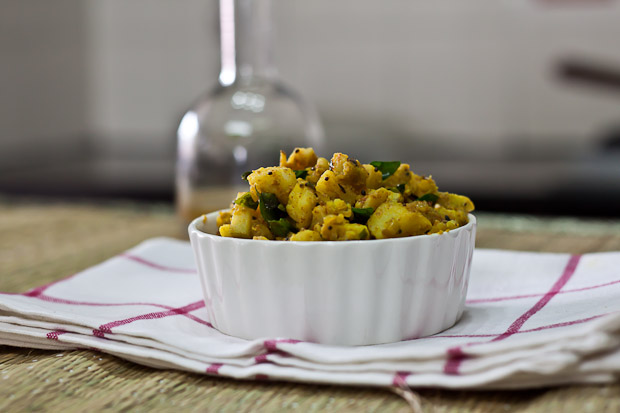 The Spicy Potato Roast also known as Urulaikizhangu Poriyal is a delicious preparation of the potatoes cooked south indian style. Even the Bengali's have a similar preparation with a subtle variation and call it Aloo Bhaja. Boiled potatoes are seasoned with mustard seeds and a few condiments, then slow roasted until the potatoes get coated with a crispy brown texture. The result is simply delicious.
Savor it with a variety of combinations:
1. Vengayam Sambar with hot Rice
2. Yellow Moong Tadka dal with hot phulka's
3. Hot Kadhi and Paranthas
4. Make your own combination
Ingredients
3 potatoes, boiled, peeled and cubed
1/2 teaspoon asafoetida
1/4 teaspoon mustard seeds
1/4 teaspoon cumin seeds
1/4 teaspoon turmeric powder
1/2 teaspoon of red chilli powder
5-6 curry leaves
2 tablespoons of oil
Salt to taste
Method
Add the turmeric powder, salt and red chilli powder to the boiled potatoes and mix well.
Heat oil in a non stick frying pan. Add the mustard seeds, cumin seeds, curry leaves, asfoedida. Allow them to crackle.
Add the potatoes to the oil and stir well until all the condiments get well coated.
Reduce the flame to medium and cover the pan with a lid, stirring occasionally.
Roast the potatoes until they have a slightly crispy texture. More like the some crumbs of the potatoes turn crisp.
Using a non stick pan helps reduce the amount of oil you use.
Remember potatoes drink a lot of oil, so adding more oil will give a more roasted feel, but watch out for that excess.
Serve these delicious spicy potato roast with your favorite Vengayam Sambar or Moong Tadka dal or Kadhi.