Details

Created on 17 December 2012
Written by Archana Doshi
( 7 Votes )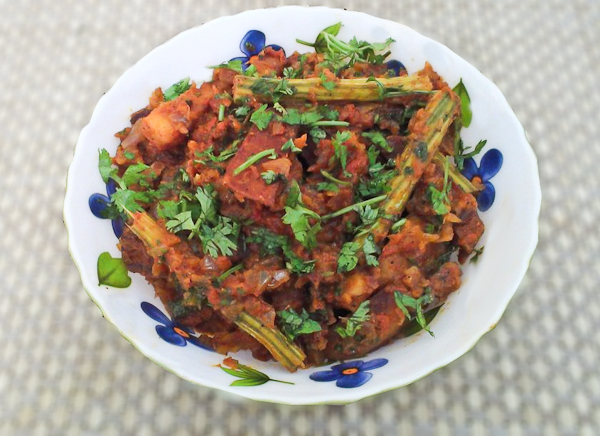 Batata Saragva Nu Shaak is made with a combination of fried potatoes and steamed drum sticks that is cooked in a onion and tomato gravy. This one was one of my childhood favorite dishes and I especially love it for french fried potatoes that makes it special and tempting for everyone in the family.
Ingredients
4 medium sized potatoes
3 drumsticks steamed or boiled, cut into 1 1/2 inch size pieces
1 1/2 cups finely chopped onion
1 1/2 cups finely chopped tomatoes
A pinch of asafoetida
1 teaspoon of red chilli powder (add extra if you want it hotter)
1 tablespoon coriander powder
1/4 teaspoon turmeric powder
4 tablespoons oil
salt to taste
oil for deep frying
coriander leaves for garnishing
Method
Heat oil for deep frying.
Wash and peel the potatoes. Cut them into 1/2 inch thick slices and further cut them into finger sized pieces. Deep fry the potato strips in hot oil until it turns crisp and golden. Drain the roasted potatoes from the oil and set aside.
(You can optionally saute these strips in 2 tablespoons of oil until just cooked or even grill them in the oven, until crisp)
Heat a tablespoon of oil in a medium sized pan, add in the asafoetida and stir for about a second. Stir in the chopped onions, and saute on medium heat until soft and tender and changes color.
Stir in the chopped tomatoes and saute until it becomes soft. Add in the turmeric powder, red chilli powder, the cumin, coriander powder and salt. Add about a 1/4 cup of water and turn the heat to low.
Stir in the (fried or sauteed or grilled) potatoes, steamed drumsticks into the above tomato mixture. Turn the heat to high and saute for about 2 to3 minutes untill the masala is well combined into the vegetables. Turn off the heat and garnish with chopped coriander leaves and serve hot with rotlis
Notes-Variation: You can also had Grilled/Fried cauliflower florets can also be added to this vegetable.