Details

Created on 05 March 2008
Written by Archana Doshi
( 60 Votes )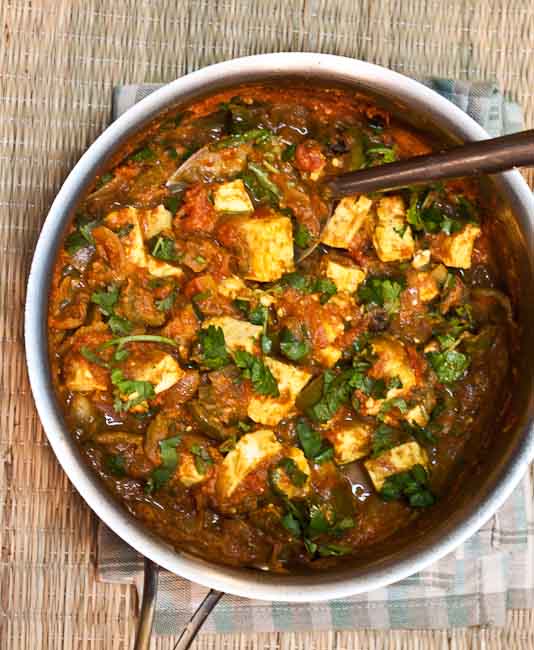 Kadai Paneer is a delicious north indian recipe that is made from fresh homemade paneer and sauteed with Green Bell Peppers, dried fenugreek leaves and the cardamom. When you have the paneer, all you need a a few spices and wok also known as a kadai. The capsicum and the onions are stir fried on high heat and then the tomatoes are added in to give it the moisture. I typically like to grate my tomatoes for the Kadai Paneer recipe, but you can add it chunks as well. Serve the Kadai Paneer hot for dinner along with ready Phulka's and Paneer Pulav.
Lets dive right in to see how to make the Kadai Paneer Recipe
Makes: 3 to 4 servings
Ingredients to make Kadai Paneer recipe
1 large onion, diced
1 large green bell pepper/ capsicum, diced
1 teaspoon grated ginger
2 cloves of garlic, finely chopped
2 large tomatoes, finely chopped
1 teaspoon cardamom powder or 1 badi elaichi
1 teaspoon turmeric powder
1 teaspoon cumin powder
1 teaspoon red chilli powder
1 teaspoon black pepper powder
1 tablespoon kasuri methi (dried fenugreek leaves)
oil for cooking
1 tablespoon butter
salt to taste
Method
Heat oil in a heavy bottomed wok or a kadai; add onions, green bell peppers, ginger,garlic and sauté until the onions and peppers are tender. Add the tomatoes, turmeric powder,cumin powder, black pepper powder, red chilli powder and saute until the water from the tomatoes have evaporated and become a thick paste.
Add butter, salt, cardamom powder or badi elaichi and and sauté for few more minutes. Add the paneer pieces and kasuri methi and simmer with the pan covered for a few minutes on low heat. Turn off the heat, and allow the paneer to rest for a couple of minutes before you are ready to serve.


Serve the Kadai Paneer hot with phulka's and paneer pulav. I hope you liked the recipe of Kadai Paneer and do get to try it in your kitchen. Would love to hear your feedback in the comments below.