Details

Created on 26 February 2008
Written by Archana Doshi
( 58 Votes )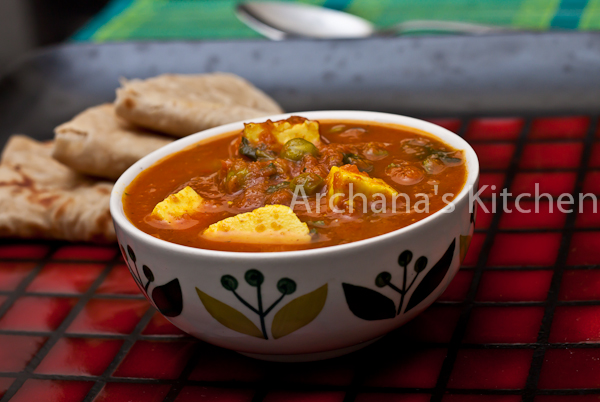 Mutter Paneer is an all time favorite North Indian dish. The combination of peas, tomatoes and paneer gives this dish a subtle sweetness which enhances the taste of this flavored dish. When the peas are fresh out of the pod, sweet and juicy is when I enjoy it the most. So if ever you can get hold of fresh peas in pods, dont forget to try this recipe.
Makes: 4 servings
Ingredients
2 cups fresh paneer cubes/ 250 grams ready paneer packet or Home Made Paneer
1/2 cup steamed fresh peas/mutter
2 cups freshly pureed tomatoes (choose red ripe tomatoes)
1/2 cup of chopped onion
1 inch piece of ginger
1 clove garlic
1 teaspoon turmeric powder
½ teaspoon cumin powder
½ teaspoon garam masala powder
½ teaspoon red chilli powder
1 tablespoon oil
Salt to taste
freshly chopped coriander leaves
Method
Make a combined paste of the onion, ginger and garlic and keep aside.
Heat oil in a heavy bottomed pan; add the onion ginger garlic paste and saute on medium heat until they turn mild golden color. Stir in the tomato puree, turmeric powder, cumin powder, garam masala powder, salt and red chilli powder.
Simmer the mixture until tomatoes are cooked and thickened. You can some water to loosen the gravy and adjust the spices if you feel the gravy is too thick.
Finally stir in the paneer and steamed peas. Simmer for a few more minutes. Garnish with freshly chopped coriander leaves and serve hot with phulka's.