Details

Created on 04 January 2013
Written by Archana Doshi
( 6 Votes )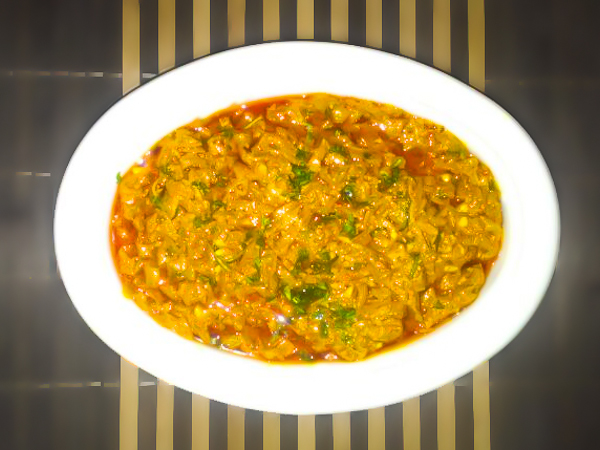 Haldi ki subzi is an authentic Rajasthani winter dish. Fresh haldi (available only in winter) is sautéed in ghee and simmered in onion and yogurt gravy.The key ingredient 'ghee'- helps in reducing the bitterness of haldi and acts as a cooling agent. Fresh yellow haldi is similar in appearance to that of ginger and z must have dish during the winters.
Ingredients
200 grams haldi/turmeric ( washed, peeled and coarsely grated)
1/2 cup ghee
1 1/2 cups finely chopped onion
2 cups whisked yogurt
2-3 green chillies finely chopped
3 tablespoons garlic, chopped
2 teaspoons coriander powder
2-3 teaspoon red chilli powder
1/2 teaspoon garam masala
coriander leaves for garnishing
salt to taste

Method
Heat ghee in a thick bottom pan on medium heat. Add onions, haldi, garlic and green chillies and saute well for 5-7 minutes.
Gradually stir in the yogurt, coriander powder and red chilli powder. Keep stirring continuously for about 5 minutes until it begins to thicken. (stirring is very important at this stage to prevent the yogurt from curdling).
Turn the heat to low and simmer stirring occasionally for about 15-20 minutes or until a thick consistency is obtained. Stir in garam masala and salt and cook for a few more minutes.
Finally turn off the heat and garnish with freshly chopped coriander leaves and serve hot with phulkas

Notes:
Prepare this subzi well prior to serving. This enables the haldi to absorb the ghee and sauces and enhances its flavours.
You can also make variations to this vegetable. You can substitute with one cup chopped onion and another half cup with chopped spring onions.
Alternatively you can also add 1 cup of tomato puree and a cup of steamed green peas and reduce the quantity of yogurt to 1 cup.