Details

Created on 26 August 2009
Written by Archana Doshi
( 9 Votes )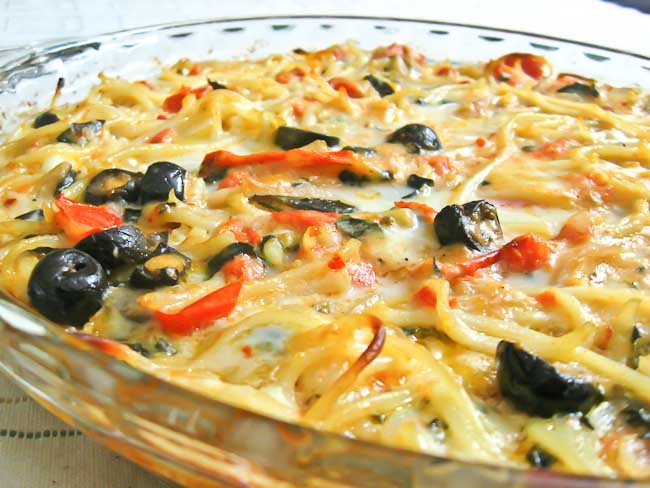 Cheese and Spaghetti Pie is a delicious pasta, that is make along with cheese, cream, fresh tomatoes and basil. The flavors seep deep into the spaghetti making it truly delicious. Make this dish for thanksgiving or for holiday parties that bring friends and family together. And do make sure you serve this Cheese Spahgetti Pie Hot out of the oven, as it tastes best only then.
Below you will learn how to make a Cheesy Spaghetti Pie
Makes: 6 to 8 servings
Ingredients
500 grams spaghetti
4 to 5 cloves of garlic, finely chopped
1 large onion, thinly slices
3 large tomatoes, finely chopped
1/2 cup black olives, chopped
200 ml of fresh cream
Freshly ground black pepper
red pepper flakes
a small bunch of basil leaves, chopped
1/4 cup grated cheddar cheese
1/2 cup grated Parmesan cheese
olive oil for cooking
Salt to taste
Method
Preheat oven to 200 C.
Bring a large pot of water to a boil. Add the spaghetti and some salt and cook the pasta until soft. Once cooked, rince the pasta under cold water and keep aside.
Heat 2 tablespoons of the olive oil in a medium skillet over medium heat for 1 minute. Add the garlic and onion saute until tender and golden. Add the tomatoes, olives, salt and saute for about 5 minutes until the tomatoes become tender and not completely soft. Remove the mixture from the heat and set aside.
To the cream add some freshly ground pepper, red pepper flakes, basil, cheddar, 1/4 cup Parmesan and the tomato mixture. Mix in the spaghetti and saute for a few minutes.
Transfer the spaghetti to a tart pan greased with olive oil and place covered with aluminum foil in the preheated oven for 30 minutes or until the center of the pie is set and the top is golden.
Remove from the oven and let stand for 10 minutes. Run a spatula around the edges and underneath the pie to loosen.
Slice the Cheese Spaghetti Pie into 6 to 8 pieces and garnish with the remaining Parmesan before serving. Serve the pie hot along with some good wine.