Details

Created on 15 February 2012
Written by Archana Doshi
( 4 Votes )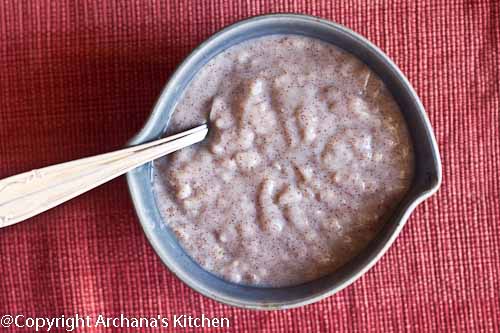 This is one of the most nutricious breakfast dishes you can serve for your entire family. I have been serving this porridge to my children ever since they were 5 months old. They stopped for a couple of years when they were 2 to 4 years and had to struggle an entire summer vacation to get them to start eating this porridge again. And ever since it is the breakfast they have before they head out to school.
Check the nutrition facts about Pearl Millet- Ragi - http://en.wikipedia.org/wiki/Millet
In the link above there is a nutrition chart that is given and dont forget to read that. You will be surprised to know what a wholesome meal it can form to your diet. You can read more on Oatmeal here - http://www.lifescript.com/food/articles/0/4_oatmeal_nutrition_facts_you_need_to_know.aspx

Serves: 2 large servings (2 large soup bowls)
Ingredients
2 tablespoons ragi flour (pearl millet)
2 tablespoons quick cooking oatmeal
1 cup water
1 cup milk
Sugar/honey to taste

Method
In a sauce pan; add the ragi flour and oatmeal. Stir in the water and dissolve the ragi powder until there are no lumps. Stir in the milk and turn the heat on. Cook the ragi-oatmeal mixture until it begins to thicken. Keep stirring occationally so that lumps dont form while cooking. Once the mixture thickens add sugar (about 4 teaspoons) and stir well. Transfer contents to a serving bowl and let it sit covered for 5 minutess. Serve warm.