Details

Created on 12 February 2013
Written by Sara Önnebo
( 6 Votes )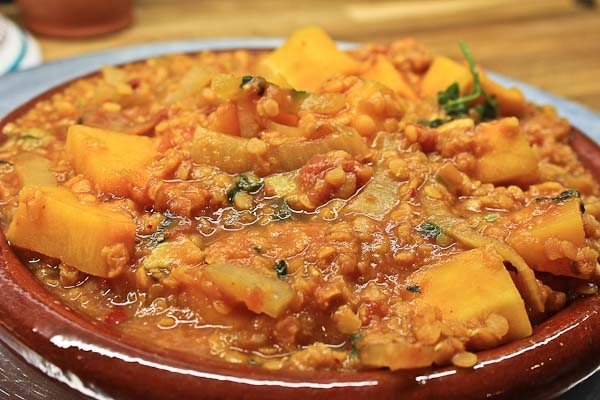 The Pumpkin Tagine is a delicious Moroccan inspired dish, that is quick and simple to make for a weeknight dinner. It is a one pot dish, that can either be served with rice, couscous or bread.
Makes: 4 servings

Ingredients
1 pumpkin or butternut squash, peeled and diced
1 yellow onion, chopped
300 ml lentils, boiled
3 cloves of garlic, crushed
500 ml chopped canned tomatoes (or use fresh ones)
1/2 teaspoon turmeric
1/2 teaspoon cumin
1/2 teaspoon sambal oelek (or more if you prefer it spicy)
1 teaspoon paprika powder
1/2 teaspoon sugar
400 ml vegetable stock
3-4 sprigs of chopped parsley
Method
To begin with, saute the garlic and onions with the spices in a shallow pan, until the onions become soft.
Transfer the sauteed veggies to a large pot, adding in the peeled and diced pumpkins and all the remaining ingredients.
Place the pot over medium flame and simmer the contents until they are soft and cooked.
Serve this Pumpkin Tagine with rice, couscous or bread as an accompaniment.