Details

Created on 22 November 2011
Written by Archana Doshi
Hits: 3800
( 24 Votes )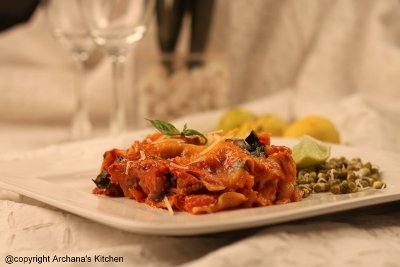 Roasted Mushroom and Eggplant Lasagna with Ricotta Recipe is one of the most favorite dishes for dinner at my home. Packed with vegetables and goodness of ricotta and durum wheat pasta make it wholesome, nourishing and absolutely delicious. As with any pasta, I always never fail to make the pasta sauce at home from the basics. Fresh herbs, fresh vegetable, including freshly made Riccotta goes right between the delicate layers of this home baked lasagna.
Ingredients
10 sheets of lasagne (regular size), the one that needs no pre-cooking
4 cups fresh button mushrooms, finely chopped
2 cups eggplant, finely chopped
3/4 cup red bell pepper, finely chopped
3/4 cup spring onions, chopped
2 cloves garlic, minced
3 tablespoons olive oil
3 cups fresh tomato basil sauce
1 1/2 cups fresh cream
6-7 twigs of fresh basil, torn
1 1/2 cups fresh riccotta cheese
1/2 cup grated mozzarella cheese
Method
Preheat the oven to 180 C. Keep a 8 x 8 inch square baking pan ready.
Heat 2 tablepoons oil in a large pan on medium heat; add in the eggplant, sprinkle some salt. Stir the eggplant covered partially until it gets soft and tender and gets a roasted aroma. Turn off heat and transfer the eggplant to a large bowl.
In the same pan heat the remaining one tablespoon of oil on high heat; add the onions, mushrooms and red bell pepper and stir fry on high heat until the ingredients are well roasted and the mushroom and peppers has skrunk in size and tender.
Turn off heat and transfer the contents into the same large bowl where the eggplant was transfered. Stir together all the roasted vegetables in the large bowl untill well combined.
Whisk the cooked sauce and the cream together until well combined. We will spread the sauce and vegetables over three layers, so its good idea to divide them into three portions.
Spread a portion of sauce at the bottom of the pan; Then spread a portion of the vegetables and riccotta over the sauce layer. Place a layer of lasanga sheets over the vegetable layer untill all the portions are covered.
Repeat the smiliar process for another two times. Finally sprinkle the mozzerella cheese and torn basil leaves evenly over the top covering the entire Lasagna. Tightly wrap with foil and place in the preheated oven and bake for 45 minutes.
Remove from the oven and allow the Lasagna to sit for atleast five minutes before serving.
I hope you enjoy making the Roasted Mushroom and Eggplant Lasagna with Riccotta Recipe. Do give your feedback in the comments below. Thank you!