Details

Created on 17 February 2012
Written by Archana Doshi
Hits: 2897
( 8 Votes )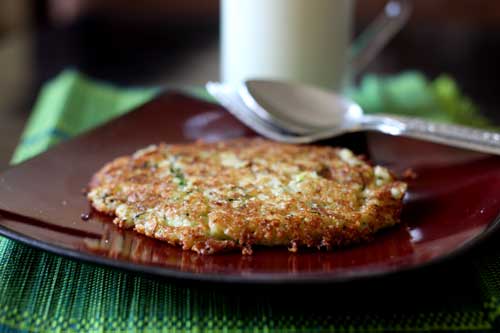 We are all pressed for time and ideas when children are returning back from school. It does get very easy when we serve them an instant ready made off the shelf biscuit or a multigrain snack bar. With a little effort and preparation we can get to making quick and healthy snacks for children right at your home. After school is the time the children are super hungry and will eat anything tasty and healthy you offer them. Go ahead and try these pancakes, add or omit the eggs and they will not change the taste.
You can read more on the nutrition benefits of Zucchini and feel extra good about this recipe -
http://www.healthdiaries.com/eatthis/8-health-benefits-of-zucchini.html



Makes 6 to 8 - 3 inch pancakes

Ingredients
1 cup grated zucchini, packed
2 tablespoons finnely chopped onion
1 large egg (optional)
1 cup fine broken wheat (looks a little coarser than semolina, but light brown- called as bansi rawa sometimes in indian stores)
1/2 cup oatmeal
1 cup yogurt
1 teaspoon baking powder
salt to taste
Unsalted butter and vegetable oil
chopped green chillies (optional)

Method

Combine the broken wheat, oatmeal, yogurt and salt in a bowl along with 2 cups of water. Cover and allow it to soak and rest for 30 minutes.

Whisk the eggs along with the baking powder until well beaten. Stir the egg mixture, zucchini and onions into the above wheat mixture until well combined.

Heat a 8 inch pan over medium heat and melt 1/2 tablespoon butter or 1/2 tablespoon oil in the pan. When the butter is hot but not smoking, lower the heat to medium-low and drop one heaping soup spoon of batter into the pan. Cook the pancake about 2 minutes on each side, until browned and cooked. Continue with remaining pancakes and serve warm with honey or just like that.

Alternatives, you could make tiny 1 inch appetizers with this batter and serve it as a starter for your next party. These remain soft and warm well in the oven even after they are cooked without getting brittle. If you happen to warm in the oven, just make sure to cover with alumnimum foil so they dont dry out.

If you were heating in the oven, preheat the oven to 160 C and place water in a tray below to keep moisture in the oven. You can now re heat/ warm the pancakes in the oven placed on a tray covered with foil. (added this point based on a feedback received)

Happy Snacking!