Eggless Whole Wheat Banana Bread Recipe-Vegan Options
A best way to use ripened bananas into your cake batter to create a banana bread that everyone would love to have a bite of it. We have made it more simpler with eggless and also having it a vegan option. Serve the banana bread along with a cup of hot chai to enjoy your evening time.

Archana Doshi
On

Tuesday, 28 April 2009 11:50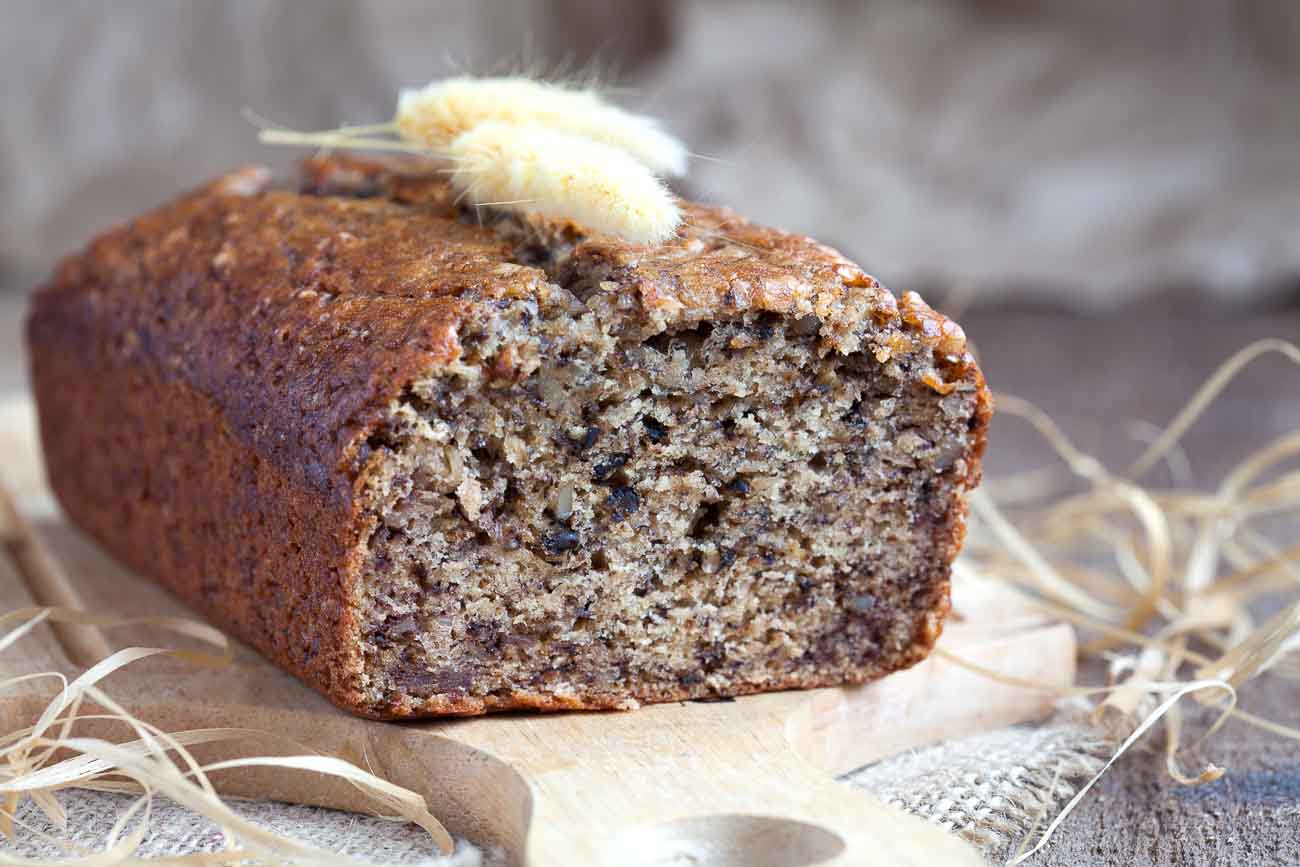 The Whole Wheat Banana Cake also known as the Banana Bread is the best ever cake that you can bake in your kitchen. If you are a first time bake, this recipe is one of the most simplest breads you can bake.
Ever had an experience that the bananas get ripe very quickly in summers and you end up trashing them. Well, now you will not have to throw them, you can use them to make really delicious banana bread.
Banana cakes take very well to the eggless version of cakes, primarily because they have a lot of body for required texture in them. These cakes are delicious anytime of the day, with or without walnuts.
Serve the Whole Wheat Banana Bread along with Masala Chai Recipe to make your evening special.
Take a look at more tea cake recipes to try
Note: Baking Time differs from oven to oven. Also not that this cake is moist, so some amount of cake might be sticking to the toothpick, its ok for it do be so. It should not be raw, it should be baked.Serve warm with a cup of coffee or cold with some creamy white custard sauce.
Ingredients
2 teaspoons

Baking powder

1/4 teaspoon

Salt

3/4 cup

Oil

1/2 cup

Butter (Salted)

3/4 cup

Brown Sugar (Demerara Sugar)

1 cup

Whole Wheat Flour

1 cup

All Purpose Flour (Maida)

1-1/2 cups

Ripe Bananas

, mashed
For Flax Meal Egg Replacer
2 tablespoons

Flax seed powder (flax meal)

6 tablespoons

Chilled water
How to make Eggless Whole Wheat Banana Bread Recipe-Vegan Options
To begin making the Whole Wheat Banana Bread Recipe, first get all the ingredients ready and keep aside.
To Make the flax meal egg replacer
If your recipe asks for 2 eggs, measure 2 tablespoons of flax meal along with 6 tablespoons of water. Stir well and let the mixture rest for about 15 minutes. This process of resting helps the flax meal mixture develop a gelatinous consistency similar to eggs.
To make the Batter
Next preheat the oven to 180 C. Prepare a loaf pan greased with butter and flour. Keep aside.

Into a large bowl or the bowl of the KitchenAid Stand Mixer with the paddle attachment, add in the flax meal egg replacer, oil, salt and whisk them together until fluffy. Gradually add in the sugar, baking powder, the bananas and finally the flours.

Beat all the ingredients together until well combined and fluffy. Dont over beat as your dont want the air pockets to die down with too much beating.

Pour the Banana Bread Cake batter into the preapared loaf pan and bake in the preheated oven for 35 - 40 minutes or until done. This you will know when you insert a clean toothpick or a knife and it should come out clean with a little sticky crumbs.

Serve the Whole Wheat Banana Bread along with Masala Chai Recipe to make your evening special.