Classic Pineapple Upside-Down Cake Recipe

Archana's Kitchen
On

Wednesday, 08 June 2016 00:40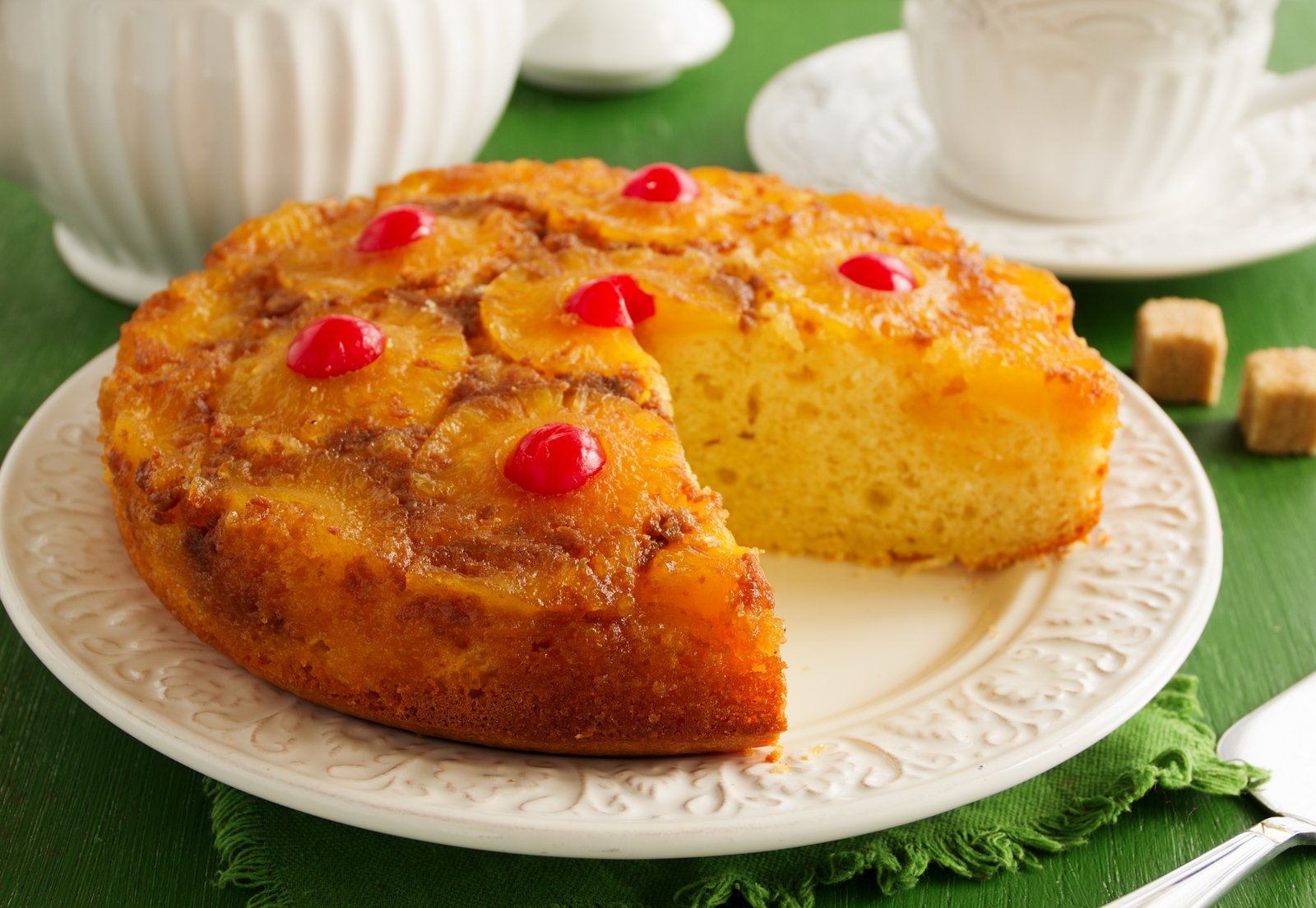 This Classic Pineapple Upside-Down Cake Recipe is a Super-moist, full of flavor and so very easy due to the use of a cake mix and canned pineapple. This old-fashioned cake recipe delivers a really good take on the dessert classic- pineapple upside-down cake. Serve it with vanilla ice cream for a delicious combination. Cover the cake and store for up to 2 days in the refrigerator. This Classic Pineapple Upside-Down Cake Recipe is a hit for tea parties and evening snacks for kids.
Here are more of our cake recipes-
Ingredients
Ingredients For Topping
840 grams

Pineapple

, I have used canned pineapple, drained (juice reserved for making cake)
120 grams

Glazed Cherries

, you can alternatively also use the tinned variety
1/4 cup

Butter (Salted)

1 cup

Brown Sugar (Demerara Sugar)

Ingredients For Cake
500 grams

Cake Mix

, I used Pillsbury Vanilla Cake Mix

Pineapple juice

, reserved from Del Monte pineapple slices
20 ml

Oil

2 teaspoons

Pineapple Essence

1 pinch

Food Color

, yellow (optional)
How to make Classic Pineapple Upside-Down Cake Recipe
To prepare the Classic Pineapple Upside-Down Cake Recipe, preheat oven to 180° C for 10 minutes.
Topping
Melt butter in oven and spread in 9-inch pan.

Sprinkle brown sugar evenly over butter.

Arrange pineapple slices on the brown sugar.

Place cherries between the pineapple slices, and arrange remaining cherries around slices, as per preference. Press gently into brown sugar. Keep aside.
Cake
In a large bowl, combine cake mix, reserved pineapple juice, vegetable oil, pineapple essence and few drops of yellow gel food color. Mix until well blended.

Pour/spoon batter into prepared pan.

Bake for 50 - 55 minutes or until toothpick inserted in center comes out clean. Let cool for 10 minutes or until warm.

Now run a knife around side of pan to loosen cake.

Invert cake with pan on top of a cake stand or a large serving plate.

Leave pan over the cake for 2 minutes so brown sugar topping can drizzle over the cake; remove pan.

Cool for 30 minutes.

Slice. Serve the Classic Pineapple Upside-Down Cake Recipe warm with iced tea or hot cup of coffee or cool and refrigerate. Fall in love!