Live Online Cooking Classes

Learn fun and exciting cooking tips, interact with Archana, ask questions, clear doubts and learn exciting dishes in a fun and interactive way. All you have to do is join me with your favourite snack and drink, watch me cook & ask questions. If you wish to cook along, once you register, we will send the ingredients to cook along by email for the live cooking class.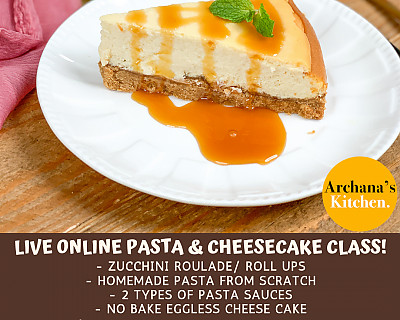 Live Online Cooking Class | Aug 2nd 2020 - Pasta & Cheesecake Party
Learn to make delicious Grilled Zucchini Roulade/ Rolls, How To Make Homemade Pasta, Pasta with Two Types of Sauces Spinach Basil Sauce and a Creamy Alfredo Sauce and finally a No Bake Eggless Cheesecake which make them perfect for a family party or even a indulgent dinner.
Class Completed (50 attended)
Class Date :
Sun, 2-Aug-2020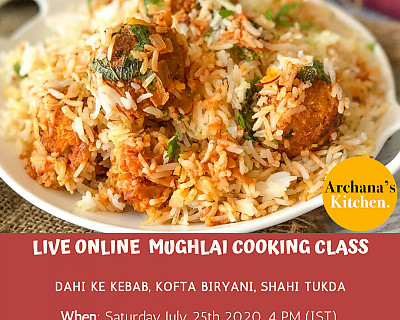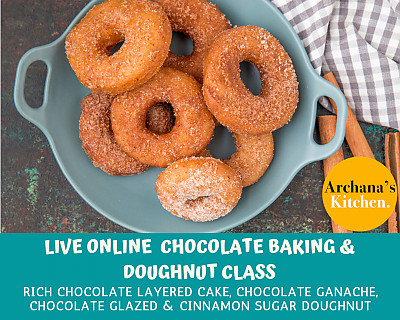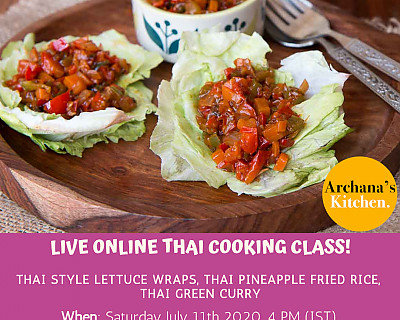 Live Online Cooking Class | July 11th 2020 - Thai Cooking Class
Learn to make lip smacking all vegetarian Thai Lettuce Wraps, Thai Pineapple Fried Rice, Green Curry Paste & Thai Green Curry. You will also learn the key flavours of the Thai Cuisine used in the various dishes. After this class, you will be able to enjoy a delicious dinner with your family.
Class Completed (56 attended)
Class Date :
Sat, 11-Jul-2020