Everyday Breakfast, Lunch & Dinner Recipe Ideas
Putting together a delicious breakfast, lunch or dinner is a challenge many of us face at home. With seasonal ingredients and our growing palates across regional Indian cuisines and international cuisines, Archana's Kitchen is constantly working on creating meal plate ideas where we combine various regional cuisines to make fun and delicious meal plates. These meal ideas can be for a fusion between regional cuisine in india an the breakfast again will be a fusion between indian and continental cuisines.
You will find South Indian Recipes, North Indian Recipes, Continental Breakfast Recipes, Continental Main Course Recipes, South indian Breakfast Recipes, North Indian Breakfast Recipes and a whole lot more. Go ahead and use these meal plate ideas and cook wonderful dishes for your family.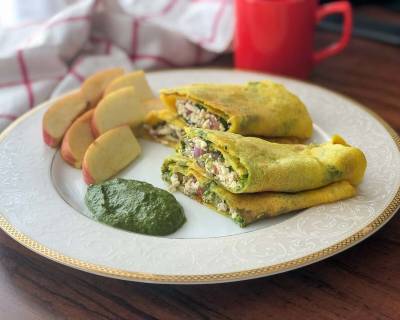 Try This High Protein Breakfast -Moong Dal Cheela with Paneer, Green Chutney & Fruits
Needless to say, Breakfast by far is the most important meal of the day. As simple as it gets, consuming good number of calories in the morning and fewer as the day goes on is a highly effective way to maintain healthy weight.
Choosing food groups wisely for breakfast, is yet another important task. Here is High Protein Breakfast that includes Moong Dal Cheela With Stuffed Paneer, Dhaniya Pudina Chutney, Fruit Bowl & Banana Yogurt & Walnut Smoothie.
Yellow moong dal is rich in protein and when the cheela is stuffed along with Paneer, it adds to the protein and other vital nutrients that are required by the body. In addition, the Green Chutney, made from coriander and mint is delicious and as well as packed with a lot of vital nutrients that are required by the body.
This high protein breakfast is indeed a great way to kick start your day.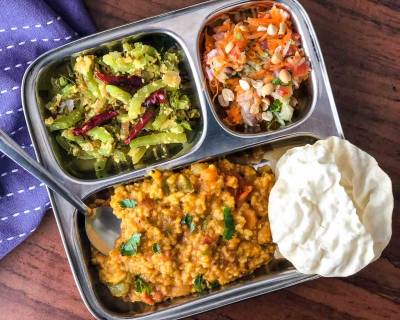 Everyday Meal Plate: Sambar Rice, Snake Gourd Thoran And Salad
Taking in your daily required nutrition is very important and therefore we get you a meal plate which will help you to intake the required nutrients for the day. It is simple and provides all the nutritional content you need for your day to keep going without having to compromise on flavour. It is also important to keep an eye on the portions of food that are served on one's plate. For the sake of that, it is wise to invest in a slotted plate so that each slot is filled with enough side dish/ main dish to fill our stomachs.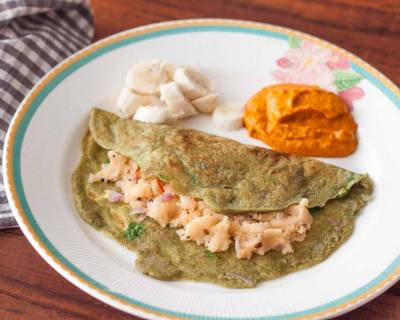 An Andhra Breakfast You Must Try- Pesarattu Upma, Chutney & Chai
Here is a wholesome South Indian Breakfast Recipe which includes Andhra Style Pesarattu Upma which is a delicious combination of Pesarattu and Upma. Pesarattu is packed with protein and taste as it is made from Green Moong Dal.
Serve Pesarattu Upma along with Tomato Onion Chutney and Masala Chai. This healthy breakfast recipe has almost all nutrients that a body needs on a day-to-day basis. Different flavour profiles in the plate like spicy and tangy, will leave your taste buds satisfied and your tummy full.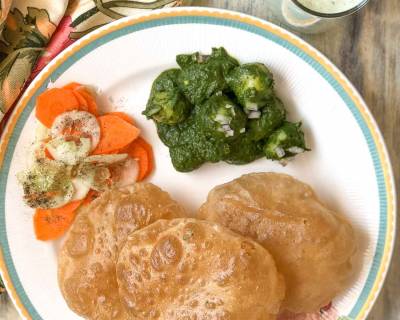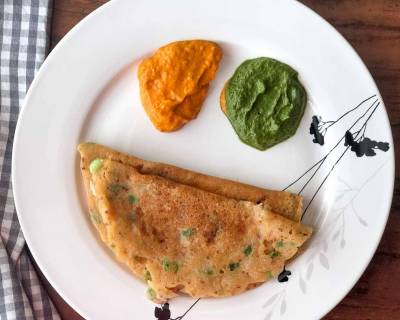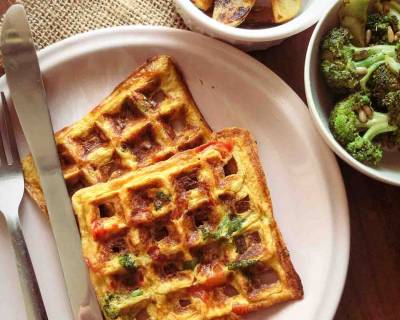 Breakfast Meal Plate : Masala Omelette Waffle, Potato Wedges And Broccoli Stir Fry
We all love waffles but have you tried making waffles using eggs. They are super delicious and the vegetables adds flavour to it. Make this breakfast on a weekend and suprise your friends and family. At Archana's kitchen we constantly try to provide a healthy element in your everyday cooking, since breakfast is the most important meal of the day we have tried to incorporate ingredients that are healthy and wholesome.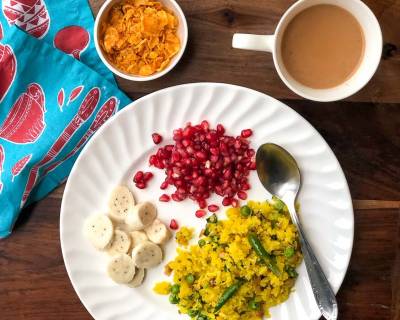 A 20-Minute Breakfast Idea- Matar Poha, Fruits & Masala Chai
Here is a wholesome Breakfast meal that consists of Matar Poha, Masala Chai and Fruits-Banana & Pomegranates that makes for a healthy weekday Breakfast.
Breakfast as we all know, is the most important meal of the day. Eating a nutritious breakfast sets the tone for the day. This Breakfast plate is packed with almost all nutrients a body requires. Poha is rich source of iron, making it a good option for breakfast, Bananas being rich in potassium & energy-giving, and Pomegranates on the other hand is a blood purifier and a great source of iron and folic acid.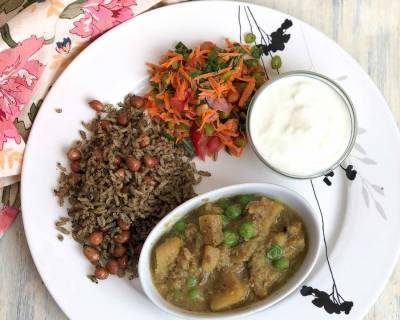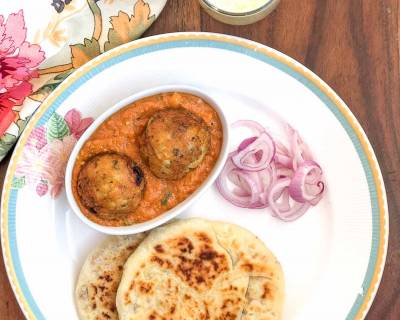 Here's A Royal Saturday Dinner - Malai Kofta, Peshwari Naan & Kesar Pista Lassi
Here's a satisfying and wholesome meal plate idea that you can eat for your Lunch or Dinner. It consists of Malai Kofta, Peshawari Naan with a glass of delicious Kesar Pista Lassi. This North Indian meal is easy to make and is perfect when you have guests coming in for lunch or dinner.
Malai Kofta is a wholesome and rick curry in which Koftas are made of Paneer and Potato. These Koftas are then added to the rich tomato gravy. The best thing about this Kofta curry is that the Kofta are not fried. These koftas are made in paniyaram pan which makes this dish healthy. Along with this, we have served Peshawari Naan, Pickled Onions and Kesar Pista Lassi which makes this a royal meal, perfect for your weekend meals.
So if you have guests coming over this weekend, do try this mouthwatering vegetarian meal and let us know how you liked it?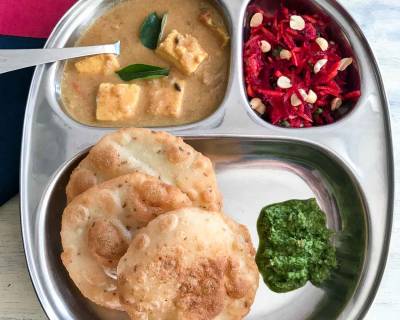 Everyday Meal Plate : Malabar Ney Pathiri, Paneer Kurma & Beetroot Salad
As a child or maybe even now, we might have a habit of popping the outer thin layer of puris and seeing that puff of smoke coming out from the centre. Slowly peel away the thin layers to eat it standalone while the rest of the puri gets eaten with a side dish. We all have a way of eating puris and some of us love to eat it with a savoury side dish while some eat puris along with sweet dishes like Srikhand or Aam Ras.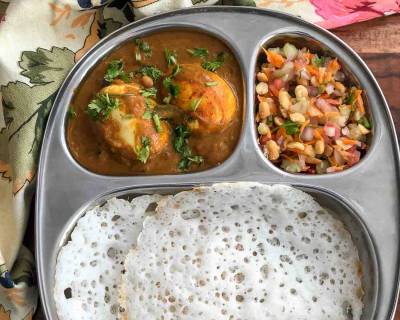 Sri Lankan Meal Plate : Sri Lankan Egg Curry, Appam and Carrot Tomato Salad
Planning for lunch and dinner can be such a tedious job sometimes and most times we end up making simple dishes. But it doesn't have be that way. With just a little bit of planning you can have a delicious and healthy restaurant style home cooked meal to feed your family or guests. Here is one such meal plate that is so simple to make that you will feel that you have landed in Sri Lanka.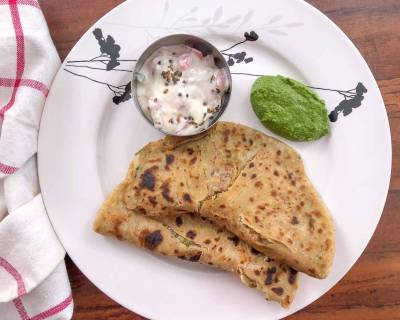 Breakfast Meal Plate: Aloo Paratha, Tomato Onion Tadka Raita And Lehsuni Pudina Chutney
This week enjoy your breakfast plate with hot Aloo Paratha served along with a delicious Tadka Onion Raita and Lehsuni Pudina Chutney. Breakfast being the important meal of the day. It is the first dish that kick starts your day with a happy start which is why it is important to plan what you eat. What you eat for your first meal is what keeps you energized throughout the day.