Office Lunch Box Recipes & Kids Lunch Box Recipes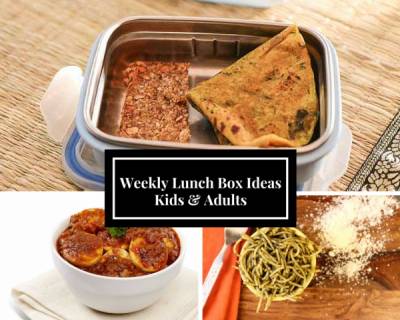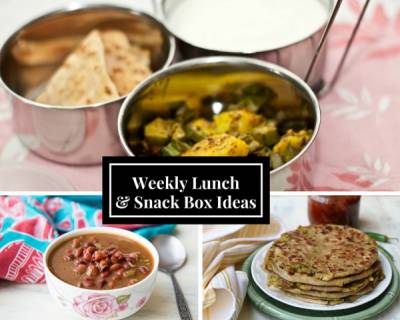 Weekly Lunch Box Recipes & Ideas from Idli Upma, Aloo Paratha, Rajma Chawal and More
Get Lunchbox Recipes & Ideas for School Kids. Use these ideas and recipes to help you pack your kids lunch boxes, plan for them. Planning lunch box does need prior preparation and when you have a menu laid out in front of you, then putting it together just becomes a breeze. This week we have have an almost no repeat day, where you can your kids can have wholesome and healthy lunch boxes to work and school.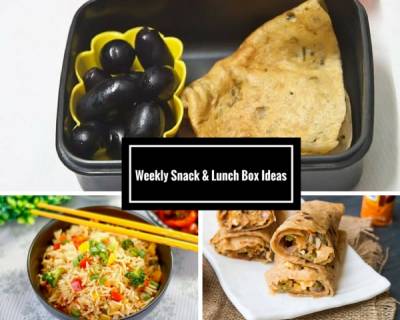 Weekly Snack & Lunch Box Ideas - From Moong Dal Palak Cheela, Oats Rava Dhokla to Pav Bhaji & More
Busy mornings packed with a never-ending task list is typically the case with everyone. Carefully selected cookwares and kitchen appliances can make your life in the kitchen simple and easy. Moreover, you will get consistent results with your delicious dishes.8-Timesaving Kitchen Appliances For Busy Moms will give you a few ideas about various timesaving kitchen appliances. With the right appliances at hand, cooking and packing becomes so much more efficient.
This week's menu plan has a variety of recipes like Broccoli and Pepper Rice, Sabudana Khichdi, Oats Rava Dhokla and more. Try this nutritious plan for this week. Pin it on your refrigerator and start cooking!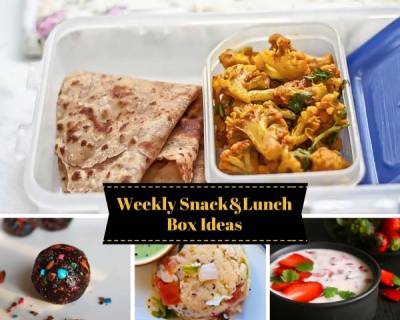 Weekly Snack & Lunch Box Ideas - From Mixed Sprout Coriander Dosa, Chocolate Chip Pancakes to Palak Dal and more
While making recipes, your family already loves, try sneaking in the healthy ingredients for that additional healthy punch. Sometimes it becomes important especially for children that we introduce secret veggies and fruits in their diet so that they get to eat everything. With this intent, here comes the weekly menu plan for weekly snack and lunch box. Recipes like Mixed Sprout Coriander Dosa. Broccoli and Cheese Uttapams and Palak Dal are packed with the goodness of sneaky nutritious ingredients. Do give them a try and let us know it turns out!!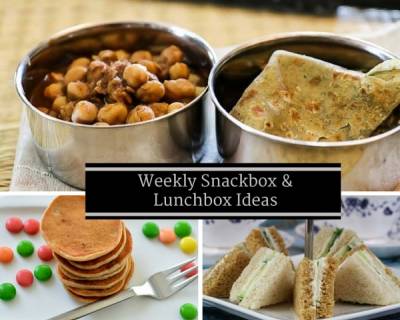 Weekly Snack & Lunch Box Ideas - From Ragi Idli, Quesadillas, Chinese Fried Rice & More
I love winters. With winter comes the nature's best produce. Every year I get excited at the first sight of orange, carrot, green peas and bountiful seasonal veggies and fruits in the market. With winters slowly slipping away only to reappear the next year, let's plan this weeks snack box and lunch box menu using the season's fresh.
We have included recipes like 'Gajar ka Halwa', 'Palak Paneer' ,'Methi Matar Pulao' and more. We have also tried to include fresh fruits like orange and strawberries in the boxes. The snack boxes can be packed for kids age 3 and above and the lunch boxes can be packed for kids age 6 and above and even for working adults.
Print the nutri-healthy snackbox and lunchbox menu and let your family enjoy the feasts!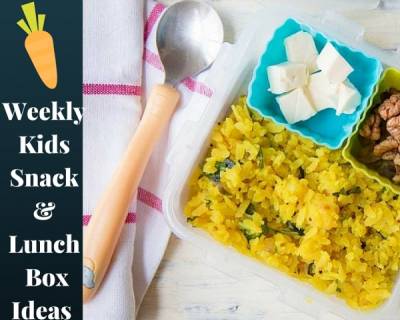 Weekly Kids Snack & Lunch Box Ideas - From Mini Idli To Pasta To Parathas & More
With the vacations finally over, everybody is trying to get back to their routines. Juggling between various aspects of life, as mothers, you always make sure that your kids get to eat healthy balanced meals. Waking up at the wee hours in the morning and packing your kids lunch boxes, your efforts aim to reduce the intake of junk food and make the child more interested in snacking healthy. We at Archana's kitchen have carefully designed the weekly menu plan for kids lunch boxes and snack boxes which will help you plan well in advance and give you more ideas. Kids love variety and our attempt is to bring in novelty every now and then.
We have tried to include variety of grains, proteins and vegetables to plan these boxes. Addition of nuts in the snacks give them good calories, essential fatty acids and vitamins. For kids below 5 years, try giving them in smaller pieces. Alternatively make a coarse powder from assorted nuts and try adding 2-3 teaspoon to suitable recipes.
Plan your kids menu with this Weekly Menu Planner for kids nutri-healthy lunch boxes' and let us know how it turns out. Every Friday, we are here to give you new ideas so stay tuned!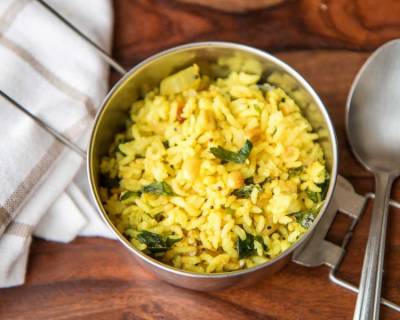 Lemon Rice Recipe (Kids Lunch Box Recipes & Ideas)
The Lemon Rice when packed into the lunch box along with either a raita, butter milk or curd rice, makes the kids lunches wholesome and easy to eat. Children love mixed rices, as it is easy to eat and quick to digest as well. The quick digestion from the rice gives the children the quick energy for them to get back into their school work. A very popular belief is that the rice puts the kids to sleep, but that not true, it in fact gives them that instant energy for the day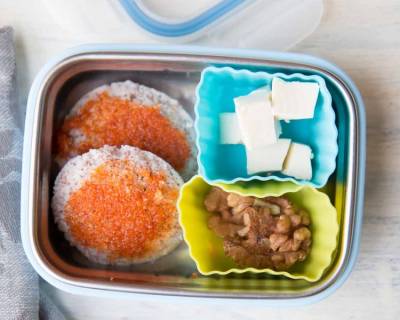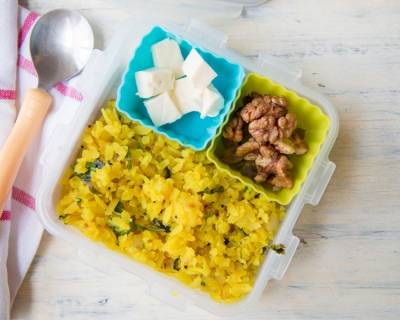 Aloo Poha Walnuts & Cheese (Kids Lunch Box Recipes & Ideas)
The Aloo Poha when packed along with Cheese & Walnuts is a quick and simple snack box that kids are able to eat in a jiffy. I typically make the poha which has a sweet and sour flavor, that not only adds to the taste, but also gives them the added energy for the day. Keeping small portions, helps the children to focus on their food and complete them without wasting it.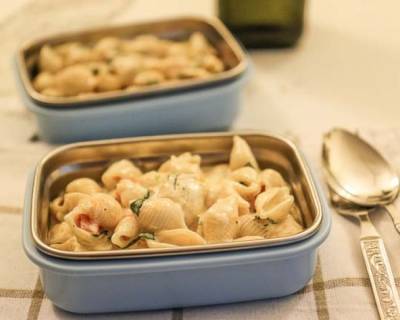 Pasta with Carrots and Basil (Kids Lunch Box Ideas)
Kids School Lunch Box Ideas: Conchiglie Al Forno with Carrots and Basil recipe is made from a shell type pasta that is smaller that its larger shell counterparts. This creamy sauce along with cheese is tossed along with carrots and basil giving it delicious taste and a creamy texture. This pasta stays perfect until lunch giving the children the carbs, proteins and vitamins through the pasta, cheese and vegetables.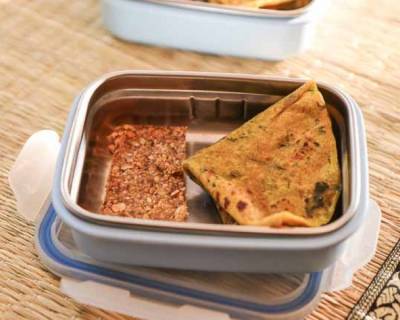 Thepla & Granola Bars | Kids Lunch Box Recipes
School LunchBox Ideas & Recipes: Granola Bars, and Thepla's are a perfect combinations. I typically smear the thepla with a sweet lime pickle for the lunch box. The whole grains from the thepla provides carbs and the Granola Bars with peanut butter and dates provide all the protein, iron, carbs and energy making the children stay alert for their school session
You can make the thepla dough ahead of time the previous day. This way making a couple of fresh thepla's in the morning becomes a breeze. I typically make a batch of No Bake Peanut Butter Granola Bars so it stays fresh for a couple of weeks and can be packed for the lunch box in a jiffy.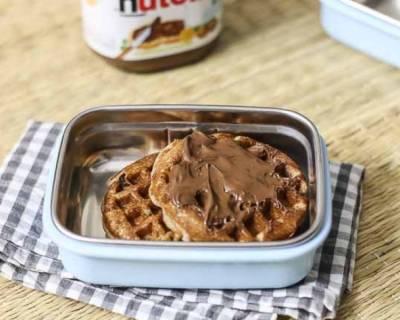 Multigrain Waffles with Nutella | Kids Lunch Box Recipes
School Lunch Box Recipes & Ideas: The Multigrain Waffles recipe is a delicious recipe of waffles that is made from finger millet flour, oat flour and whole wheat flour. The goodness of all the grains when made into a waffles is simply delicious.
When I packed this for my kids lunch box, then came back saying that "Mom the whole class was sitting on top of my table trying to get a bite of my waffles, they simply loved it". As a mother, I felt so happy to hear that and that it made my kids happy to share their lunch box too :)