Meal Plan & Lunch Box Ideas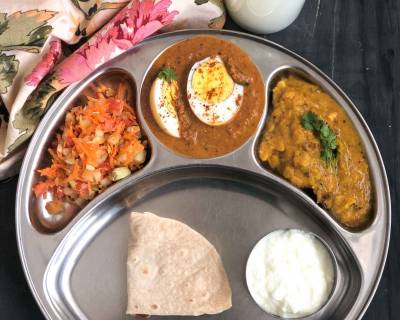 Portion Control Meal Plate : Malvani Anda Curry, Olya Kaju Chi Amti, Phulka, Salad And Curd
Here's yet another delicious, healthy and full of flavour Portion Control Meal Plate which includes some easy to make and tasty recipes from Malvani Cuisine. This meal plate has Malvani Anda Curry, Olya Kaju Chi Amti, Carrot Radish Salad With Peanuts and Lemon, Phulka and Curd. Always make sure that you eat in portions, so that you can eat different nutrients required for your body and remain healthy.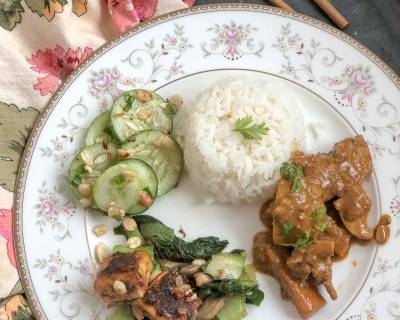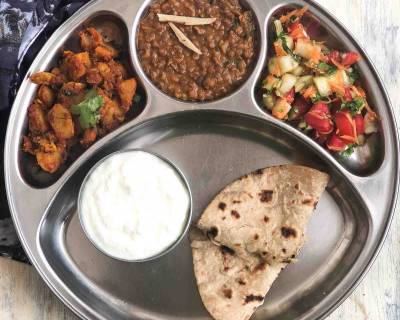 Portion Control Meal Plate: Kashmiri Kulith Patiala Aloo Salad Phulka & Dahi
Here is a simple yet delicious Portion Control Meal Plate with protein packed Kulith ki dal made Kashmiri style with a chatpata Patiala aloo served along with phulka and a kachumber salad and dahi by the side. A completely nutritious meal on the plate, is one of the many things that contribute to a healthy lifestyle.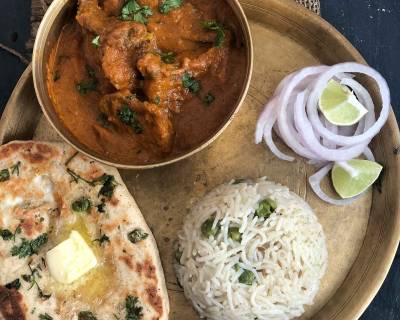 Make This Mouth Watering Meal Of Bhune Pyaz Ka Gosht, Naan & Pulao For A Weekend Lunch
We are here again with a mouth watering meal plate which you can make for your special meals on a special occasion. This meal includes Bhune Pyaz Ka Gosht, Chilli Cheese Naan and Peas Pulao. Try this meal and we are sure everyone in your family will absolutely love it. A meal full of flavour and taste, this Bhune Pyaz Ka Gosht will be a winner on your dining table.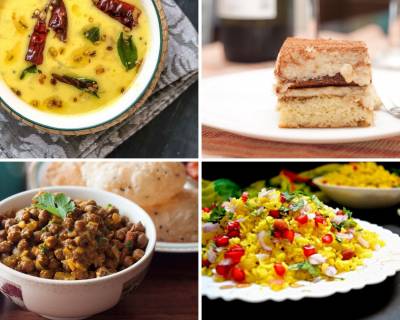 Weekly Meal Plan - Rajasthani Pyaaz Ki Kadhi, Tiramisu And Much More
Here we are back again with our delicious and easy Weekly Meal Plan, which is filled with some easy to make recipes that can be made with day to day ingredients. This plan includes recipes such as Pindi Chole, Indori Poha, Pav Bhaji, Punjabi Aloo Paratha, Kachumber Salad, German Pancakes, Achari Aloo, Boondi Raita, Chettinad Vegetable Pulav, Stuffed Mooli Paneer Paratha, Bread Upma, Punjabi Lobia Masala, Kurkure Karele Ki Sabzi, Khamang Kakdi and much more.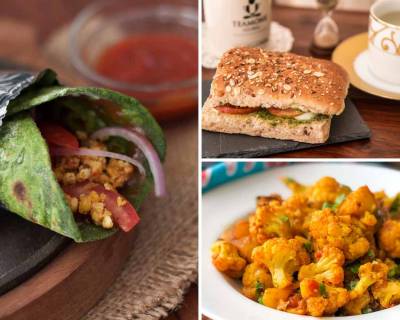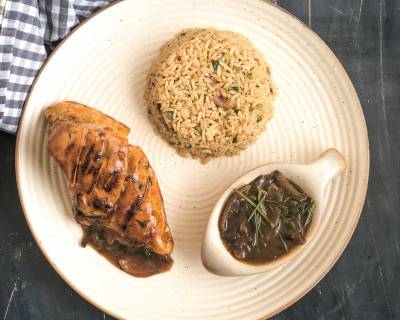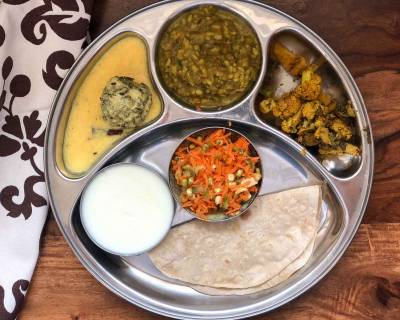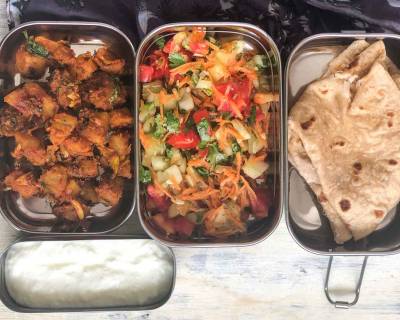 Kids Lunch Box: Patiala Aloo, Carrot Cucumber Tomato Salad And Phulka
Here's a delicious and filling Kids Lunch Box which includes a delicious Aloo Ki Sabzi which is called as Patiala Aloo along with Phulka and Carrot Cucumber Tomato Salad with Lemon and Coriander Recipe. You can also pack this Lunch Box for your office. It is simple to make and gets ready in no time, therefore perfect for your everyday meals too.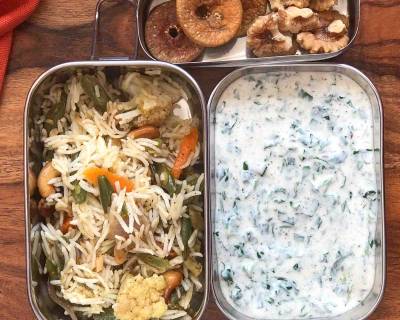 Kids Lunch Box Recipes: Maharashtrian Masale Baath, Methi Raita & Nuts
Here's a simple and easy to make Lunch Box for your kids which you can also pack for your Lunch Box. This Lunch Box includes Maharashtrian Masale Bhaat and Methi Raita which is flavoured with Garlic. Along with these, we have packed some figs and walnuts, that your kids can munch on during their snacks break. It is a simple meal, which you can make in jiffy during your busy weekday mornings.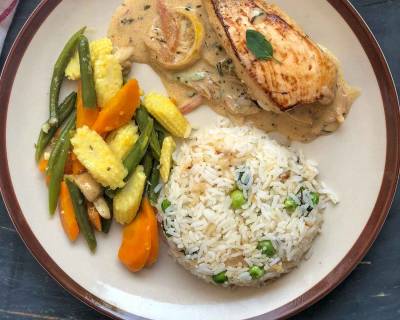 Enjoy A Weekend Dinner With Chicken In Lemon Butter Sauce, Steamed Vegetables & Herbed Rice
Here we have a delicious and full of flavour Continental Meal Plate for you which has a mouthwatering Chicken dish which is called as Chicken In Lemon Butter Sauce along with Steamed Vegetables With Chilli Lime Butter and Herbed Rice. This is a great meal for your Brunch or for your weekend dinners. It is a healthy meal plate that you can also eat post your workout. You can also serve Potato or Sweet Potato Mash instead of Herbed Rice in this meal.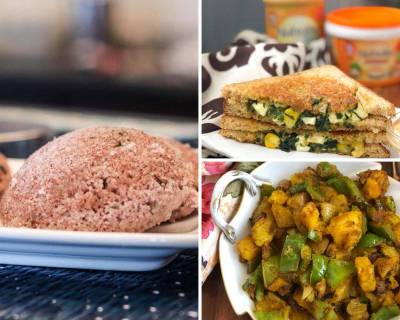 Kids Lunch Box Menu Plan-Ragi Rava Idli,Aloo Capsicum Sabzi, Veg Pulao & More
Packing healthy Kids Lunch boxes requires a little bit of planning and some prep work the previous night to ensure your kid gets the required nutrition for their growth .This Weeks Kids Lunch Box Menu Plan includes Ragi Rava Idli ,Aloo Capsicum Sabzi, Spicy Vegetable Pulao, Conchiglie Pasta, Cheesy Garlic Spinach Corn Paneer Sandwich and more.