Meal Plan & Lunch Box Ideas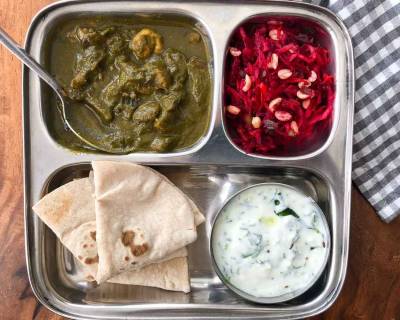 Portion Control Meal Plate: Palak Mushroom, Palak Raita, Phulka And Salad
Here is a wholesome portion control meal plate we have put together consisting of Palak Mushroom, Palak Raita, Phulka and a wholesome Beetroot Salad. It is perfect for the weekdays when you want something delicious and comforting yet healthy. This makes for a colourful meal plate and completely wholesome one. So, go ahead and prepare this wonderful meal plate and let us know how it was.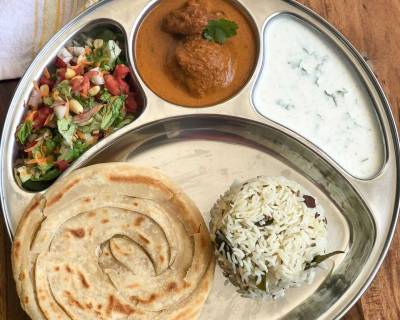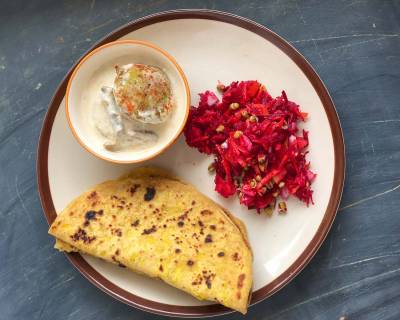 A Simple Sindhi Meal You Will Love - Bhugi Dal Paratha, Khajur Raita
Here's a simple and delicious Sindhi Meal Plate for you which includes Bhugi Dal Paratha, Khajur and Pakora Raita and Beetroot, Carrot & Cucumber Salad with Peanuts.
Bhugi Dal Paratha, a Sindhi style Paratha which is stuffed with Moong Dal Masala. It is good for health too as the moong dal is high in proteins. To pair with the paratha, we have a yummy Khajur and Pakora Raita where soft pakoras and dates are mixed into the curd. Also, if you have any leftover dal, you can use it to make these parathas.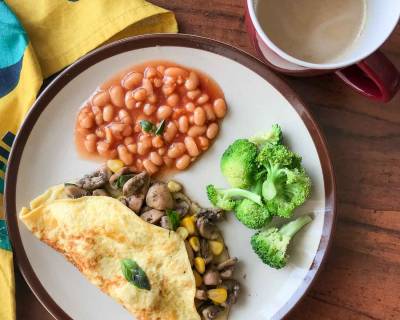 Breakfast Meal Plate : Mushroom & Sweet Corn Stuffed Omelette, Baked Beans And Coffee
If you want to treat yourself to a continental breakfast this Sunday, we have put together the perfect Meal Plate for you. Omelettes are a classic breakfast dish but with a little imagination you can make it interesting by adding various fillings in your omelettes. Instead of serving your mushrooms on the side, we at Archana's Kitchen have stuffed deliciously flavoured mushrooms and corn inside a fluffy omelette so that you can taste them in every bite.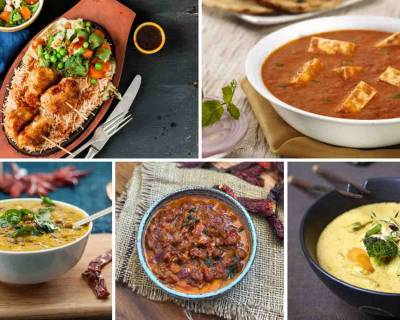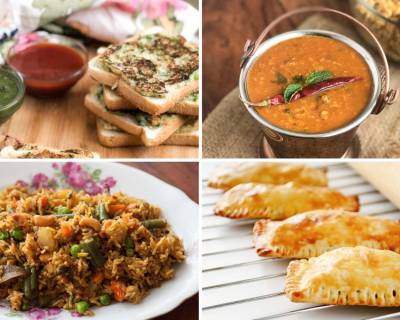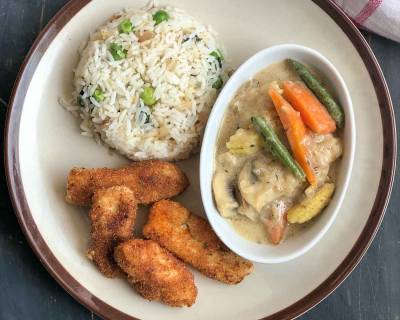 Here Is A Delicious Continental Dinner - Mushroom Stroganoff, Herbed Rice & Fish Fingers
Here's a delectable and easy to make Continental meal plate for you which includes Mushroom Stroganoff, Per Peri Fish Fingers along with Buttered Herbed Rice. Mushroom Stroganoff is inspired from a famous russian dish called 'Beef Stroganoff'. In this recipe, Mushroom is cooked along with other vegetables like carrots, beans and corn in a creamy sauce.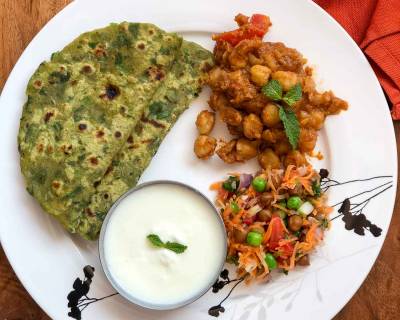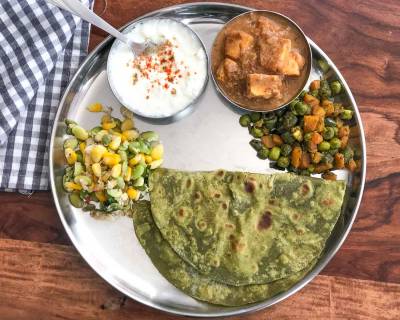 Everyday Meal Plate :Carrot Matar Sabzi, Paneer Gassi, Palak Paratha and Sweet Corn Sundal
A simple weekday meal typically would your Roti, Dal or Sabzi or in case of South Indians would be a Rasam, Curry and Rice. But we at Archana's Kitchen believe that a meal should be variety of dishes that give the colour and all round nutrition to your meal. So, don't forget to buy a variety of vegetables and grains in your shopping list while planning your meals for the week.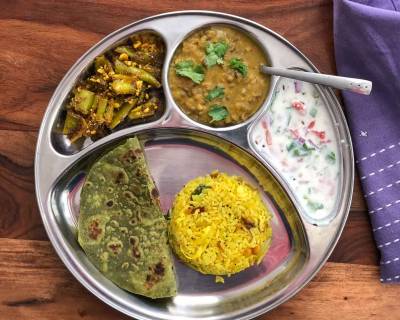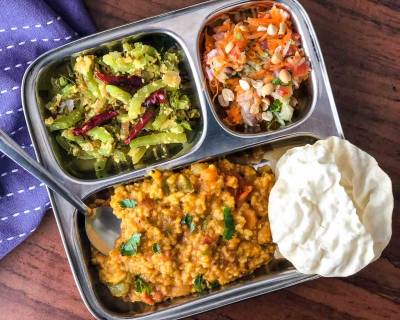 Everyday Meal Plate: Sambar Rice, Snake Gourd Thoran And Salad
Taking in your daily required nutrition is very important and therefore we get you a meal plate which will help you to intake the required nutrients for the day. It is simple and provides all the nutritional content you need for your day to keep going without having to compromise on flavour. It is also important to keep an eye on the portions of food that are served on one's plate. For the sake of that, it is wise to invest in a slotted plate so that each slot is filled with enough side dish/ main dish to fill our stomachs.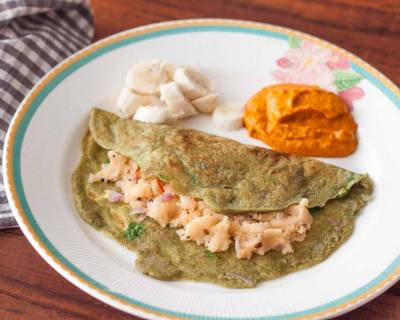 An Andhra Breakfast You Must Try- Pesarattu Upma, Chutney & Chai
Here is a wholesome South Indian Breakfast Recipe which includes Andhra Style Pesarattu Upma which is a delicious combination of Pesarattu and Upma. Pesarattu is packed with protein and taste as it is made from Green Moong Dal.
Serve Pesarattu Upma along with Tomato Onion Chutney and Masala Chai. This healthy breakfast recipe has almost all nutrients that a body needs on a day-to-day basis. Different flavour profiles in the plate like spicy and tangy, will leave your taste buds satisfied and your tummy full.