Meal Plan & Lunch Box Ideas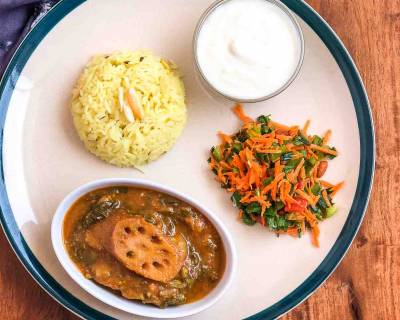 Enjoy This Simple Sindhi Meal With Tahiri, Bhey Vangan Saag, Salad And Curd
Here's a simple and tasty Sindhi meal plate which includes Bhey Vangan Saag, Sindhi Tahiri, Carrot, Radish & Peanut Salad with Lemon and a bowl of Curd.
Bhey Vangan Saag is a delicious combination of Lotus Stem, Baingan, Palak and Aloo. These vegetables are cooked in everyday basic masalas. It is filled with the goodness of vegetables, making it more healthy and nutritious. Along with it, we have Sindhi Tahiri, which is a sweet pulav inspired from Awadhi Cuisine.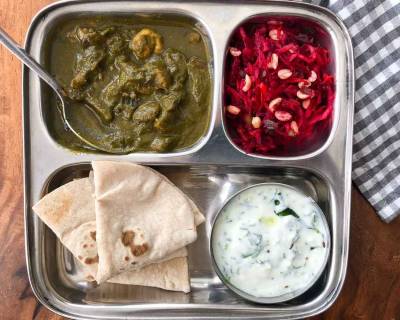 Portion Control Meal Plate: Palak Mushroom, Palak Raita, Phulka And Salad
Here is a wholesome portion control meal plate we have put together consisting of Palak Mushroom, Palak Raita, Phulka and a wholesome Beetroot Salad. It is perfect for the weekdays when you want something delicious and comforting yet healthy. This makes for a colourful meal plate and completely wholesome one. So, go ahead and prepare this wonderful meal plate and let us know how it was.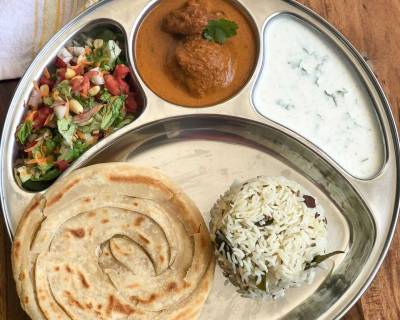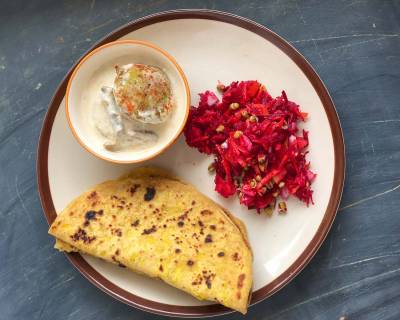 A Simple Sindhi Meal You Will Love - Bhugi Dal Paratha, Khajur Raita
Here's a simple and delicious Sindhi Meal Plate for you which includes Bhugi Dal Paratha, Khajur and Pakora Raita and Beetroot, Carrot & Cucumber Salad with Peanuts.
Bhugi Dal Paratha, a Sindhi style Paratha which is stuffed with Moong Dal Masala. It is good for health too as the moong dal is high in proteins. To pair with the paratha, we have a yummy Khajur and Pakora Raita where soft pakoras and dates are mixed into the curd. Also, if you have any leftover dal, you can use it to make these parathas.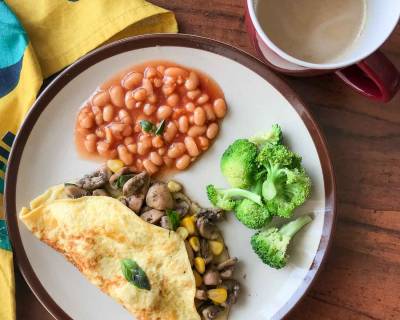 Breakfast Meal Plate : Mushroom & Sweet Corn Stuffed Omelette, Baked Beans And Coffee
If you want to treat yourself to a continental breakfast this Sunday, we have put together the perfect Meal Plate for you. Omelettes are a classic breakfast dish but with a little imagination you can make it interesting by adding various fillings in your omelettes. Instead of serving your mushrooms on the side, we at Archana's Kitchen have stuffed deliciously flavoured mushrooms and corn inside a fluffy omelette so that you can taste them in every bite.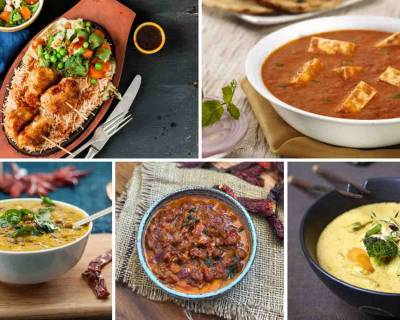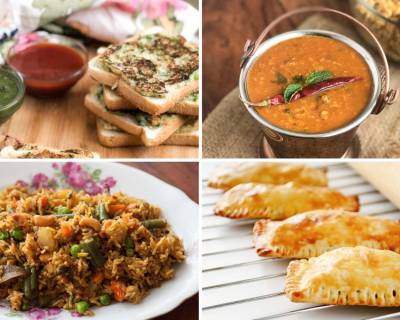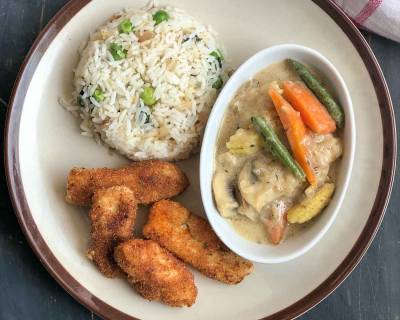 Here Is A Delicious Continental Dinner - Mushroom Stroganoff, Herbed Rice & Fish Fingers
Here's a delectable and easy to make Continental meal plate for you which includes Mushroom Stroganoff, Per Peri Fish Fingers along with Buttered Herbed Rice. Mushroom Stroganoff is inspired from a famous russian dish called 'Beef Stroganoff'. In this recipe, Mushroom is cooked along with other vegetables like carrots, beans and corn in a creamy sauce.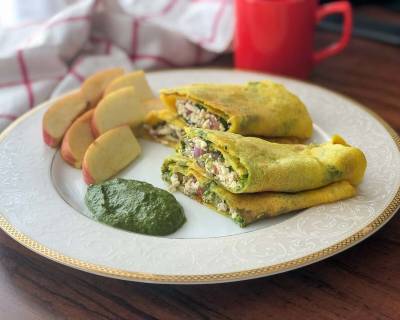 Try This High Protein Breakfast -Moong Dal Cheela with Paneer, Green Chutney & Fruits
Needless to say, Breakfast by far is the most important meal of the day. As simple as it gets, consuming good number of calories in the morning and fewer as the day goes on is a highly effective way to maintain healthy weight.
Choosing food groups wisely for breakfast, is yet another important task. Here is High Protein Breakfast that includes Moong Dal Cheela With Stuffed Paneer, Dhaniya Pudina Chutney, Fruit Bowl & Banana Yogurt & Walnut Smoothie.
Yellow moong dal is rich in protein and when the cheela is stuffed along with Paneer, it adds to the protein and other vital nutrients that are required by the body. In addition, the Green Chutney, made from coriander and mint is delicious and as well as packed with a lot of vital nutrients that are required by the body.
This high protein breakfast is indeed a great way to kick start your day.