Meal Plan & Lunch Box Ideas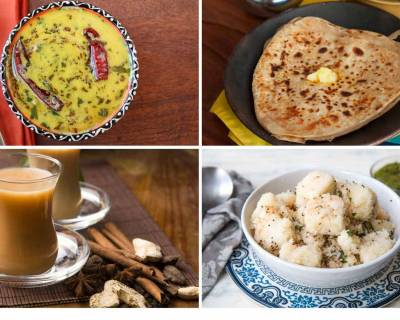 Weekly Meal Plan:Methi Matar Malai,Raw Mango Rice & More
A Weekly Meal Plan where you will find breakfast, lunch and dinner ideas like Methi Matar Malai, Raw Mango Rice, Pad Thai, Cold Soups, Salads and more. Let us know how you managed your week. Most of these recipes serve 3 to 4 people. If you have a larger family, you might want to consider making a larger quantity or if you have a smaller family then you can half it.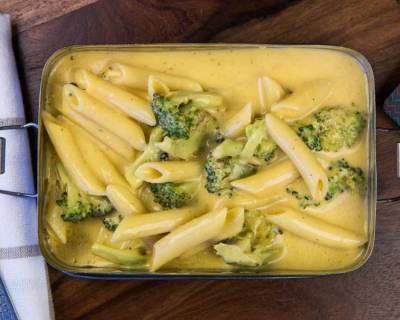 Penne Pasta in Creamy Pumpkin Sauce (Kids Lunch Box Ideas)
Kids School Lunchbox Ideas - Healthy Penne Pasta with Creamy Pumpkin sauce makes great saucy and creamy lunch box for children and even adults. I have used a Durum Wheat Pasta and the addition of the creamy pumpkin sauce adds to the nutrition for their lunches. The addition of stir fried broccoli in the pasta, gives them the added nutrients and fiber needed for their growth and development.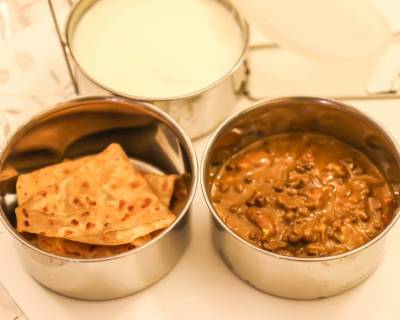 Dal Makhani & Paratha (Kids School Lunch Box Ideas)
The Dal Makhani & Paratha combo is a favorite with the kids and they simply love to dip the parathas into the creamy dal. I most often also pack the box with some plain yogurt or curd rice to make the meal complete and making their lunch box filling and nutritious. I most often make the dal the previous evening and the dough for the paratha is also kept ready. In the morning, I just pack in the dal and make the paratha fresh to pack into the lunch box.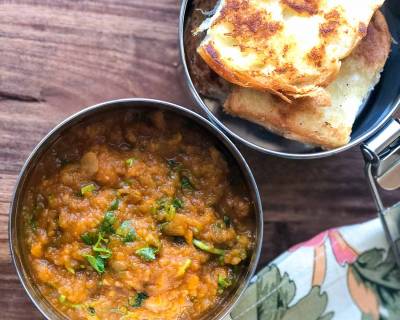 Office & Kids Lunch Box - Pav Bhaji Recipe & Curd Rice
School Lunch Box Ideas and Recipes: The Pav Bhaji is one a great dosh when cooked right, has all the goodness of vegetables and the pav buns add to the carbohydrates giving the required energy to sit through the classes and the day. I like to pack such dishes along with some comfort food like curd rice as this helps them to digest the pav bhaji and gives them the yogurt protein as well.
Note: When making the Pav Bhaji for children, I make is less spicy, so that children are able to have it with ease at school. Pack small portions so children don't get overwhelmed with a lot of food.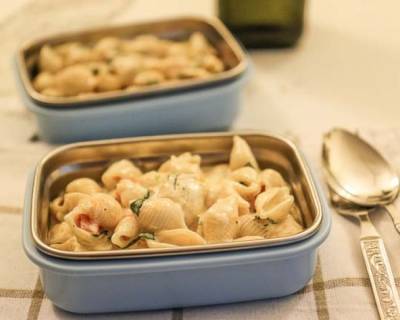 Pasta with Carrots and Basil (Kids Lunch Box Ideas)
Kids School Lunch Box Ideas: Conchiglie Al Forno with Carrots and Basil recipe is made from a shell type pasta that is smaller that its larger shell counterparts. This creamy sauce along with cheese is tossed along with carrots and basil giving it delicious taste and a creamy texture. This pasta stays perfect until lunch giving the children the carbs, proteins and vitamins through the pasta, cheese and vegetables.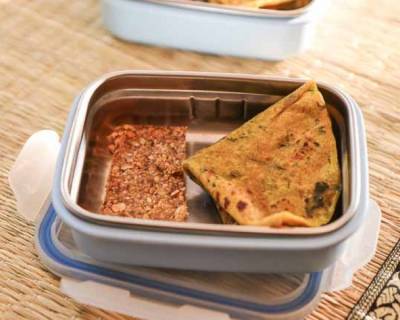 Thepla & Granola Bars | Kids Lunch Box Recipes
School LunchBox Ideas & Recipes: Granola Bars, and Thepla's are a perfect combinations. I typically smear the thepla with a sweet lime pickle for the lunch box. The whole grains from the thepla provides carbs and the Granola Bars with peanut butter and dates provide all the protein, iron, carbs and energy making the children stay alert for their school session
You can make the thepla dough ahead of time the previous day. This way making a couple of fresh thepla's in the morning becomes a breeze. I typically make a batch of No Bake Peanut Butter Granola Bars so it stays fresh for a couple of weeks and can be packed for the lunch box in a jiffy.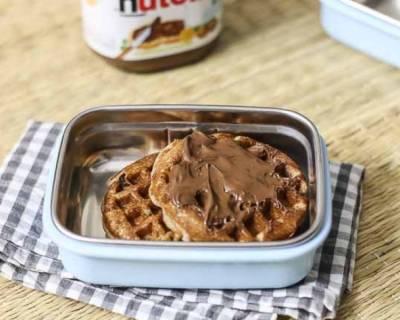 Multigrain Waffles with Nutella | Kids Lunch Box Recipes
School Lunch Box Recipes & Ideas: The Multigrain Waffles recipe is a delicious recipe of waffles that is made from finger millet flour, oat flour and whole wheat flour. The goodness of all the grains when made into a waffles is simply delicious.
When I packed this for my kids lunch box, then came back saying that "Mom the whole class was sitting on top of my table trying to get a bite of my waffles, they simply loved it". As a mother, I felt so happy to hear that and that it made my kids happy to share their lunch box too :)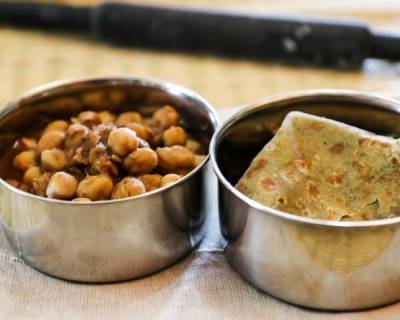 Chana Masala & Puri | Kids Lunch Box Recipes
School Lunch Box Recipes & Ideas: Chola Masala and Puri/ Paratha combination for a lunch box is special for children and adults as well. Since the mornings are super hectic with getting the children ready, I most often make the Chola masala ready the previous day. Making the Paratha or Puri fresh in the morning is simple and quick if the masala is ready. Pack this lunch box along with some freshly cut fruits or carrots and cucumber and a bowl of yogurt to make a complete and satisfying meal.
Things you can keep ready for the morning lunch box
Knead the dough for the Puri or Tawa Paratha and the cook the chola the previous day. This will help ease the mornings for the lunch box cooking and packing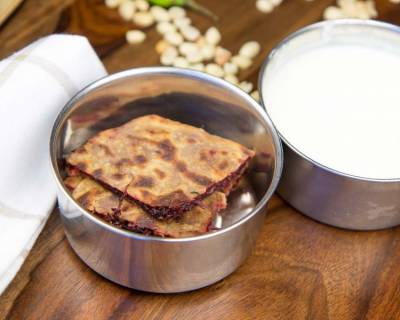 Beetroot Paratha Recipe (Kids Lunch Box Ideas)
School Lunch Box Recipes & Ideas: Beetroot Paratha Recipe is made from whole wheat flour dough stuffed with grated beets that is sauteed until tender. Making the Beetroot Paratha came out just like that like a spart to my mind to see other ways to consume beets and the parathas and the combination worked out great. This thought process is in my constant endeavour to make school lunch boxes fun and exciting for the kids.
LUNCH BOX PACKING TIP: I smear the parathas with sweet lime pickle and also pack some curd rice or plain yogurt in another box. The yogurt helps to satisfy the dryness from the parathas, as well as helps in digestion.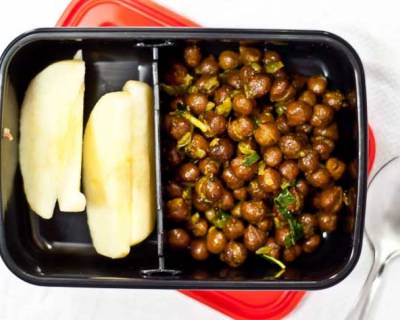 Chickpea Sundal and Apples | School Lunch Box Recipes
Back To School Snack Box Ideas: Chickpea Sundal is a healthy and delicious recipe, made from Chana which is more often called Kabuli Chana. It is amazing to see how interesting children find it, picking up the chana one by one and relishing it for their school snack box. Combining it with a fruit, makes the child feel more refreshed with the sugars from the fruit, giving them that added energy.
Kids Lunch Box Recipes - Sliced Carrots, Cheese, Walnuts & Cookie
School Lunchbox Ideas & Recipes: Walnuts or Almonds, Cheese Cubes, Chocolate Chip Cookies & a fruit like Carrot are a perfect friday snack box treat for the kids. Packed with healthy vitamins, minerals and calcium, the combination of this kids lunch box ensures that your child eats something healthy which is also delicious and filling.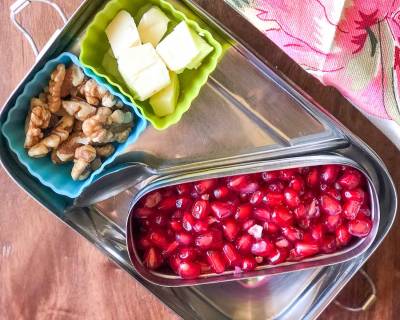 Kids Lunch Box Recipes: Pomegranate Cheese Cubes & Nuts
It is so refreshing to have a bite of Pomegranate, along with a bite of cheese and a little crunch from the nuts like badam or walnuts. I can already sense a mini taste of a dessert and children love this type of meditative eating. Here is a kids lunch box for children for their mid morning snack. As your child grows older, you can add half a sandwich into it to make a lunch box that is more filling.