Archana's Kitchen is India's leading recipe and food discovery website that gives the world a credible and confident 'DIY' solutions for everyday cooking. It has millions of readers using the recipes and videos enhanced with rich content like menu plans special diets dinner ideas and more
Archana Doshi is the Founder of Archana's Kitchen and through the recipes and videos, she has inspired millions of people from around the world to start cooking, eating healthy and lead a fit lifestyle.
Archana has a tremendous media presence has appeared on
National Television
As a Guest Chef with Vikas Khanna for the Saffola Fit Foodie Program on Food Food Channel
Featured on CNBC TV 18 - a program on "What Women Want"
Featured as a Google Entrepreneur on the Web for her work outstanding work on digital content
Was an inspiration for the first Google Chrome Ad on National Television
A talk show "In Conversations with Namu Kini"
As a Guest Chef on Zee Khana Khazana
In The Press
---
2019 - Featured in Deccan Chronicle on empathizing on the importance being responsible influencers in social media.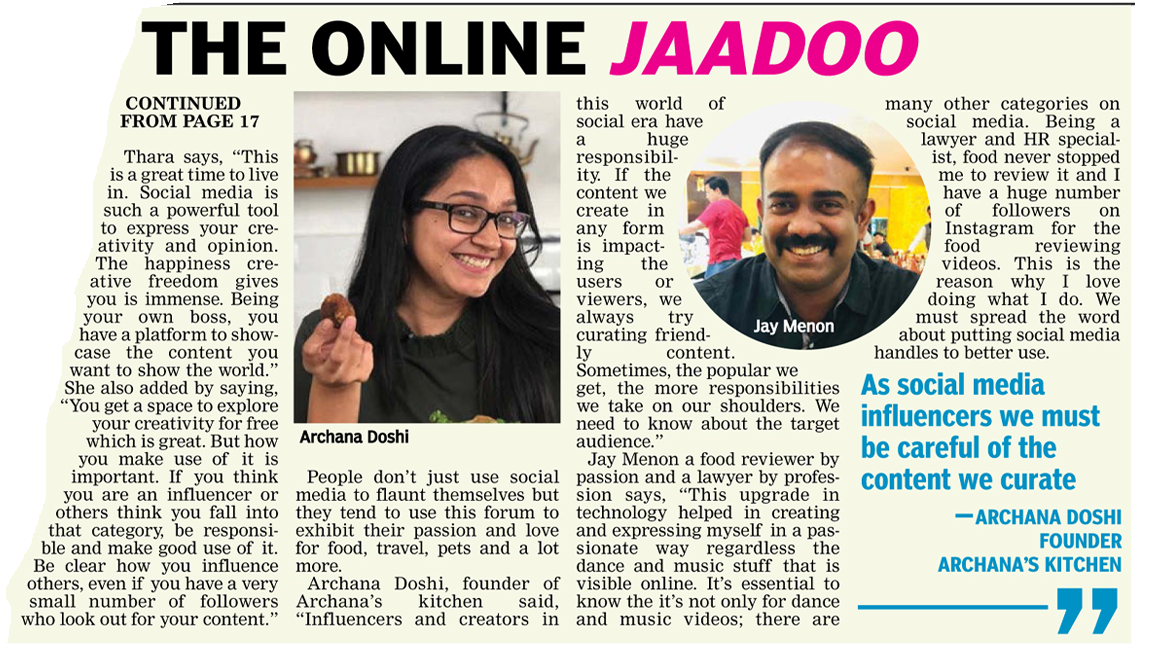 2018 - Featured across 20 different newspapers and digital mediums as India's leading Food Instagrammer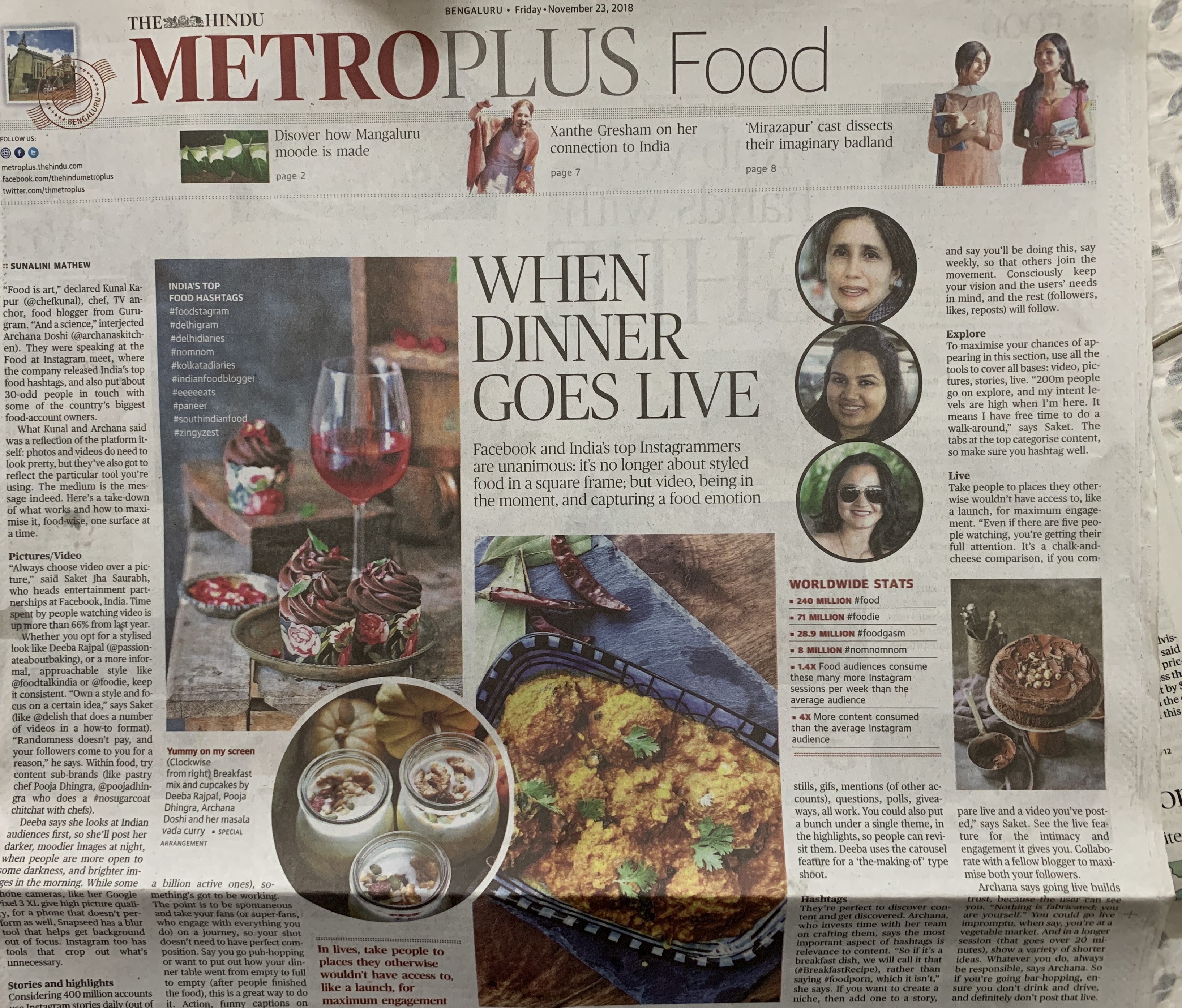 2017 - Femina Magazine featured a story and place Archana Doshi along with Tarla Dalal and Spoken as the Kitchen Genius of Indian Cooking on the Internet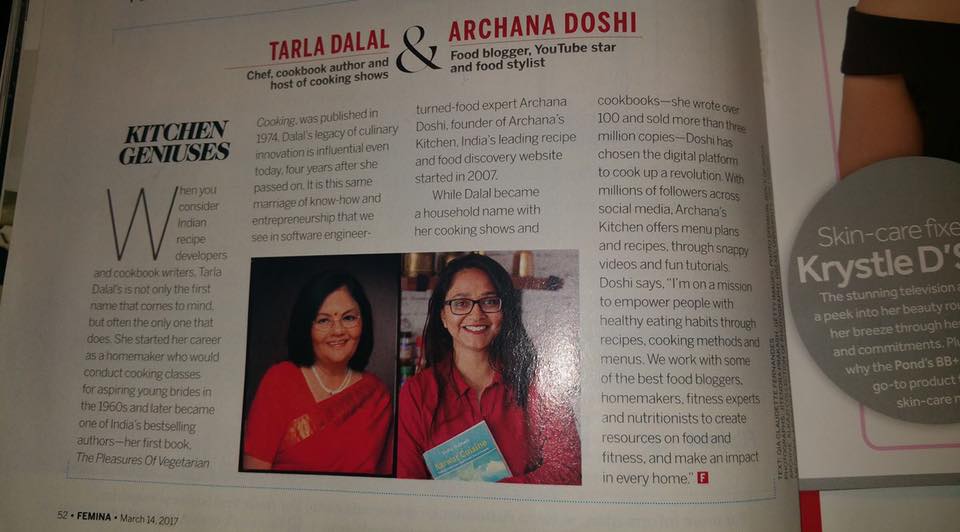 2017- Featured as the 50 Inspiring Indian women of 2017 in a leading Women's Magazine – We Exclusive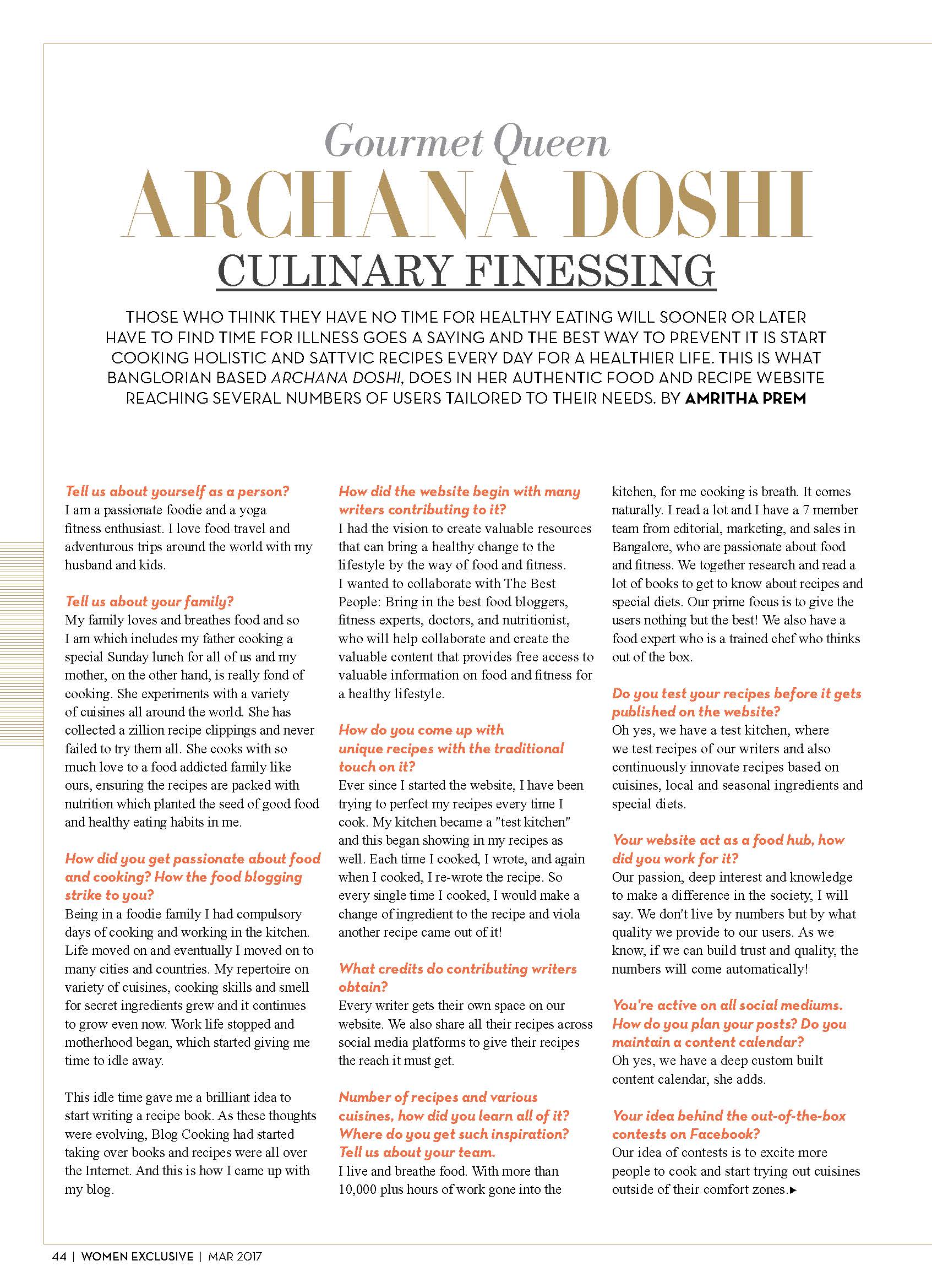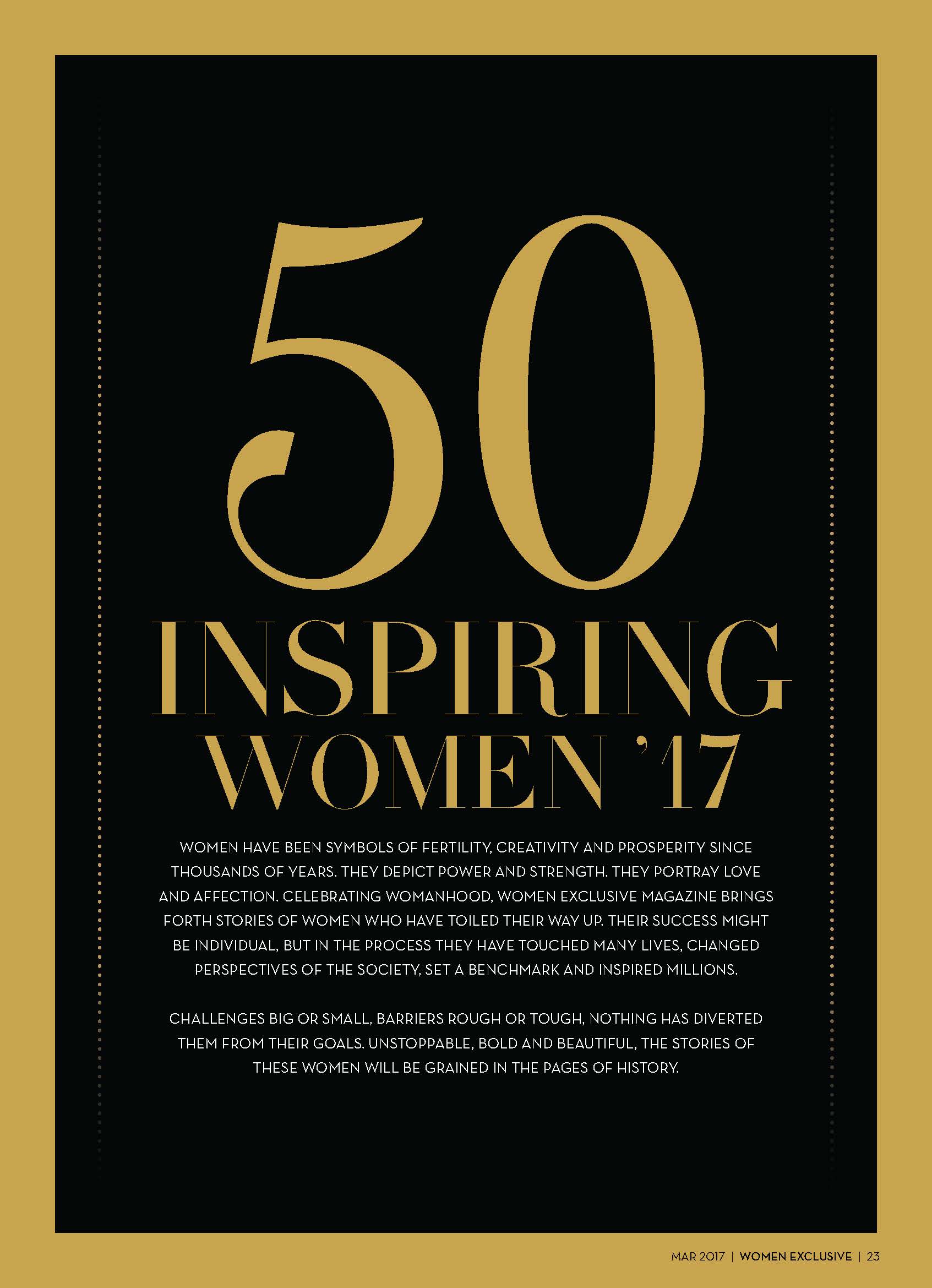 2016 - Featured as a India's Top YouTuber at The YouTube Fanfest in March, 2016
Archana Doshi, walked the red carpet at the YouTube Fanfest, India event that happened in March 2016. #YTFF came back to Mumbai on March 18 at DOME@NSCI SVP Stadium for a thrilling live show featuring some of the best YouTubers from India, the UK, Canada and the US!
2015 - Featured on YourStory as a YouTube Queen
"Moving to the audio-visual platform was the next step for Archana and choosing YouTube was a no brainer. Initially she did the video shoot, editing uploading all on her own, which in turn was a great learning for her and now she has a small team who works for her. Currently she works with bloggers and nutritionists from around the world" ... Read More on her.yourstory.com"
---
Story of Archana's Kitchen featured on Medium
"I love what I do, I cannot wait to cook, to hear the comments from my readers and interact with them every single day. I am content, I am happy." Read More...
---
India Today June 2014 - Bangalore, Foodies Paradise "Read about my views about food and living in Bangalore and why it's a Foodies Paradise" Read More...
---
Feb 2014 - Featured On The Cover Page of Mint Lounge - The Rise of the Food Blogger "She started by sharing recipes of the baby food she made, and went on to how she arranged nutritionally balanced yet attractive-looking lunch boxes. In 2013, she set up a YouTube channel, which now has 6,000 subscribers. She has 25,000 page views a day, with an increasing demand from north India that she speak in Hindi. She will soon add Hindi subtitles to her YouTube channel." Read More..
---
Deccan Chronicle Feb 2014 - Making it Kitchen confidential "She started cooking, documented recipes, and made video blogs. Suddenly her online explorations became a sensation with foodies" Read More..
---
India Today August 2013 - Food Network "Archana who hails from Coimbatore is a women of many talents. Apart from being an excellent cook she is also a food photographer. Archana who trained as a software engineer made th move from coding to conducting online cooking classes when motherhood came calling" Read More..
---
Economic Times July 2013 - Google WoW Program "Archana Doshi who runs Archana's Kitchen, conducts online cooking classes on Google Hangouts. Her website gets a lot of visitors globally - 2.8 million last count. "It has helped me network with a lot of women" Read More..
---
Time Out Bengaluru June 2013 - Google Hangout Classes "Archana Doshi, who trained and worked as a software engineer, made the move from coding to conducting online cooking classes after she had two sons. "I wanted to do something with my time at home," she said, "And I loved cooking. So what better way than to start blogging my recipes!" After a couple of offline classes in Bangalore, she eventually got on Google Hangout after demand for her classes reached global proportions. In her classes, she teaches vegetarian fare from rajmachawal and biryani to more complex desserts including cheesecakes. Today, she runs a free live class twice a week, which has had over 200 registrations. About 50 per cent of her students are based in the US, Canada and Dubai." Read More
---
Live Mint June 2012 - Archana's Back to School Lunch Boxes - Dabba Art
"I cook all the food early in the morning and I prefer to chop the vegetables in the morning to keep the nutrition intact. This includes snack box, lunch box and bus snack," she says. Read More
---
Good Housekeeping March 2012 - Archana in a Work from Home Article
Archana went from being an engineer to a photographer and a gourmet cook at home. Womens brains they say are wired to work through many things at once.Read More..
---
Savvy Jan 2012 - Archana featured as Home Chef
Archana believes in cooking with simple ingredients. By adding just a few ingredients the individual flavors come through making the delicious and delicate.. Read More
---
DNA November 2011 - A note from Archana for Mickeys Birthday
Kids prefer newer characters like Ben10, Xmen and even Ra.One. In the last 4 years, I haven't come across one birthday order asking for a Mickey Mouse Cake. He is hardly on television any more. Read More..
---
Times of India Crest Edition August 2011 - Click to Cook
For food closer to home, you might want to visit Archana's Kitchen maintained by Bangalore based Archana Doshi. The vegeterian only recipes are divided into three categories..... Read More..
---
Deccan Chronical July 2011 - Baking her Cup Cake and Eating it too
Canadian pop teen idol Justin Bieber, who won artist of the year 2010 American Music Awards, was discovered online on Youtube when he was barely 14. Today at 17, the teen sensation is riding the popularity wave, thanks to the Internet. Closer home, Archana Doshi's talent for cooking was discovered by Alchemy Publishers.... Read More..
---
LiveMint July 2011 - Google India Sells Homemakers Story
Five years ago, Bangalore homemaker Archana Doshi would have not imagined being the inspiration for a television commercial by Google Inc. But early this week, when Google India officially announced the launch of its first television campaign for the Indian market, featuring its Web browser Google Chrome, it was with the hope that Archana's story will inspire others like her to make the most of the Internet, instead of just for search, email and entertainment. Read More..
---
DNA - July 2011 - Featuring Archana Doshi's Cup Cakes
"I am trying to make people think small - cupcakes let you enjoy small bits of everything that would have been on a bigger cake," adds Archana... Read More..
---
Elle India May 2011 - Featured Archana's Gourmet Party Catering - The Rising Dough
The Rising Dough - Bengaluru residents will love these snacks and stellar desserts. Owner, Archana Doshi makes exquisite one person portions, offers an extensive menu and makes a MEAN cupcake too ... Read More..
---
Deccan Chronicle April 2011 - Whats Cooking Gen Y Recipes
"My Computer is in my kitchen and I tend to pick up a cookbook only to explore new cuisines, " says Archana Doshi, a techie who gave up working to be a full time mom and whose website archanaskitchen.com featuring Indian and fusion vegeterian recipes... Read More..
---
Time Out Bengaluru Feb 2011 - Cupcakes from The Rising Dough by Archana Doshi
The Rising Dough's offerings include more than brightly-coloured, sugar high-delivering cupcakes. "I wanted to create cupcakes that weren't just for kids," she said. Several of her cupcakes are decidedly grown-up, such as the Zinfandel wine cupcakes, or the gingerbread cupcakes, dressed up with a smooth Irish crème frosting. Read More..
---
Live Mint October 2010 - Featured recipes from Archana's Kitchen
I entertain quite a bit. We have friends over for breakfast about once a month and several dinners during festive and holiday seasons. I have been labelled the "Mojito Lady", but cocktails apart, what I get complimented most for are my baked starters.
The lemon grass soup has been a favourite among friends and family. The crispy steamed vegetables combined with the zesty flavour of lemon grass are a hit especially during winters. I also serve potato thyme rolls with a spicy tomato chilli garlic Asian sauce. If thyme is not a herb of your choice, you can try coriander, mint, basil, dill or rosemary, or make a platter with a combination. Read More..
---
Chennai INBOX 1305 August 2010- Featuring Archana's Kitchen
This lady who hails from Coimbatore impress us by her culinary skills, and more, with her crispy and brilliant photographs. Having travelled across continents, she hadtaken food blogging and delights us with her easy to use interface and classification of content... Read More..