Everyday Breakfast, Lunch & Dinner Recipe Ideas
Putting together a delicious breakfast, lunch or dinner is a challenge many of us face at home. With seasonal ingredients and our growing palates across regional Indian cuisines and international cuisines, Archana's Kitchen is constantly working on creating meal plate ideas where we combine various regional cuisines to make fun and delicious meal plates. These meal ideas can be for a fusion between regional cuisine in india an the breakfast again will be a fusion between indian and continental cuisines.
You will find South Indian Recipes, North Indian Recipes, Continental Breakfast Recipes, Continental Main Course Recipes, South indian Breakfast Recipes, North Indian Breakfast Recipes and a whole lot more. Go ahead and use these meal plate ideas and cook wonderful dishes for your family.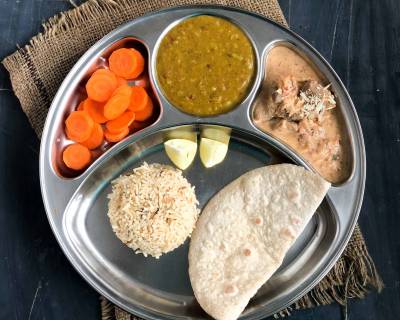 Make A Special Weekend Lunch With A Parsi Meal - Badam Nu Gosht, Vagharela Chawal and More
Each of us absolutely love our regional cuisines, the culture we come from, its corresponding food habits , it is something each of us have been brought up with. Here is one such meal from the Parsi cuisine, that's absolutely finger licking good. A creamy Badam nu gosht, served along with rotli and a lovely Masaledar tuvar ni dal to go along with some Vagharela chawal and some salad by the side. *Slurp*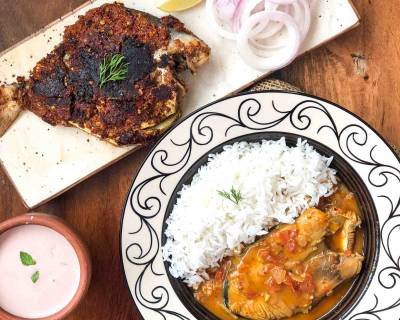 Weekend Dinner Idea: Malvani Fish Curry, Konkani Style Pomfret fry & Sol kadhi
Here is a delicious lunch meal plate that you can prepare for your Sunday meal. We have plated for you a Malvani Fish curry, Konkani Style Pomfret fry, steamed rice & Sol kadhi by the side. This meal is best had on your weekends when you have the mood to get into the kitchen and cook some amazing dishes for your family members.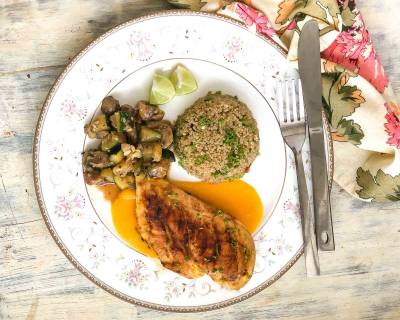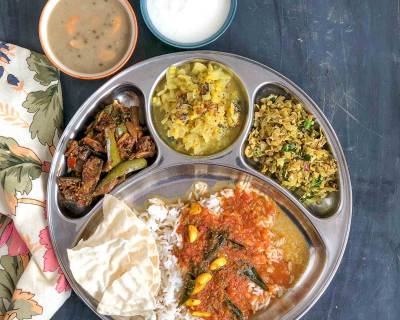 Enjoy A Comforting South Indian Meal With Rasam, Kootu, Poriyal, Rice And Payasam
We all love a fabulous South Indian Meal ! A plate full of South Indian dishes like Thakkali Rasam, Cabbage Poricha Kootu, Vazhaipoo Podimas, Kathirikai Poondu Pirattal, Pachai Payaru Payasam, Steamed Rice, Elai Vadam and Curd, sounds delicious right? Therefore, we got you this comforting and satisfying meal plate which you can make for your weekend Lunch or Dinner.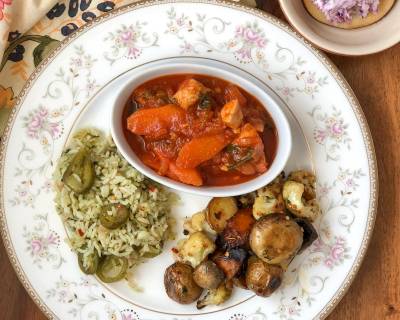 Your Weekend Dinner Is Now Sorted With Tomato Basil Chicken, Rice & Salad
Here's a delicious and mouthwatering Continental meal plate which includes Tomato Basil Chicken Curry, Jalapeno Cilantro Lime Rice, Pan Roasted Herbed Baby Potato With Vegetables and Coleslaw Salad on Sliced Apple. This meal plate is inviting and is perfect to serve during weekends to your friends and family or make it if you have guests coming home for dinner.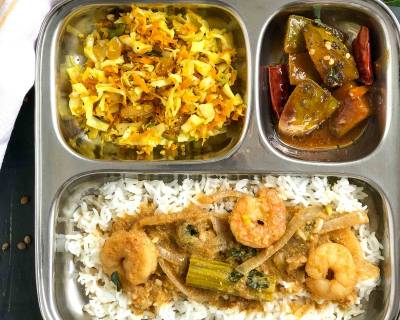 Meal Bowl: Chicken Rendang, Fried Egg, Pickled Onions & Steamed Rice
Here we have an exciting meal bowl of Malaysian Style Chicken Rendang served along with a Fried Egg, Pickled onions, Steamed Rice. It is good to try out something new once in a while for your weekend meals. This will help to understand the different flavours across the world.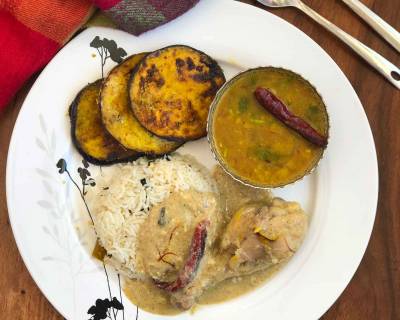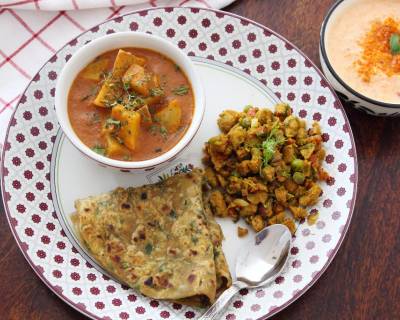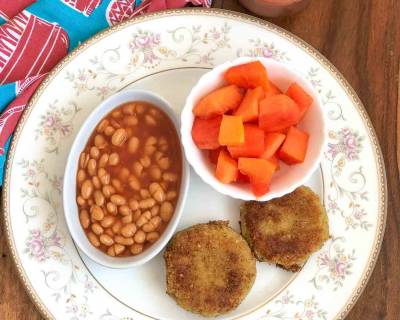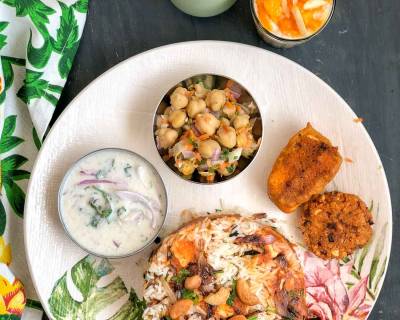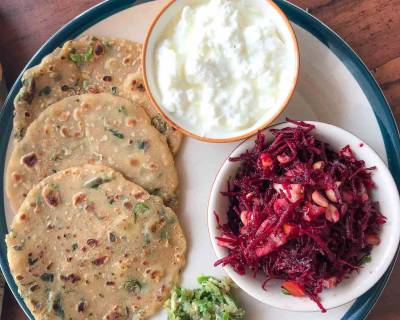 Everyday Meal Plate : Methi Thalipeeth, Green Chilli Thecha And Beetroot Salad
All of us must strive to make every meal healthy in order for our bodies to absorb nutrients from the correct sources and sustain us through the day. Continued routines in eating healthy will help every one of us to lead a long and zestful life. With this in mind, we at Archana's Kitchen come up with meal plates that you can recreate in your homes to provide yourself and your family with the best of what Indian Cuisine has to offer.