Details

Created on 05 January 2012
Written by Archana
( 16 Votes )
A delicious pie crust that has a touch of sweetness and salt, baked to a flaky perfection and filled with roasted vegetables and pesto is a perfect one to make for one of those days when you have a large gathering of guests over. The crusts can be made about a week ahead and the vegetables and pesto can be roasted and kept a day ahead as well. Make it into tiny bite size tarts or four inch tarts or even wedges cut out from a large tart - it is simply delicious.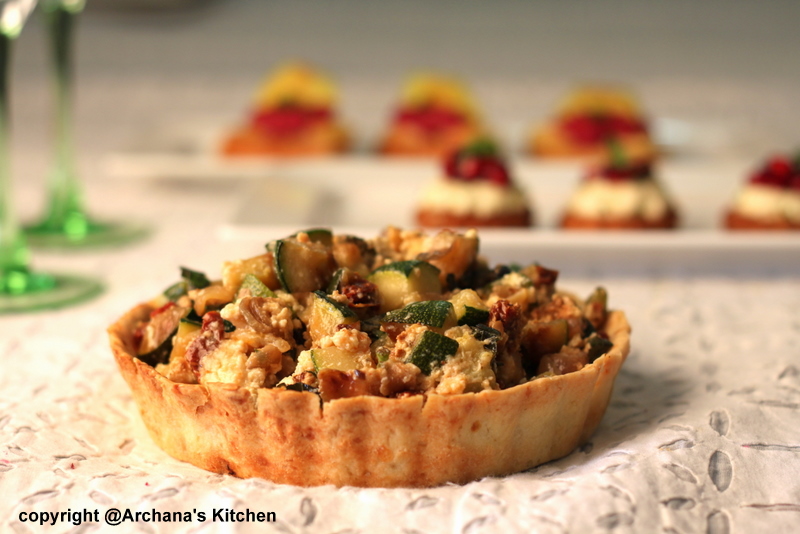 Makes

: serves 12

Ingredients
1

crust recipe




1 cup zucchini, chopped




1 cup red bell peppers, finely chopped




½ cup pitted black olives, chopped




1 cup chopped spinach/mushrooms sliced




1 tablespoon herb pesto




1 cup shredded cheese




1 egg




¼ cup milk




½ cup cream




Salt and pepper to taste




Chilli powder or Cayenne Pepper to taste




Olive Oil



Method
Pre heat the oven to 180 C. Whisk eggs, milk, cream, chilli powder, salt and pepper in medium bowl. Keep aside.
Heat about a tablespoon of olive oil in a stir fry pan; add the zucchini, mushrooms and red peppers and sauté on high heat until tender and releases a roasted aroma. Turn off heat. Stir in the pesto, sprinkle some salt and keep aside.


Arrange vegetable filling over bottom of par-baked tart shell. Top with half of the cheese. Gently pour egg mixture into tart shell. Top with remaining cheese. Carefully slide tart pan into oven. Bake until set and a knife inserted near the center comes out clean, about 35 minutes. Cool on wire rack, 10 minutes. Remove side of tart pan. Serve warm cut into wedges.