Meal Plan & Lunch Box Ideas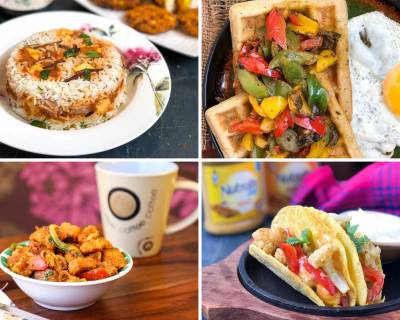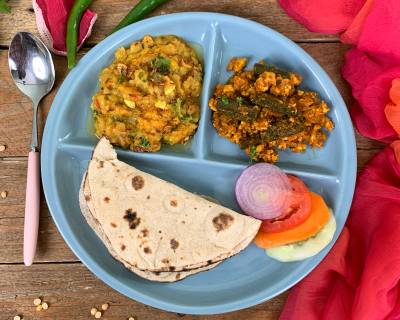 Make This Special Sunday Lunch Of Keema Bhindi, Toor Dal Tadka And Jowar Roti
Looking for a delicious Sunday meal, then give this simple, healthy and nutritious meal a try which has recipes such as Keema Bhindi, Punjabi Toor Dal Tadka, Jowar Atta Roti and Indian Sliced Vegetable Salad. This is a very easy and simple meal that you can prepare for your weekday meals also or can be packed for your Lunch Box too.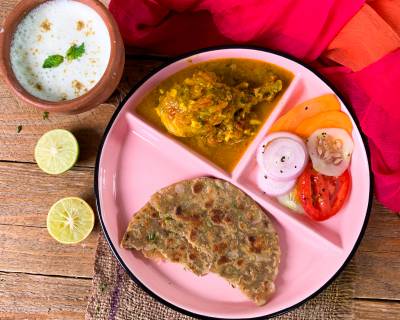 Enjoy Your Weekend Lunch With This Sindhi Meal Of Chicken Curry, Koki And Afghani Dough
Are you in dilemma about what to make during your Weekday Lunch that is delicious and easy at the same time, then we have the perfect meal for you which has delicious Sindhi Style Chicken Curry which is served along with Sindhi Koki, Afghani Dough and Salad. Try this meal and we assure you that everyone in your family will love this simple and delicious Sindhi meal.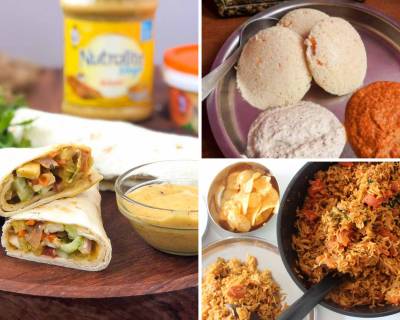 Kids Lunch Box Menu Plan-Spongy Quinoa Idli, Paneer Kathi Roll & More
Planning Kids lunch box does need prior preparation and when you have a menu laid out in front of you, then putting it together becomes a breeze. To make things simpler for you, we have put together some deliciously healthy recipes that are lunch box friendly and will ensure the kids complete their meals everyday.
Portion Control Meal Plate : Turai Ki Sabzi, Sukhi Urad Dal, Carrot Raita And Ragi Wheat Phulka
Eating in portions is always a good idea, as it helps us to remain fit and healthy. Eating variety of dishes in portions also makes sure that we are eating all the required nutrients for our body. And to make it easier, we are back with one more super easy to make and delicious Portion Control Meal Plate which has some delectable everyday recipes such as Masale Wale Turai Ki Sabzi, Sukhi Urad Dal Sabzi, Carrot Tadka Raita and Ragi Wheat Phulka.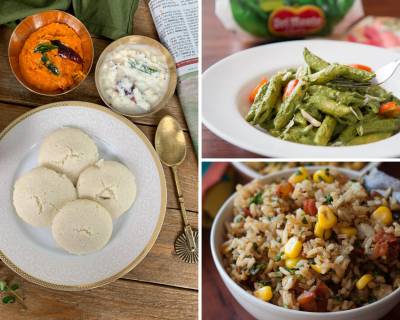 Kids Lunch Box Menu Plan- High Protein Soya Idli, Sweet Corn Methi & Tomato Rice & More
Feeding healthy, nutritious and wholesome meals is on the mind of every parent and the question that a parent always thinks about everyday is what to pack for school. Planning kids lunch boxes can be daunting and to help you make wholesome healthy breakfast we have planned a whole weeks menu plan. Some of the recipes included are High Protein Soya Idli Recipe, Sweet Corn, Methi & Tomato Rice Recipe, Penne Pasta Recipe In Spinach Pesto Sauce, Khara Bhath Recipe and Chole Pindi Recipe. We have packed wholesome Zucchini Paratha Recipe which helps to feed zucchini to your kids.
Kids Lunch Box Menu Plan-Spinach Pulao,Vegetable Kurma & More
All kids are different and every kid has a different eating habit. Most of the time if you have two kids you would know that even they are poles apart in their food tastes. It is difficult to cook different things everytime while making sure that your kid gets a balanced meal. Here we have few ideas to help pack nutritious healthy meals for your Kids Lunch box. They are also different in flavours and so it keeps the kids excited about their lunch box.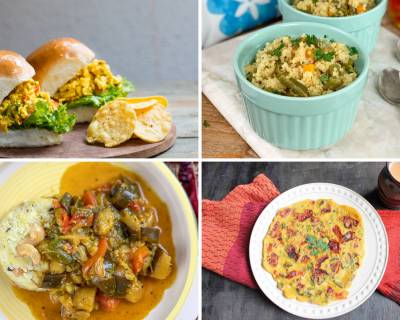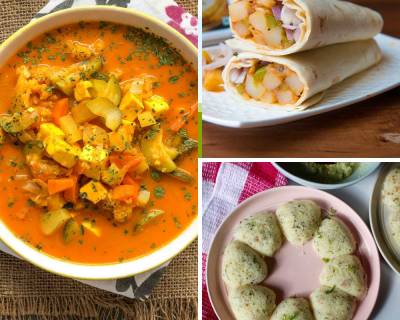 Kids Lunch Box Menu Plan-Sabudana Rava Idli,Beetroot Chilli Paratha & More
Kids School Lunch Box Planning is so crucial and is an important activity in every home. This week,we have includes recipes like Sabbakki Rava Idli Recipe served with coconut chutney, Grated Beetroot Chilli Paratha Recipe with Bhindi Masala Curry Recipe, Carrot Rice Recipe with cucumber raita, Roasted Potato Wrap/Roll Recipe With Spiced Cheese Spread with fresh fruit bowl and Ghee Rice Recipe with One Pot Mixed Vegetable Curry Recipe Using Preethi Electric Pressure Cooker.
Weekly Meal Plan - Chicken Kathi Roll, Lauki Chana Dal And Much More
We are back with our new Weekly Meal Plan that has some easy to make and everyday recipes for your meal. This Weekly Meal Plan has recipes such as Chicken Kathi Roll, High Protein Grilled Rajma Corn Sandwich, Chickpea Coconut Milk Curry, Masala Paniyaram With Leftover Idli Dosa Batter, Achari Paneer Masala, Lahsuni Dal Tadka, Besan Aur Pyaaz Ka Cheela, Murungai Keerai Sambar, Tofu Bhurji, Capsicum Curry, Gujarati Khaman Dhokla, Masoor Dal Aur Rajma Masala, Nutella Pancakes, Matki Khichdi, Punjabi Aloo Paratha and much more.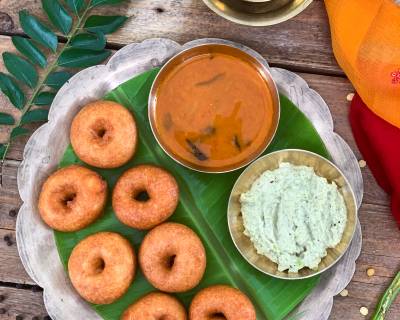 Make Delicious, Fresh And Crispy Vadas Using iD Fresh Vada Batter
When it comes to Breakfast, South Indian food is our absolute favourite! Soft spongy Idlis and crispy Vadas dipped into piping hot Sambar with some side of delicious Coconut chutney makes you hungry as soon as you hear the name. Other South Indian breakfast that makes us hungry is crispy Ghee Dosas which you can eat along with Sambar and Chutney of your choice. Filter Coffee, which is very popular in South India served on the side makes this breakfast even better.