Details

Created on 08 February 2008
Written by Archana Doshi
Hits: 78906
( 110 Votes )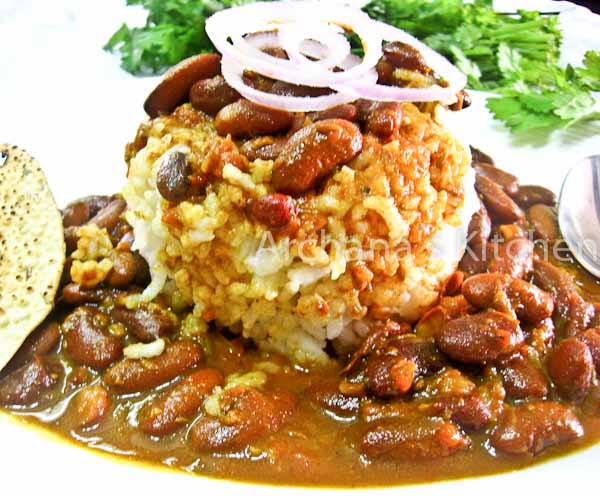 Rajma Chawal is a very well-known and traditional Indian dish, considered as a comfort food by many. A one meal dish, the Rajma dal is served with steamed hot rice where the wonderful flavours of the rajma combine with the rice, makes the meal wholesome and very nutritious.
Children absolutely love this dish as a school lunch option, and because of its high protein and carb content, keeps them full and nourished throughout the day.
Although this Rama Chawal makes for a filling and healthy school lunch option for kids of all ages, it might cause discomfort and bloating due to gas, in little kids. The dal needs to be mashed coarsely for very young children, to aid in their digestion.
Learn how to make this tasty Rajma Chawal dish, by following the recipe below;
Ingredients
1 cup Rajma/ Red Kidney Beans (soaked overnight/ 8 hours)
1 teaspoon ginger, grated finely
1/2 cup tomatoes, freshly pureed
1 teaspoon cumin seeds
1 teaspoon turmeric powder
1 teaspoon roasted cumin powder
1 teaspoon garam masala powder
1/2 teaspoon cardamom powder
1 tablespoon butter
2 tablespoons coriander leaves, finely chopped
1 teaspoon oil
Salt to taste
1 onion, 2 cloves garlic, 1" piece of ginger - together ground into paste (Optional)
Method
Begin by cooking the soaked/ softened rajma in about 3 cups of water until it turns very soft. See video recipe of how to cook lentils using pressure cooker.
Next, heat the oil to a heavy bottomed pan and add in the cumin seeds and chopped ginger, allowing them to crackle. If you plan to add the onion, garlic and ginger paste, do it now and sauté everything together for 3 to 4 minutes on low heat, until the onions lose their raw smell.
Now, stir in the tomatoes, turmeric powder, cumin powder, garam masala powder, cardamom powder and sauté again, till the tomatoes become soft, for about 2 to 3 minutes.
At this point, stir in the cooked rajma, an additional cup water and butter and simmer for about 30 minutes. The longer you simmer, the more the spices get into the rajma and the tastier it gets. The consistency of the gravy can also be adjusted by adding more or less water.
Finally garnish this delicious Rajma gravy with coriander leaves and serve it hot with steamed rice.