Details

Created on 07 June 2008
Written by Archana Doshi
Hits: 88182
( 157 Votes )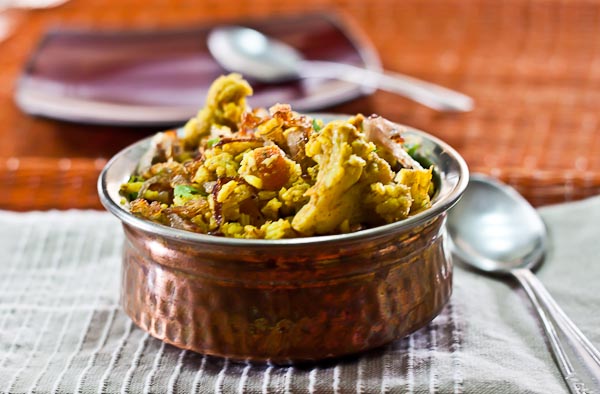 Hyderabadi Biryani is a traditional celebration meal made using meat and rice and is a staple of Hyderabadi cuisine. This variety is popular as it is comes from the city of Hyderabad, India. The blending of mughlai and Telangana cuisines in the kitchens of the Nizam, ruler of the historic Hyderabad State, resulted in the creation of Hyderabadi Biriyani. This Hyderabadi Biriyani recipe is the vegetarian version of the non veg biriyani that is served.
The biryani is typically accompanied with any or all of these ingredients
Vegetables Ingredients
1/2 cup green beans, diced, steamed
1/2 cup carrots, diced, steamed
1 cup cauliflower florets, steamed
1 cup potatoes, boiled, peeled and cubed – keep them a little firm
To be ground into paste
(Grind the below ingredients to a paste and keep aside)
6 cloves garlic
1 tablespoon roughly chopped ginger
2 green chilies
Main Ingredients
2 cups basmati rice, rinsed
2 onions, finely sliced
1 cup tomatoes, finely chopped
½ cup plain yogurt
3 cloves
1 inch stick of cinnamon
4 pods of cardamom
2 bay leaves
1 teaspoon of turmeric powder
1 teaspoon red chilli powder
1 teaspoon coriander powder
Salt to taste
Oil for cooking
Ingredients for Garnishing
a small bunch cup freshly chopped mint leaves
1/2 cup of sliced and caramelized onions (sliced the onions and sauté in oil on low heat till it turns brown and very soft)
Method
Cook the rice with 2 cups of water along with salt and 2 tablespoons of oil and keep aside. Thus rice will be only half cooked as we are adding only half the about of water to cook the rice. The rice will then get cooked further along with the masala below.
Heat two tablespoon of oil in a big sauce pan; add in the onions and sauté until it turns soft and lightly pink. At this stage add in the garlic-ginger paste and sauté on medium heat until the color has changed and the raw smell goes away.
Add in the turmeric powder, chilli powder, coriander powder, cinnamon, cloves, bay leaves and cardamom pods. Sauté for a few seconds until combined. Add in the finely chopped tomatoes. Sauté the tomatoes for about 5 minutes, add the yogurt at this point and simmer for another 5 minutes until it is bubbling and gets a good aroma.
Finally add in the potatoes, half cooked rice, chopped mint leaves and any additional salt that is required. Sauté for a few minutes until it gets combined with the rest of the masala.
Add in about 1-1/2 cups of water, turn the heat to low. Cover the pan and simmer until all the water is absorbed. Once absorbed, turn off the heat, add in the steamed vegetables and keep the pan covered for about 15 minutes.
After 15 minutes of resting, open the pan and give the biriyani a gentle stir, to combine all the masala and vegetables into the rice.
Finally garnish with caramelized onions and more chopped mint leaves.
Serve the Hyderabadi Vegetable Biryani with Hyderabadi Bagara Baingan or Hyderabadi Mirchi ka salan