Details

Created on 02 July 2010
Written by Archana Doshi
Hits: 15833
( 32 Votes )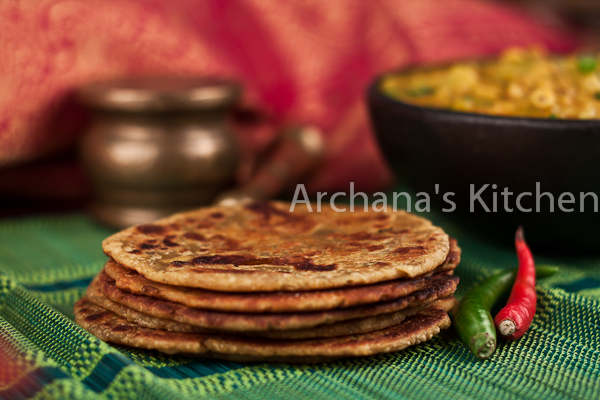 Bhakri's is prepared differently in every Gujarati home. It has a varied textures, thickness and most often a made from a mixture of flours. Almost every Gujarati and Marathi home makes them with either wheat flour or jowar flour or both. Bhakri has a crispy outer layer and soft inside. They can be had plain with pickles and yogurt or with Doodhi Channa Dal Nu Shaak, which is a family favorite.
Makes: 10 bhakri's
Ingredients
2 cups whole wheat flour
4 tablespoons ghee
2 teaspoons sesame seeds or ajowan seeds or cumin seeds
½ teaspoon red chilli powder (optional)
¼ teaspoon ginger powder or fresh grated ginger (optional)
salt to taste
Method
In a wide bowl, combine the flour, ghee, cumin seeds, ginger, red chilli powder and salt. Add water a little at a time and knead into very firm dough. Cover and set aside for 15 minutes.
Preheat an iron skillet on medium heat. Divide the dough into 10 equal portions. Roll out each portion into a 4 inch diameter circle. Place the rolled dough on the heated skillet on medium heat. Cook each rolled portion on both sides until golden brown, putting light pressure using a wooden press, so the insides cook evenly.
You will notice brown spots coming on very quickly if you your heat is very high. So take care and cook it evenly on medium heat. Optionally, many families cook the Bhakri's in ghee to make it flakier. Bhakri also travels well, so if you have a long distance journey this would be an ideal bread to dip into your Cha.