Details

Created on 24 January 2008
Written by Archana Doshi
Hits: 94398
( 107 Votes )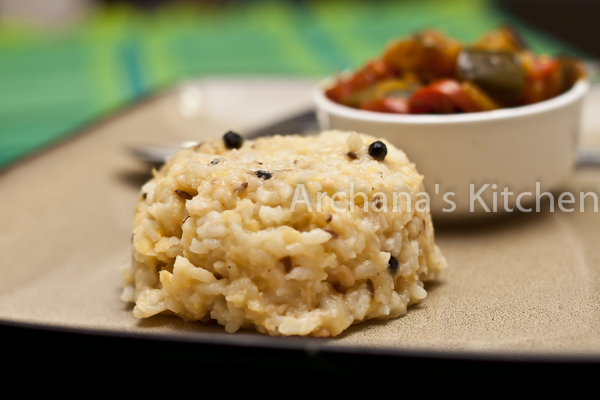 Ven Pongal Recipe is a very traditional breakfast / tiffin dish in South India. Pongal festival is celebrated as the harvest festival and is spread over four days. Pongal in tamil means something that is overflowing.The act of boiling over of milk in the clay pot is considered to denote future prosperity for the family. See more at The Pongal at wikipedia
At home we savor Pongal along with Kathirikai Gothsu - Eggplant in a Tangy Gravy (south Indian version of eggplant in tangy tomato gravy) or a vegetable kootu( vegetables and dal in coconut gravy).
CLICK BELOW TO SEE THE VIDEO RECIPE OF HOW TO MAKE VEN PONGAL
Makes: 3 to 4 servings
Main Ingredients
1 cup rice
1 cup yellow split moong dal
salt to taste
Ingredients for Seasoning
1 teaspoon cumin seeds
an inch piece of ginger, grated
1 teaspoon whole black pepper corns, coarsely pounded
2 tablespoons halved cashew nuts
2 tablespoons ghee plus more
Method
Heat the cooker on medium heat, add a tablespoon of ghee. We will now add in the washed moong dal. Roast the dla in the ghee for about a minute. roast the washed yellow moong dal for about a minute. Then add in the washed rice and stir for a few seconds. Add in some salt to taste and 5 cups of water to cook the rice and lentils. The texture of the rice and dal mixture is a personal choice, some homes like it grainy and a few like it mushy. Cover the pressure cooker, place the weight on and cook until you hear the first whistle.
After the first whistle, turn the heat to low and simmer for three minutes and then turn off the heat. Wait for the pressure to release naturally.
While the pressure is releasing, heat a tablespoon of ghee in a small pan, add in the cashew nuts and roast on low heat until lightly browned. Next add in a teaspoon of cumin seeds,2 teaspoons of pounded black pepper, a tablespoon of grated ginger, the roughly torn curry leaves. Turn off the heat and stir all the ingredients in the remaining heat,
Once the pressure has released from the cooker, we will add in the prepared seasoning into the rice. Stir the seasoning into the rice until well ombined. We will add in two or more tablespoons of ghee to give an added flavor to the Ven Pongal.
Scoup the Ven Pongal onto a rounded cup and press it in. Invert the cup onto a plate you voila you get a cup of pongal on your platter. Pick a cashew piece from the Pongal and place on the top to decorate. Serve the Ven Pongal along with Coconut Chutney and Kathirikai Gothsu - Eggplant in a Tangy Gravy and enjoy it for breakfast or dinner.
I hope you enjoyed watching the Ven Pongal Recipe and get to make this nutritious breakfast in your kitchen. Don't forget to give your feedback in the comments below and do subscribe to my youtube channel.