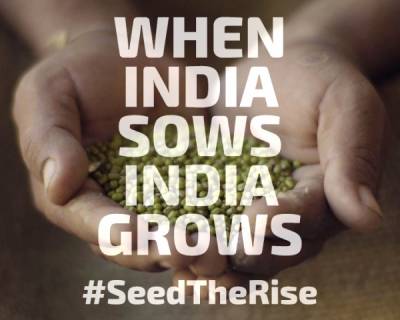 #SeedTheRise - A Mahindra Initiative To Improve The Lives Of Farmers In India
For a country with such a rich agricultural heritage, the plight of the Indian farmer today, is deplorable. One look at your daily newspaper is enough to understand the many ways in which farmers across the country are suffering. Failed not just by weather and changing environmental conditions, but by a range of issues that lead to a vicious cycle of debt, drought and inefficient management, that farmers are unable to come out of. If you've been following this issue in recent times and helplessly wonder how you can help make a difference, this is your chance to be an enabler of change.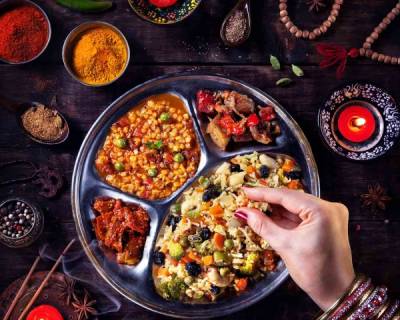 3 - Simple Ways to Cook, Eat & Stay Healthy This Diwali
You're probably wondering who would want to inculcate any kind of healthy habit while cooking your annual Diwali goodies. It's hardly the time to watch what you eat, count those calories or cut back on the festivities. But given the number of festive feasts you're likely to indulge in, a little mindful eating, a little careful cooking can help ensure that you get through the season feeling fabulous.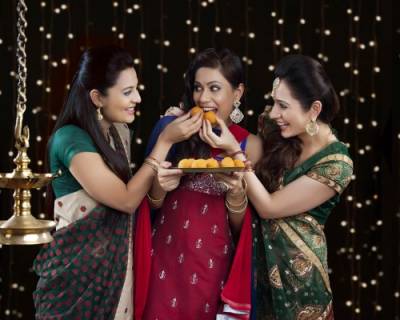 5 Ways To Eat Right This Diwali
The festive season is well and truly upon us. While we're still recovering from all the binging on sweets and snacks during Navratri, it's already time for Diwali. And with this festival comes another wave of endless parties, exchanging sweets, late nights of celebration, and all the irresistible festive food. Everybody tends to let go a little during this time of gluttony and indulgence, and inevitably the guilt follows. But you could break that cycle this festive season.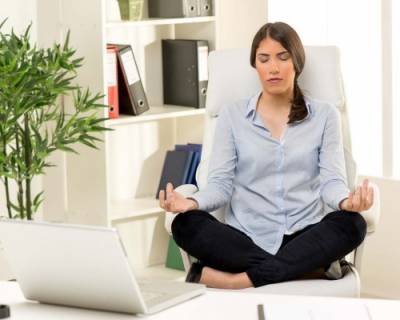 5 Ways to Stay Fit & Healthy for Working Men, Women & Entrepreneurs
As an entrepreneur there is always a sense of panic, stress and meeting deadlines. Everything around us that is work related takes priority. We tend to forget that our body and mind is going through immense exhaustion and stress to keep up with our schedules to become successful. So much so we end up eating at odd hours, eating unhealthy, with no time to exercise, with no time to drink enough water and of course as a result getting less sleep.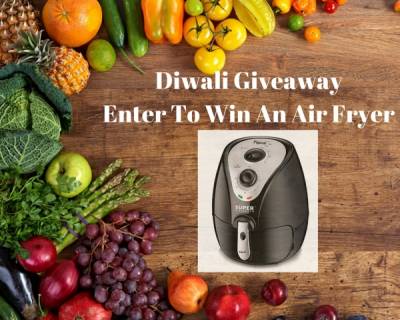 Air Fryer Giveaway - Archana's Kitchen is Sharing Love with A Diwali Giveaway
It's festive time and we at Archana's Kitchen are sharing our love for our followers by giving away an Airfryer. An Airfryer is a kitchen appliance that cooks by circulating hot air, at high speed around the food that helps in cooking the food and producing a crispy layer on it.
The Air fryer is a fantastic appliance that will help you whip up some healthy potato chips, pakodas, vadas, cakes, crispy karela, crispy bhindi and more using very less oil in a traditional deep frying method. Airfryers come with adjustable temperature and timer knobs that allow for more precise cooking. Check out some recipes from Archana's Kitchen that use the air fryer.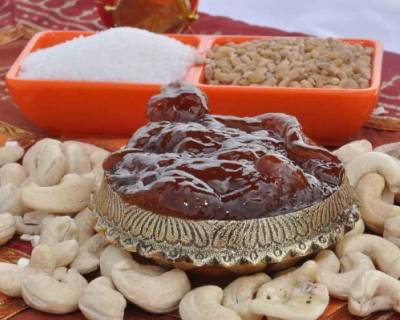 Your Favorite Tirunelveli Halwa Is Now At Your Doorstep
Festivals in India go back in time when there are unwritten customs and traditions that we follow, and they are passed on to us through generations. Every festival has something special to offer and every region across India, including the smallest of the villages and towns have their favorite food to boast about.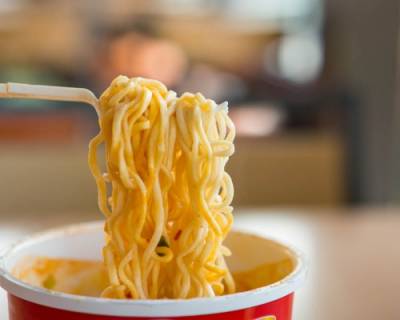 Want To Know How Your Noodles Are Made?- "You Ask We Answer"
How often do you get to attend an event by where the CEO of the company is there to speak to you and addresses an audience of bloggers and willing to answer all question on their products.
October 10th October, 2015, I was part of a meet by ITC Foods. The meet was called, 'ITC Foods You Ask We Answer', was aimed to introduce to us what all goes behind building successful food brands as well as provide an open platform to answer questions related to packed foods.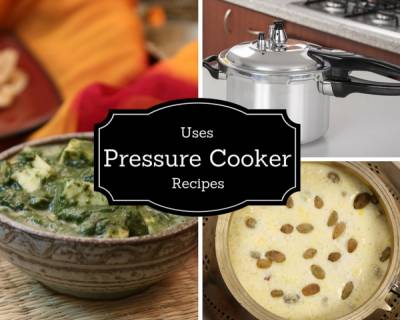 How To Make The Most Of Your Pressure Cooker
Pressure cookers are almost synonymous with Indian kitchens, and amongst the first things to be purchased when a new kitchen is being set up. The reason is simple, pressure cooking as a method is highly efficient. It is versatile and helps cooking everything from vegetables to lentils, rice and even root vegetables.
10 Reasons Why We Love Vada Pav
Vada pav is undoubtedly the Superhero of all snacks. It packs a punch in a small size, and is gastronomic adventure to the hilt. Who can resist the cocktail of flavours that run down your food pipe with an ecstasy in every bite! Little wonder then, that India's most trusted QSR brand, Jumboking has dedicated its foundation day, as vada pav day, on 23rd August.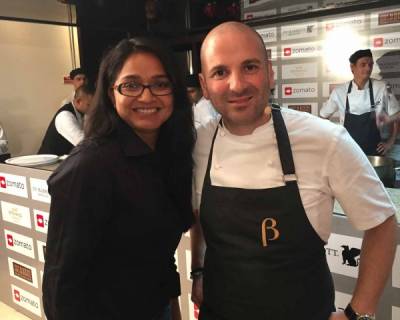 Meeting The Australian Master Chef George Calombaris in Bangalore
I have a lot of gratitude for the few friends went an extra mile to get me an Invite for an event that one can't miss! That's the invite to meet Australian Master Chef George Calombaris at JW Marriott Bengaluru in association with Zomato and Gold Rush Entertainment. The event was Press Meet and tasting session with George where he had cooked up some great stuff.
He also unveiled the George Calombaris Collection on Zomato with Pramod Rao, Director, International Operations at Zomato
I was so amazed by the humbleness of the world famous chef and the ease with which he connected with the audience. And simply loved his Australian accent. It was fascinating to hear his experiences when he landed in Bengaluru and the host took him around for a jog in the morning and a breakfast at the famous Airlines hotel.
His description of the doughnut got us all into laughter! Oh yes, you must have got it right, its the Medu Veda that he dunked into sambar and called it a doughnut! He was totally thrilled and amused of these deep fried "Savory Doughnuts" as he called them. Its so neat, that he was so open to trying out something as local as it can get!
George Calombaris along with two chefs who had accompanied him for the India travels had set up a 3 course tasting session for the press. 3 out of the two were non vegetarian. With a bit of hesitation, I whispered into the mic and asked if is he cooking up something for the vegetarians.
And of course, he overheard it and brought out some amazing greek rolls with onion bajji as the stuffing! The show stopped was the Rizogalo, Salted Caramel Rice Pudding with Almond Biscuit and Rice Ice Cream. This is something I am definitely going to recreate in my kitchen and share it with you.
1- The the most humbling part was to get served by the Chef Himself!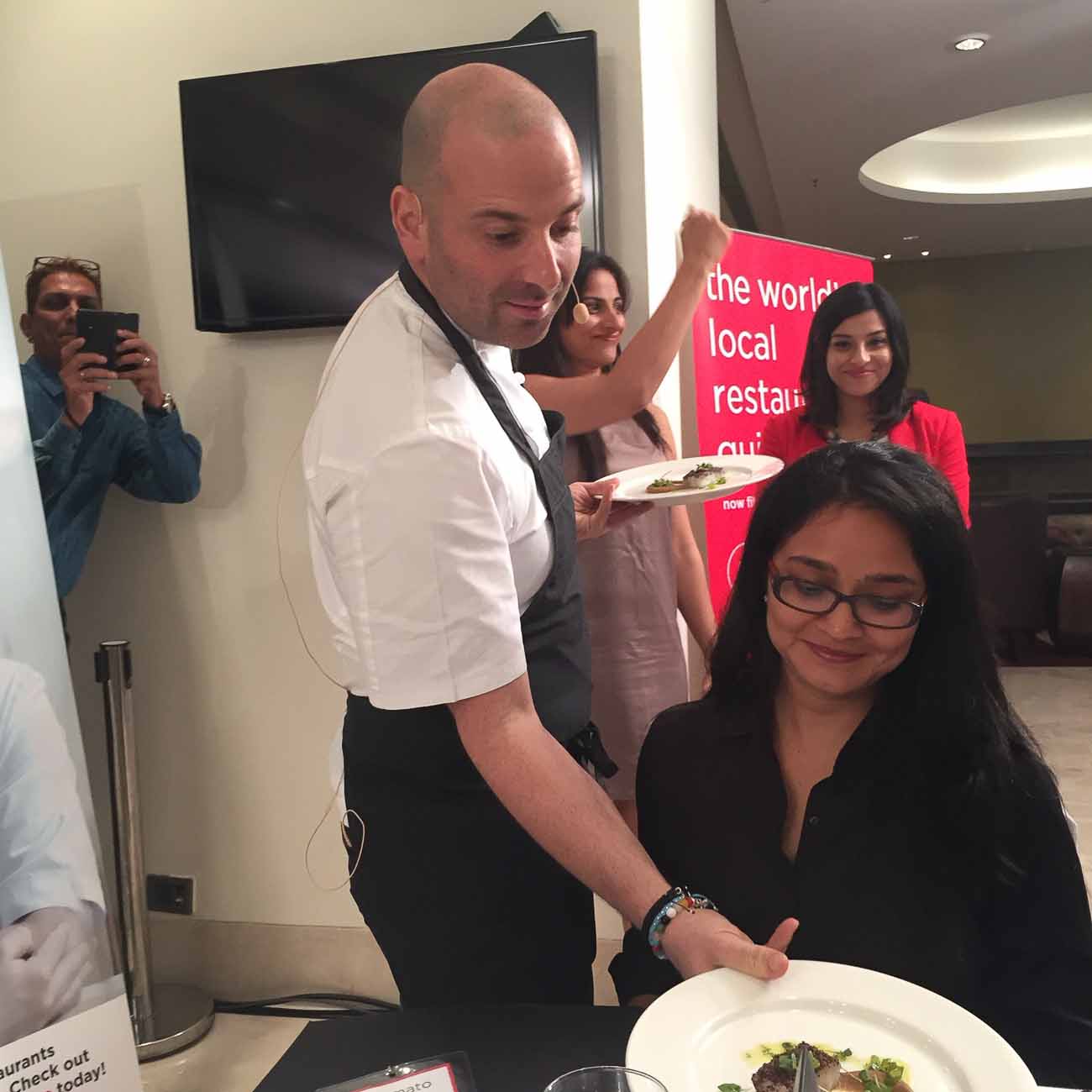 2 - Super Duper Delicious Greek Rolls with Onion Bajji :)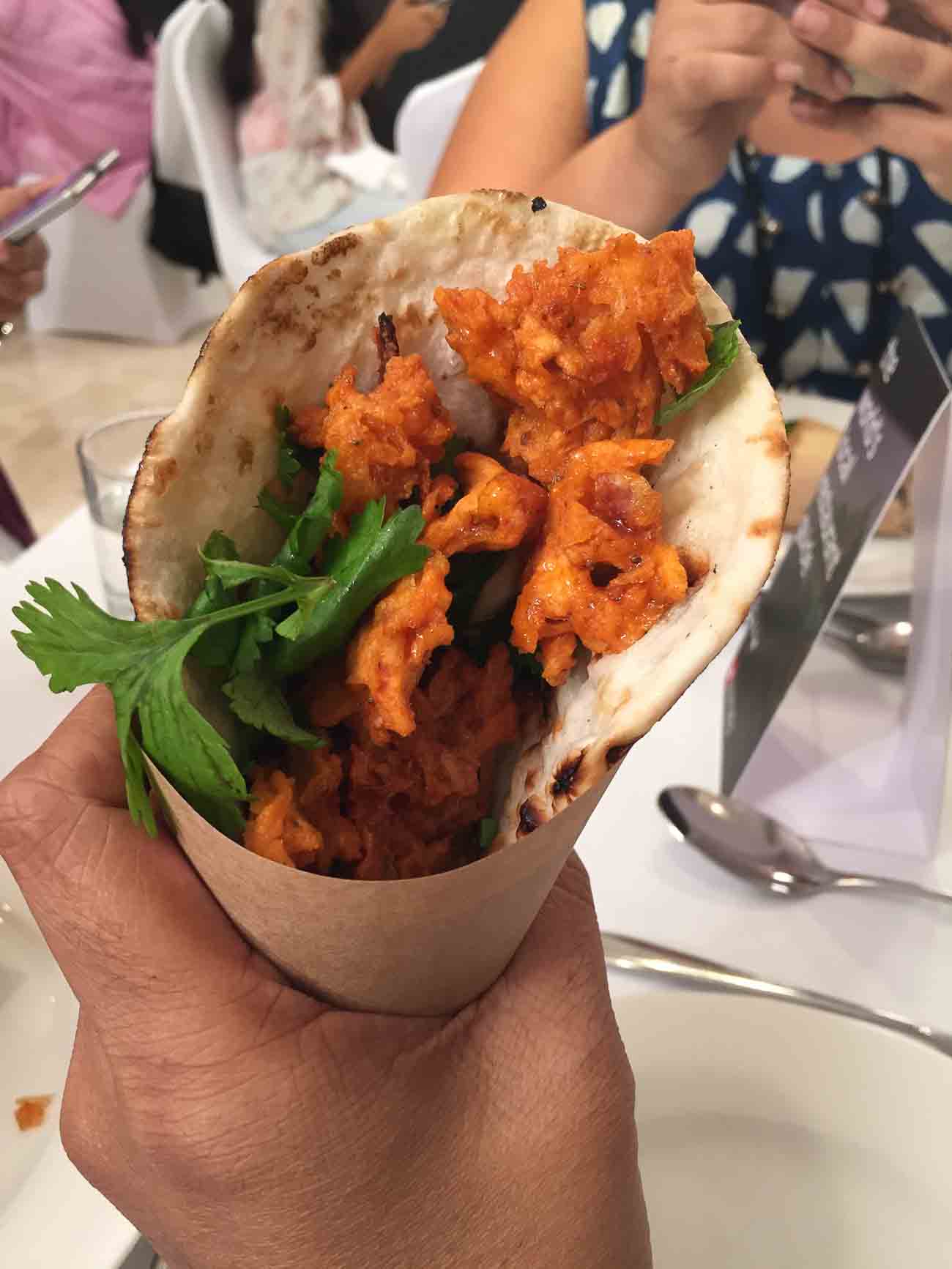 3 -
R
izogalo,
Salted Caramel Rice Pudding with Almond Biscuit and Rice Ice Cream
4 - If you are in Bengaluru, do check out the GC Collection of Restaurants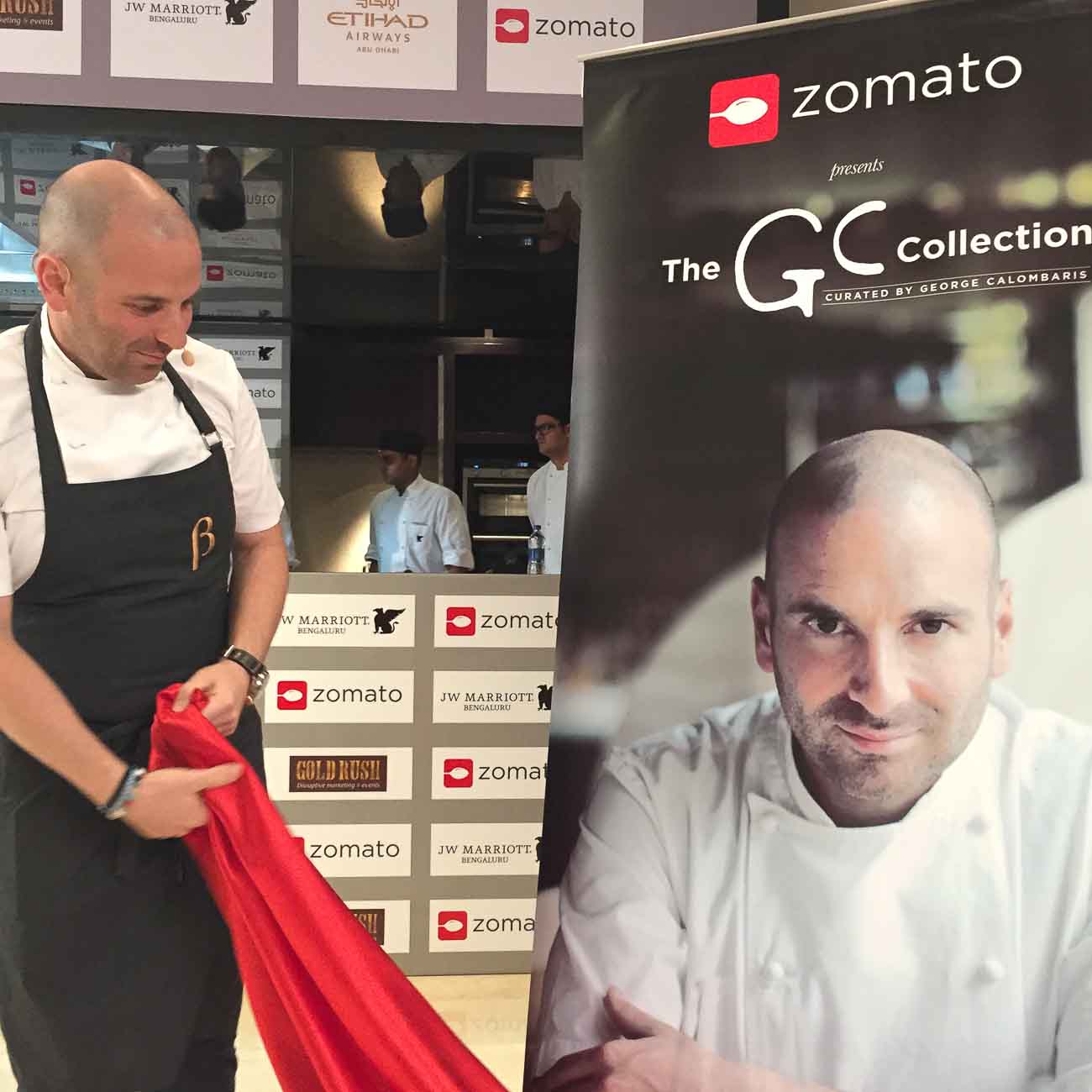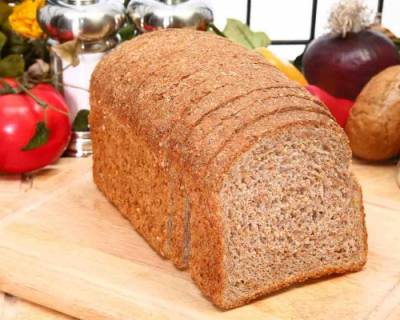 Why You Should Maintain A High-Fibre, High-Protein Diet
One of the most basic tenets oft-repeated when discussing weight loss, healthy diets and clean eating is maintaining a High-Protein-High-Fibre intake. This typically means lowering the intake of carbs and upping the intake of protein and fibre in the daily diet. This is known to keep you feeling full for longer, reduces cravings and yet ticks all the right boxes in terms of daily nutritional requisites.